On-campus shuttle approved for CSU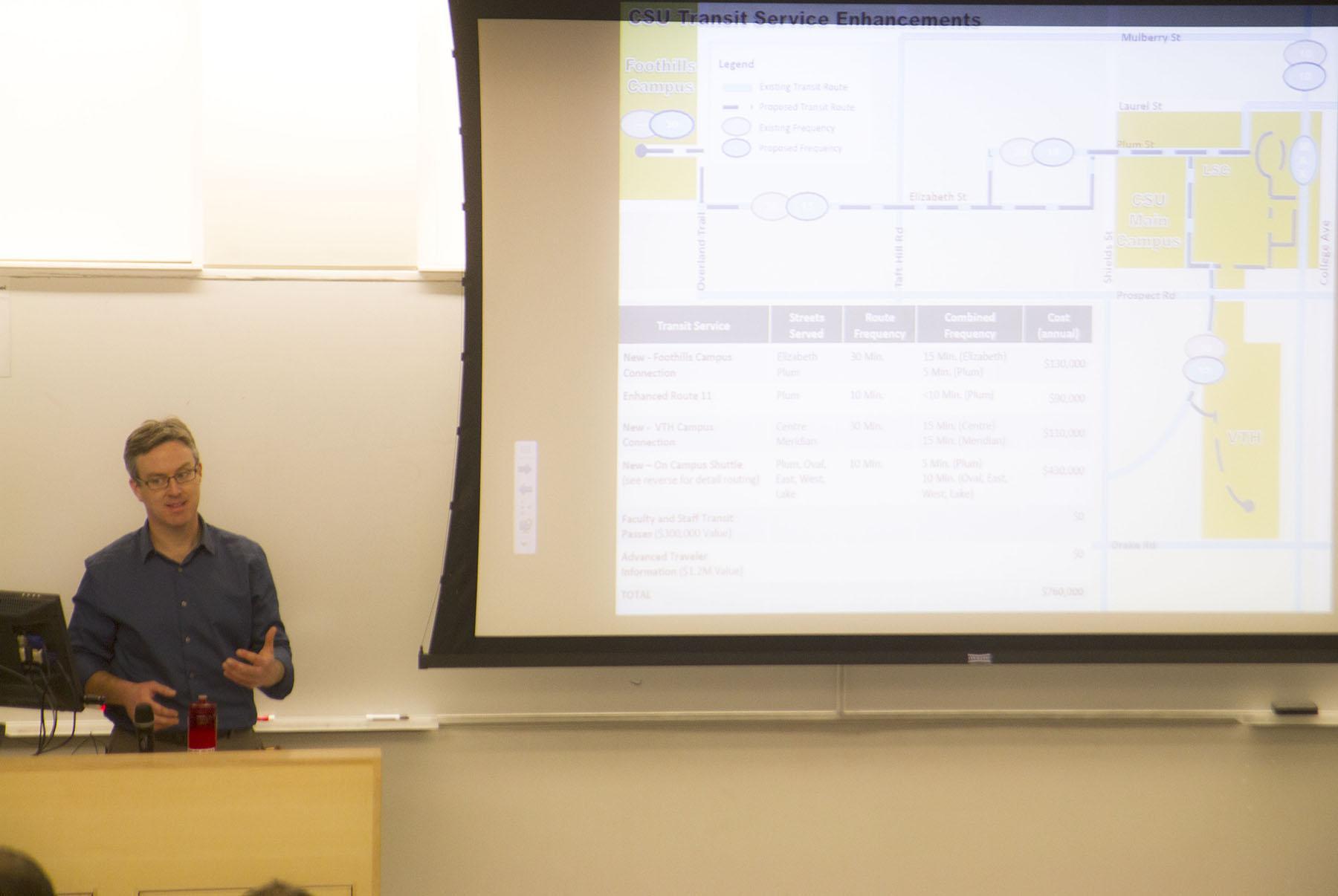 A 13-stop on-campus shuttle called Around the Horn will run every 10 minutes and be available to students and faculty for free beginning late this summer. Around the Horn is one of several transportation changes that will affect campus.
The on-campus shuttle was originally proposed by ASCSU. An ASCSU resolution passed on March 5 showed the current Transfort bus system will be enhanced in four ways, including a $430,000 on-campus shuttle. Route 11 will be enhanced at a cost of $90,000, a new Foothills connection will be created at a cost of $130,000, a new Veterinary Teaching Hospital campus connection will be created at a cost of $110,000.
ASCSU will contribute $260,000 to help fund Around the Horn and the expanded transfort routes, and the remaining $500,000 will come from the University through the Department of Operations, according to a CSU press release. Money used to fund the shuttle will come from existing CSU budgets.
Kwon Yearby, the ASCSU senator who proposed the on-campus shuttle to ASCSU, was initially "a little indifferent, or maybe even opposed" to its creation. He said student opinion convinced him to write the bill. The on-campus shuttle's large proposed cost is one of the primary reasons that Yearby initially hesitated to support the project.
In an ASCSU transportation survey distributed to 2,228 students, 1,619 CSU employees and 20 campus visitors, 53.51 percent responded that they would be either "very likely" or "moderately likely" to utilize a cross-campus shuttle, a much higher percentage of positive feedback than for any other suggested additional route.
"When I thought more about all the student body and I looked at the survey, and I asked more students in my classes, it's definitely something that they wanted, so I wanted to make sure that it happened," Yearby said.
Later this month, students and employees will be able to vote on how the Around the Horn shuttle will look. Plans for Around the Horn will be showcased on May 10 with the launch of MAX, Fort Collins' new rapid transit system.
The Around the Horn stops were selected based on "feedback from Facilities Management, students and employee responses to a survey, and Parking and Transportation Services," according to the CSU press release, forming a loop "from the southeast side of campus, to and around the Oval, across to the Lory Student Center, and down to Moby Arena."
The shuttle will be useful to every population that utilizes the CSU campus, according to CSU Alternative Transport Manager Aaron Fodge.
"There are a lot of different needs that our campus serves — from the student side, if you're an on-campus student, (the shuttle) provides a simple cross-campus trip, in case you have classes across campus … that's the first obvious need, and the same would work for employees," Fodge said. "It (also) hopefully makes it easier for our visitors to make the trip to different locations on campus."
Around the Horn, Foothills and VTC Transfort connections are a first step to creating a campus that doesn't require students to have cars, Fodge said.
"The Foothills campus and the Vet hospital respective, a student today most likely needs a vehicle to make that trip to one of those campuses unless they're a really good cyclist or one heck of a runner," Fodge said. "We're hoping this is a really good first step to allowing a student to attend the university without having to have a vehicle."
Collegian Reporter Ellie Mulder can be reached at news@collegian.com