Muslim Student Association brings awareness to CSU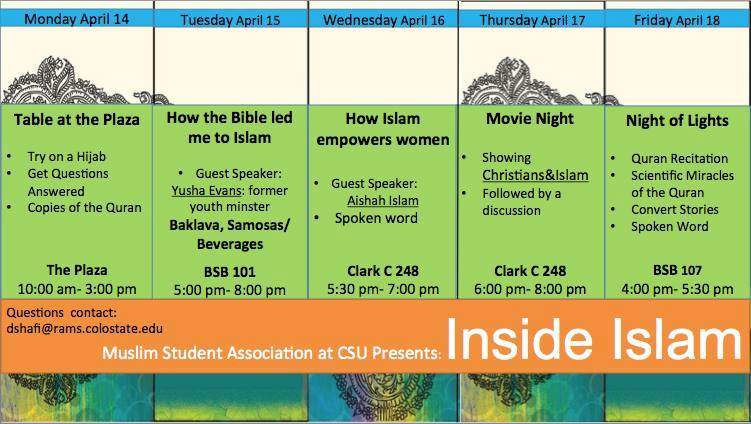 Editor's note: Moonier Said was previously employed by The Rocky Mountain Student Media Corp., the parent company of the Collegian.
The Muslim Student Association wants CSU to forget the stereotypes and treat them as they are — people.
This week the club is putting on Islamic Awareness Week, along with the associations across the country to educate people about what it means to be a Muslim.
"Islam is very diverse," said Moonier Said, senior studying English and philosophy of religion. "We want to show that diversity."
The club hopes to bring awareness about current Islamic stereotypes, the connections between Islam and Christianity, the rules of the religion and the role of women in Islam.
"I guess one thing is that not all Arabs are Muslim. That's a big stereotype, or that only people from the Middle East are Muslims," Said said.
The largest populations of Muslims, for example, are Africans and the densest population of Muslims is in Indonesia, he said.
There are currently 36 members in the club at CSU and not all of them are Muslim, nor have been practicing for their entire lives. The club has students from African and Egyptian descent as well as American-born Muslims.
"You don't have to be Muslim. It's not exclusive," Said said.
Benjamin Weeks, a CSU freshman from Missouri studying international studies, joined club after seeing the posters on campus. Weeks converted to Islam after researching the religion and talking with other Muslims.
"I read the Quran and decided it was for me," Weeks said, whose family does not practice Islam.
As a white Muslim, Weeks does not look like the "typical" person practicing Islam, and because of it has not encountered much oppression.
"Being a white caucasian and a very American-looking Muslim, it usually never comes up," Weeks said.
In 2012, Weeks was on a "Relationships in Islam" panel in Missouri and was asked during the Q&A, "So, why do you want to kill us?"
"You can't take the actions of a small group of Muslims, just like you can't take the actions of a small group from Westboro Baptist, and assume all Christians are like that," Weeks said.
Weeks has not encountered negative attitudes like that at CSU or in Fort Collins, which he said is home to a very open Muslim community.
"I'm from a bubble of the Bible Belt. It's a lot better in Colorado than in Missouri, I'll tell you that."
Along with members of MSA, the recently built mosque is one resource where people of all backgrounds can learn about the religion.
"Anybody can walk into the mosque. It's a very accepting community, by far one of the most accepting communities that I've been apart of," Weeks said.
Israa Eldeiry, originally from Egypt, has been a Fort Collins resident for the past 16 years and has been involved with MSA since before coming to CSU this year to study international studies.
"Thankfully, living in Fort Collins, there is a very great community here, which is one of the reasons I chose to continue studying here," Eldeiry said, who is now the vice president of the association.
For the most part, people have been very respectful and understanding of Eldeiry's culture, although in high school it was difficult to be one of the only Muslims.
"I was the only one fasting during Ramadan (the fasting month) and there was a pizza party in my class," Eldeiry said.
During the last Ramadan, Eldeiry received an email from her oceanography professor, Ursula Cuillman, saying that all Muslim students could reschedule the exam due to their prayers that morning.
"I was like 'Holy cow!' I did not expect this to happen. I didn't even have to email her and ask," Eldeiry said. "People are actually considerate. That was a really uplifting experience."
Post 9/11, there have been changing attitudes towards Muslims in America and Eldeiry has experienced this.
"Going into airports and public places, things have gotten stricter. With random selection, I'm always the one who is randomly selected," she said.
Despite this, Eldeiry said she has always felt safe and welcomed by the Fort Collins community.
"Every now and then, there will be someone saying 'thats a terrorist walking by,'" Eldeiry said. "But things like that only happen once or twice a year. I've never felt like someone is going to commit a hate crime because of my religion."
Darartu Shafi, junior business major and president of MSA at CSU, has experienced some oppression at CSU because of her practices, especially as a women in the religion. Shafi practices the custom of wearing the headdress or hijab.
During the time Obama was being accused of being a Muslim, Shafi was asked by a woman in a CSU bathroom why she wore the hijab.
"I told her it was part of my religion," Shafi said. "She then asked me, 'Isn't that what Obama was accused of? Isn't that a bad thing?' I didn't know what to tell her so I just nodded and left."
On Monday in the Plaza, the MSA will have a table where women can come and try on the hijab, take pictures with women in the organization.
"(Negative reactions) comes with it, naturally," Shafi said. "I wear it for myself, so I don't care what people say."
Along with the plaza event, the MSA is hosting events daily including one on Tuesday, where Yusha Evans, a former youth minister in South Carolina is telling his story about how he became a Muslim through the Bible. The event will be held Tuesday at 5 p.m. in the Behavioral Sciences Building room 101.
"It speaks a lot about the connection between Christianity and Islam," Said said. "They're very close in beliefs, with how you treat people."
The club hopes that through this week, CSU students will have a better understanding of Muslims and what they believe.
"We are putting ourselves out there for people to know who we are," Shafi said.
The MSA recently conducted a survey questioning the student body about their knowledge on Islam and what comes to their mind when they hear Islam. Some responses included "terrorism."
"We want to make people are aware that we're friendly people. We want to erase those misconceptions. We eat, we drink, we sleep, we go shopping, we have fun," Eldeiry said.
Collegian Features Beat Reporter Hannah Hemperly can be reached at news@collegian.com.