In memory of Professor Gary Maciel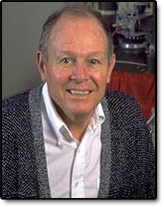 I'm shocked and greatly saddened to learn of the passing of Professor Gary E. Maciel.  I was a member of his research group, first as an undergraduate during the summer of 1967 at UC,Davis, then as a graduate student at UCD from 1968 to 1970, and finally at CSU during the calendar year 1971.  I was one of three "in-process" graduate students who moved with Gary from Davis to CSU but received our doctoral degrees from UCD.
Gary and his wife, Maxine, were first and foremost gracious people, who welcomed the students as though they were family.  One could drop by any time and find them happy to see you.  They organized camping trips for the group, and hosted many dinners and other social events. I learned a great deal of chemistry from Professor Maciel, but I also learned a lot about life and how to live it.
I am particularly grateful to Dr. Maciel for giving me his strong recommendation for a position in Chemistry at the University of San Francisco, where I have spent the past 41 years, and from which I will be retiring in May 2014.
My deepest sympathies and love go out to Maxine and her family.  She and Gary will be ever on my mind.
Sincerely,
Kim Dennis Summerhays
Professor of Chemistry
University of San Francisco
Gary was my Ph.D advisor for 5 years.  Just 10 days ago before he passed away, I finally re-connected with him after 19 years! We spent time together for a lovely dinner with his wife Maxine and 4 of his other students. On that cold evening in Boston, Gary looked very happy and with great energy. We walked for 20 minutes to Chinatown from the conference location. He told me how much Fort Collins has changed since I left and how busy he has been working on a proposal for his brand new research idea; I told him I am still doing analytical chemistry and my kids already in high school; he told me what his grand children like in school and how much he has enjoyed them being close to him … I felt I never was so at ease and relaxed chatting with him when I was his student.  I was so happy to have re-connected with him after so many years! But who knew just 10 days later, I lost him again.  This past Monday a few days after our dinner, Gary wrote back to me said: "It was great to see you again after all these years and learn what a success you are having in life. I look forward to staying in touch with you, and the others you will contact, in the future." I was, too, very much looking forward to seeing Gary again and visiting him in beautiful Colorado. I am in shock and deeply sad, but feel a bit comfort knowing he was happy for me for who I become. Gary not only taught me chemistry, he taught me many important skills of conducting scientific research that have formed the foundation of my career. I am always very proud of being his student, and will miss him forever.
Changhua