Fort Collins Rescue Mission aids homeless community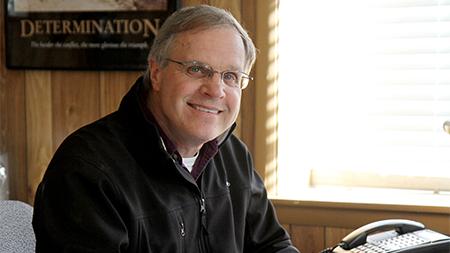 At the northeast corner of Jefferson Street and Linden Street, a gray building sits quietly with a banner over the door that reads, "Please Help the Homeless."
This is the Fort Collins Rescue Mission — a sister homeless shelter of the Denver Rescue Mission — and they're one of the several Fort Collins homeless shelters.
"We want to start changing the culture in Fort Collins, especially for the homeless," said Aneta Storvik, public relations specialist at the Fort Collins Rescue Mission. "We're happy to give you a free shelter, a free meal, but you have to do your part in the community, too."
The mission opened in November 2012 after the Denver Rescue Mission acquired the Open Door Mission — the previous homeless shelter that existed at 316 Jefferson St. Since then, they've been helping many of the homeless population and addicts in Fort Collins get back on their feet.
"Our hopes here at the Fort Collins Rescue Mission is to change lives in the name of Christ and by helping people become self-sufficient and productive they can relearn to do life on their own," Storvik said.
Currently, the FCRM has eight men and one woman in their Steps to Success program, which helps men and women who have experienced homelessness, job loss, addiction or other adversities get back on their feet.
The program usually lasts three to nine months and consists of four main steps: job searches, life skill training, work therapy and to create healthy community relationships while attended regular Bible study sessions.
"Each program is individualized, and whatever your personal need is they'll base the program around that," said Darren Smith, a recovering addict enrolled in the Steps to Success program.
Smith moved into the FCRM on Feb. 1 and he's been following the Steps to Success program with determination and persistence.
"I've quit smoking and I'm pretty much off drugs and everything — not that I was heavily into them, but being on the streets you run into it a lot," Smith said. "It's exciting and I'm 44 years-old so it's kind of hard to get excited about anything, but my goal is to get my driver's license back, get a car and after that, I'm going to be self-sufficient."
Posted throughout the rooms of the shelter are listings of their events, classes, guest speakers and a slew of other programs they have for the community to participate.
The mission is open to the public, and they have a pretty consistent flow of CSU students who volunteer and help out with events.
"I went to one of their events and I don't know how many times I've gone back — I just really liked it there," said Shelby Thomas, a sophomore double-majoring in Spanish and Latin American studies.
Thomas is a member of the Alpha Phi Omega co-ed fraternity-sorority which has sent four volunteers to the FCRM every week since August 2013. A number of other student organizations volunteer at the shelter as well such as SLiCE, CSU's Reformed University Fellowship and Student Outreach and Leadership.
"It is work and it is a job, but at the same time, I never grow weary of it or tired of it because I get to share the story of what homelessness is and isn't," Storvik said. "I get to inspire community in Fort Collins and I get to share the story of people like Darren — he's not just an addict on the corner, he's a human being and he has dreams and he's aspiring to do something better with his life — it's truly amazing."
The shelter is always looking for more volunteers to come help and those who already have loved it.
To volunteer, visit the Fort Collins Rescue Mission's website at www.fortcollinsrescuemission.org — go to the "Get Involved" tab, click "Volunteer" and select one of the ways to volunteer. Upcoming events include the Easter Meal on April 17th and the Harvest Farm 5K run on May 17.
"You aren't just helping out and doing service, it's more than that," Thomas said. "Not only do I get to help, but I also get to connect with a part of Fort Collins that I usually wouldn't, and I love that."
Collegian Reporter Rick Cookson can be reached at news@collegian.com.