CSU students march against rape at Take Back the Night rally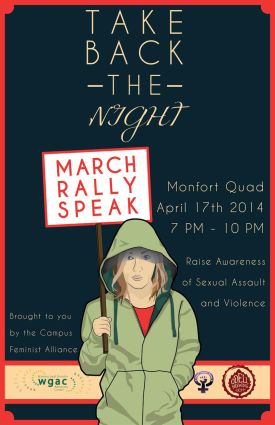 Over 200 students and community members gathered Thursday night at Take Back the Night to share experiences with sexual assault and march against rape, shouting sex-positive chants like, "Yes means yes, no means no, whatever we wear, wherever we go."
Take Back the Night, a national event, was hosted at CSU by the Campus Feminist Alliance. The sharing of personal experience occurred in Montfort Quad, after which the group marched through campus and into Old Town, stopping to hear from Doris River-Black, former police officer and founder of self-defense organization Never a Victim.
CFA Executive Member Susie Pendergast said part of the importance of Take Back the Night is in alerting students to sexual assault resources and letting them know that they have support, because the "rape culture" is especially prominent on college campuses.
"There's a huge population of students and survivors that don't necessarily come forward and there's a lot of under-reporting, and I think (this event) is important to CSU so that people that haven't gotten the chance to speak up or accept what has happened, they have a place they can go to," Pendergast said. "There's so much support and respect for people and their privacy and all backgrounds and all circumstances."
Kelsey Hatcher, sophomore journalism major and Take Back the Night participant, attended because she wants others to be aware of the issues discussed at the event.
"(I came) definitely because I'm a feminist, and I think this is a really important issue that everyone should care about," Hatcher said.
Rivera-Black spoke to attendees about her personal experience with domestic violence and why it is important to promote awareness of rape and sexual violence.
"You guys all are standing in unity, and there is power in unity," Rivera-Black said to the crowd. "I have been part of Take Back the Night in other cities, and I'll tell you — this is amazing. This is the loudest, largest crowd that I have seen."
Collegian Reporter Ellie Mulder can be reached at news@collegian.com.