UPDATE: CSU Prof. Gary Maciel passes away on campus, president says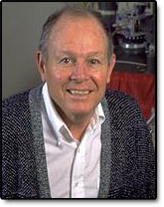 Update 11:39 p.m.
At approximately 10:40 p.m., CSU President Tony Frank sent out another email to students stating the identity of the body found on campus to be chemistry Prof. Emeritus Gary E. Maciel, 79, who had worked at CSU for 40 years before retiring in 2011.
According to his webpage, the award-winning Ph.D. taught introductory, physical and quantum chemistry at the University, in addition to nuclear magnetic resonance and FT-based spectroscopy. A University spokesperson said Maciel made significant contributions to research at CSU and was a distinguished faculty member.
"Tonight, we grieve his loss, and take comfort in the knowledge that his legacy lives on — both through his distinguished research and through the achievements of the students he guided and mentored over so many years," Frank wrote in his email to students. "He will be greatly missed."
This story is developing. Collegian Central would like to invite the campus community to submit memories of Maciel to news@collegian.com for an obituary to be published Monday.
Original story:
The body of a deceased elderly man was found on the CSU campus Friday afternoon, according to an email sent out earlier that evening to students by Frank.
Frank's email explained that a body was found on campus, as reported by the CSU Police Department, and that the death was under investigation. Currently, there is no evidence to indicate suspicious circumstances, suicide or foul play.
"A situation like this is never easy, and we are aware that there are students and others who may been in the vicinity and who may well have been concerned or disturbed by this experience," wrote Frank in the email. "Please know that there are counseling resources available to assist you in talking through your feelings."
Frank referred to the CSU Health Network counseling services at 970-491-7111 as an option for students.
The email then explained that the identity of the deceased man is still in the process of being confirmed, and the man's family is being notified.
A CSUPD spokesperson stated that no further information about the incident is being released at this time.
Collegian Reporter Caitlin Curley can be reached at news@collegian.com.