CSU Chemistry department faculty, students remember Prof. Gary Maciel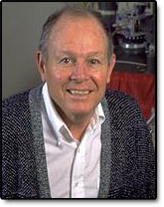 Former Professor Gary Maciel invested everything he could in his students during the 40 years he worked for CSU's chemistry department, and encouraged a warm and friendly atmosphere for those who made great scientific strides in his research group.
Maciel died on CSU's campus Friday due to a cardiac event, and was found east of the Visual Arts building that afternoon. A Larimer County coroner said that Maciel had a history of cardiac issues, and that both this history and Maciel's age — 79 — contributed to his death.
CSU President Tony Frank sent two emails Friday evening to students letting them know what happened. He encouraged any affected students to call the CSU Health Network counseling services at 970-491-7111.
Though Maciel retired in 2011, he remained involved at CSU until the day he died. The day Maciel died, he was writing a proposal to support a new collaborative project on biofuels and scheduled a meeting with a student to discuss results from his lab, according to the chair of the CSU Chemistry Department, Ellen Fisher.
"Although technically retired, Gary continued to maintain an active research program and to mentor undergraduate students," Fisher wrote in an email to the Collegian. "In addition to his scientific contributions, Gary's exuberantly generous spirit, quick wit, and infectious laugh will be missed by all."
Those who worked with Dr. Maciel over the years spoke of his warm and kind personality, as well as the significant achievements of his research group in the field of nuclear magnetic resonance (NMR) spectroscopy.
Maciel had over 70 doctoral and masters students graduate from his research group over the years, according to a university spokesperson. More than 50 Ph.D.s were awarded to students in his lab as well. One such student said Maciel and his wife, Maxine, used to host camping trips, dinners and other social events to make his students feel welcome.
"I learned a great deal of chemistry from Professor Maciel, but I also learned a lot about life and how to live it," wrote former student Kim Summerhays in an email to the Collegian.
A chemistry associate professor and lab coordinator at CSU also spoke of Maciel's kind personality, and discussed the close relationship he developed with Maciel since they met in 1986.
"He was a warm, intelligent, loving, outgoing and caring individual," Joseph DiVerdi said. "In some ways, he was like a grandfather to my children."
DiVerdi said that Maciel had a profound impact on those around him through his mentoring of students.
"People spoke to him when they needed counsel and mentoring. He was often filled with good advice," DiVerdi said.
DiVerdi also said that Maciel made significant contributions through the course of his research.
"Gary Maciel has had a profound impact on the field of NMR over the past 40 plus years," DiVerdi said. "He had an enormous influence both nationally and internationally."
Students and fellow faculty alike will remember Maciel for many years to come, according to CSU President Tony Frank.
"We grieve his loss, and take comfort in the knowledge that his legacy lives on — both through his distinguished research and through the achievements of the students he guided and mentored over so many years," wrote Tony Frank in his email to students Friday. "Please join me in sending our warmest thoughts and best wishes to his family, close colleagues and students. He will be greatly missed."
Collegian Reporter Caitlin Curley can be reached at news@collegian.com.