2014-15 ASCSU Presidential Election: Get to know Green and Webb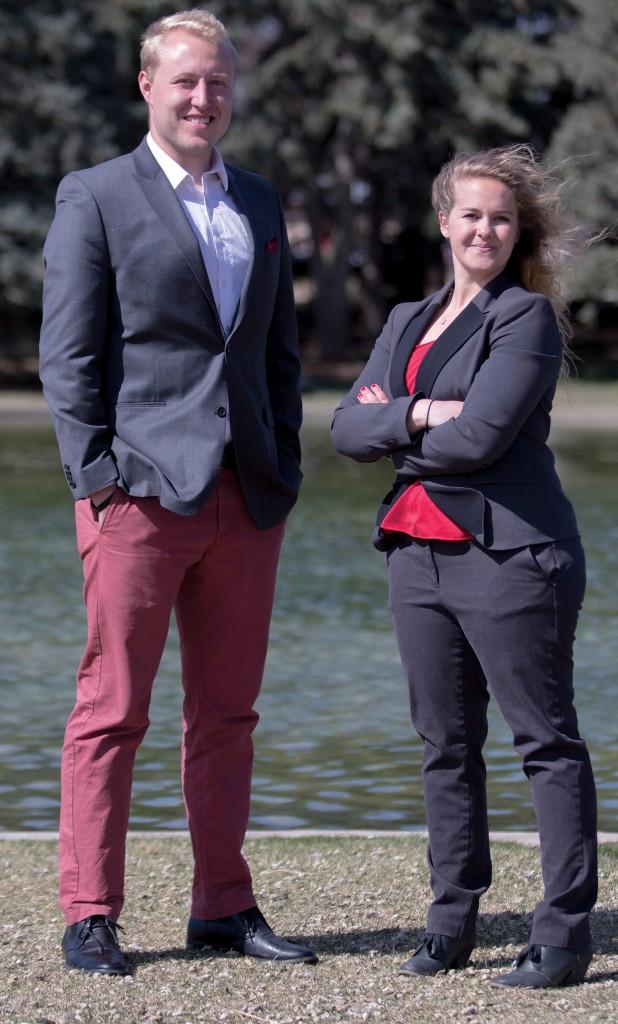 In middle school, Chelsey Green's family's house flooded, and within 2 hours, the entire community of the small town Buena Vista, Colo. had heard about the incident. Around 100 neighbors came to help her out and repair the flood damage.
"That was the first time I experienced the impact of a community coming together," Green said. "Since then I've been drawn towards that role of being a leader in a community so that I can make a large impact and empower others."
Nine years later, Green is a full-time senior at CSU, director of RamRide and presidential candidate for the Associated Students at CSU next year. Sleep is rarely an option for her or her running mate, senior Kohl Webb.
"Our passion keeps us energized," Green said. "And coffee," she added, laughing.
Green and Webb met in September of last year at a city council mixer, and afterward spent  hours talking in the parking lot about their shared passion and goals for ASCSU.
"Some people say when I tell the story it sounds like a love story," Green smiled. "We just hit it off."
Within the month, the two had decided to run a presidential campaign together.
"We seemed to be the two that were most passionate about the issues," Webb said. "Her vision…was inspiring, so I went with it."
At CSU, Green studies industrial organizational psychology, and is taking on a second major in economics in order to stay a fifth year at CSU and complete her goals at ASCSU. Webb is also enrolling in a fifth year, as a double major in business marketing and political science.
Both say that they fell in love with CSU the first time they set foot on campus, and wanted to get more involved. Green became an ASCSU senator her junior year, and Webb did so his senior year.
Green then ran for the position of RamRide director, which she has held for over a year. Webb ran for the recruitment and retention officer position within senate in order to have more of an impact.
Green and Webb both felt that ASCSU had potential for greatness, but focused too much internally and not enough on the students.
"The leadership is what's lacking (in ASCSU)," Webb said. "It's been in a slump and we just want to help it out."
According to friends of Green and Webb, their passion to improve ASCSU comes from their desire to help others.
"(Chelsey) is always looking out for other people and putting her own priorities behind everyone else," said senior Conor Guidarelli. "I have to jump in front of her just to pay for her coffee."
Senior Tucker Lehman, who works at Morgan Library with Webb, praised Webb's motivation and leadership skills.
"He's a real go-getter," Lehman said. "He's always trying to make things smoother and run better."
If the team wins the presidency and vice presidency at ASCSU next year, they hope they can implement positive change on campus.
"Being (ASCSU) president will provide me with the opportunity to leave my legacy here," Green said. "I can look back and have personal satisfaction knowing I did everything I possibly could and put my heart and soul back into this campus."
Collegian Reporter Caitlin Curley can be reached at news@collegian.com.
Related articles