CSU turns 144 years old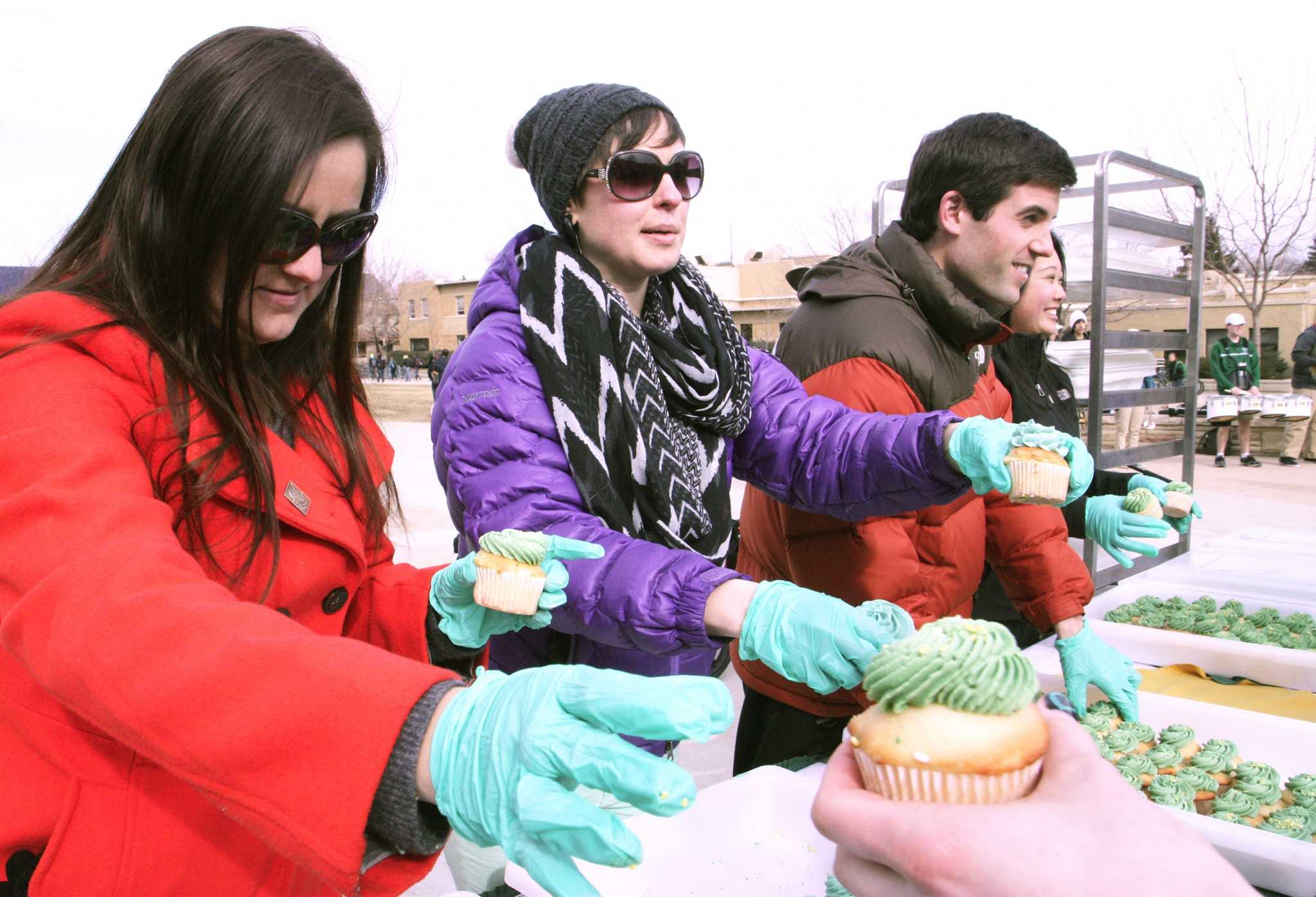 The pep band played, the poms team danced to the rhythm and CSU students chimed in on the countdown to 1:44 p.m. on Feb. 11.
"3, 2, 1, Happy Birthday CSU," Auli Summerhays, event assistant director exclaimed, as the clock struck 1:44 representing the Universities 144th year of existence yesterday afternoon.
Colorado State has been around for nearly a hundred and fifty years and it is impressive to see where we come from and where we are today, according to Summerhays.
"It is neat to be able to celebrate CSU and what it has to offer. Today we're offering cookies, historical pamphlets, the pep band is playing and it's just a really exciting celebration," Amanda Trinh, a health and exercise senior and the student event president said.
According to Trinh, Colorado State has been an establishment committed to educating students for over 140 years and this tradition helps provide students with what CSU is about and the road it took to get to where we are today.
The historical pamphlet is a timeline which points out CSU's achievements since day one.
In 1870 Governor Edward McCook signed a territorial bill authorizing the beginning for a land grant institution now known as Colorado State, it was primarily known as an agriculture school who created a board of speakers in 1877.
Colorado State has transformed from a university which once was primarily focused on agriculture to one that offers a wide array of majors, minors and opportunities to a large variety of students.
However, landmarks around the Fort Collins community will always exemplify where we came from and what we stand for. For instance, the landmark A, located west of campus was created in 1923. The tradition of "the hike to the A," continues annually for freshmen to make their mark on CSU.
"I didn't know (the celebration) was happening, but it's a cool thing. Very fun," Brandi Thomas, freshman natural science and wildlife major said.
Students were flocking to Newton's Plaza for the cookies, to watch the band play some classics and sing, "Go Rammies, Go Rammies, Go."
"It is pretty exciting to see that we were established in 1870 and we've almost been around 150 years," Amanda Fischer, sophomore social work major said.
"We also have a birthday card to CSU for this annual event for students to sign and be part of the celebration," Summerhays said.
According to Summerhays, this is the fifth annual birthday event leading up to the 150th birthday, which will be here in six short years.
The celebration continued throughout the day with a presentation to thank Dr. Tom and Jean Sutherland for their generous contributions to CSU and to further note the progression CSU has made over the past 144 years.
"It's a great tradition we hope to carry on," Trinh said.
Collegian Reporter Josephine Bush can be reached at news@collegian.com.