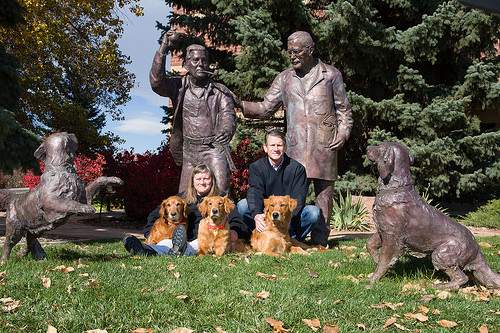 The CSU Flint Animal Cancer Center, which holds the world's largest group of scientists devoted to cancerous critters, has just received a $10 million donation from a family in Longmont.
The donation nearly doubles the current operational budget of Flint, and will enable the center to fund many more clinical trials and projects relating to new cancer treatments.
These funds were donated by the Hadley and Marion Stuart Foundation, led by siblings Nan and Brett Stuart. The family has been bringing their canines to the center for treatment since 1983.
Dr. Rodney Page, the cancer center's director, said he had been discussing a much smaller donation with the Stuart Siblings when they suddenly announced to him that they would give him $10 million.
"I was flabbergasted," Page recalled. "I just got up from the table and hugged everybody."
The Flint Animal Cancer Center is open to any CSU student with a canine or feline companion. The center also has a general practice that offers basic check-ups for pets. The Flint center books about 6,000 appointments per year and provides an additional 3,000 consultations by phone and email.
According to Nan Stuart, there is no better place to find treatment for your furry friend.
"Our cancer team is the most fantastic group of people imaginable. It's phenomenal," Stuart said in a university press release. "The best cancer work…is right here."
Collegian Reporter Caitlin Curley can be reached at news@collegian.com.