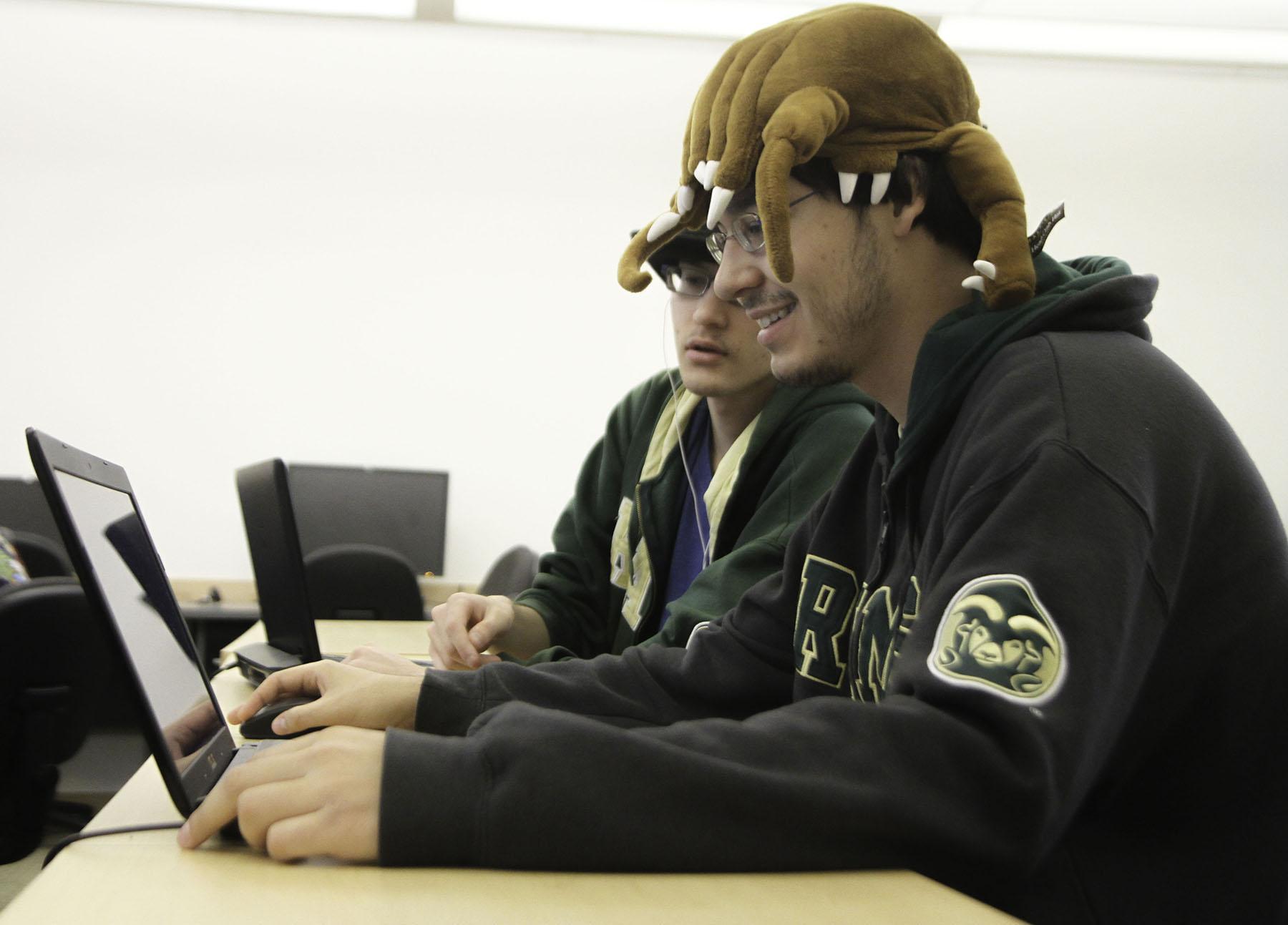 Snow battered the Computer Science Building on Saturday as 20 of Colorado State University's elite programmers battled in Windward's 3rd Annual Code Wars hosted by The Association for Computing Machinery.
Code Wars gathers top universities internationally in a programming competition to solve and test a solution against other teams within an 8-hour time gap.
Two teams from CSU advanced to the semi finals, team Konceptual Peace of Pie and team ROFLCOPTER DOWN SEND AID. Neither team made the final round in 2014, but CSU took first place in 2013.
In years past Windward has provided a different game each year. Last year the game made each team a limousine company dropping off and picking up CEOs in the city of Windwardopolis. There are 12 CEOs and each one had a list of enemies dictating whether or not they can be dropped off at a location. If an enemy is present at a drop off point the CEO won't vacate the limousine.
This year the game was a derivative of last year's, adding some new features such as power ups, coffee, and a pathfinding system to Windwardopolis.
CSU's team Meh, last year's winners, created the best pathfinding algorithm which crowned them champions.
"The main point behind [the pathfinder algorithm] was the more time and the more passengers they would pick up, they would learn who's whose enemy, where the enemies are and it would start eventually keeping track of where everything was," said Travis Mcdonald, ACM president.
"Last year the key to winning was your pathfinding algorithm, so this year they gave you a good one," Carter said.
The inclusion of a pathfinding algorithm allows teams to focus on power ups. Some power ups include slowing down other cars, stopping cars and relocating CEOs.
"If you have a regular algorithm of finding the shortest path, power ups are kind of an extra block on your way. So, you have to think of extra things that can mess you up or help you out," said Pash Volchak, senior computer science major.
According to Mcdonald, the game resembles Mario Kart in terms of strategy and power ups.
"[In Mario Kart] who shoots a blue turtle shell at themselves? You don't. You can sit there and save it or you can sometimes stop, let the person who's closest past you and then just completely destroy them and use it as a way to stay ahead," Mcdonald said. "There's a lot of different strategies."
Another addition to this year's competition was coffee. Limousines had to provide coffee for each CEO but a limousine can only carry up to three cups of coffee at a time, making them have to restock after three deliveries.
Deciding when to pick up coffee, dropping off and picking up CEOs and executing power ups provides a plethora of strategies for teams to chose from.
"There's a lot more interaction between different teams so you have to spend a lot of time thinking of what other people can do to you and what you can do to other people and how to figure out whether or not you should do that," said Clinton Knackstedt, senior mechanical engineering major.
According to Knackstedt, the additions can be overwhelming. The key is to take each individual task and discuss the many scenarios which stem from it.
Some of the top schools in this year's competition include Georgia Institute of Technology, Colorado School of Mines, University of Colorado in Boulder, Purdue University in West Lafayette and Princeton University.
Team Engineers from Georgia Institute of Technology won first place, followed by team Over Developed from Colorado School of Mines and lastly team Greedy Slobs from the Faculty of Engineering at Alexandria University placed third.
The competition lasted for 8 hours but halfway through there was little coding done. According to Mcdonald, coding between five people shouldn't take long, it's the discussions before and the testing afterwards that is time consuming.
"Computer science is all about that, being creative and creating a better algorithm because even a monkey can be taught how to code. It's just writing and typing," Volchak said. "It's about the way of thinking."
Collegian Community Editor and Senior Reporter Lawrence Lam can be reached at news@collegian.com.