Biggest Loser trainer kicks off Ram's Recharge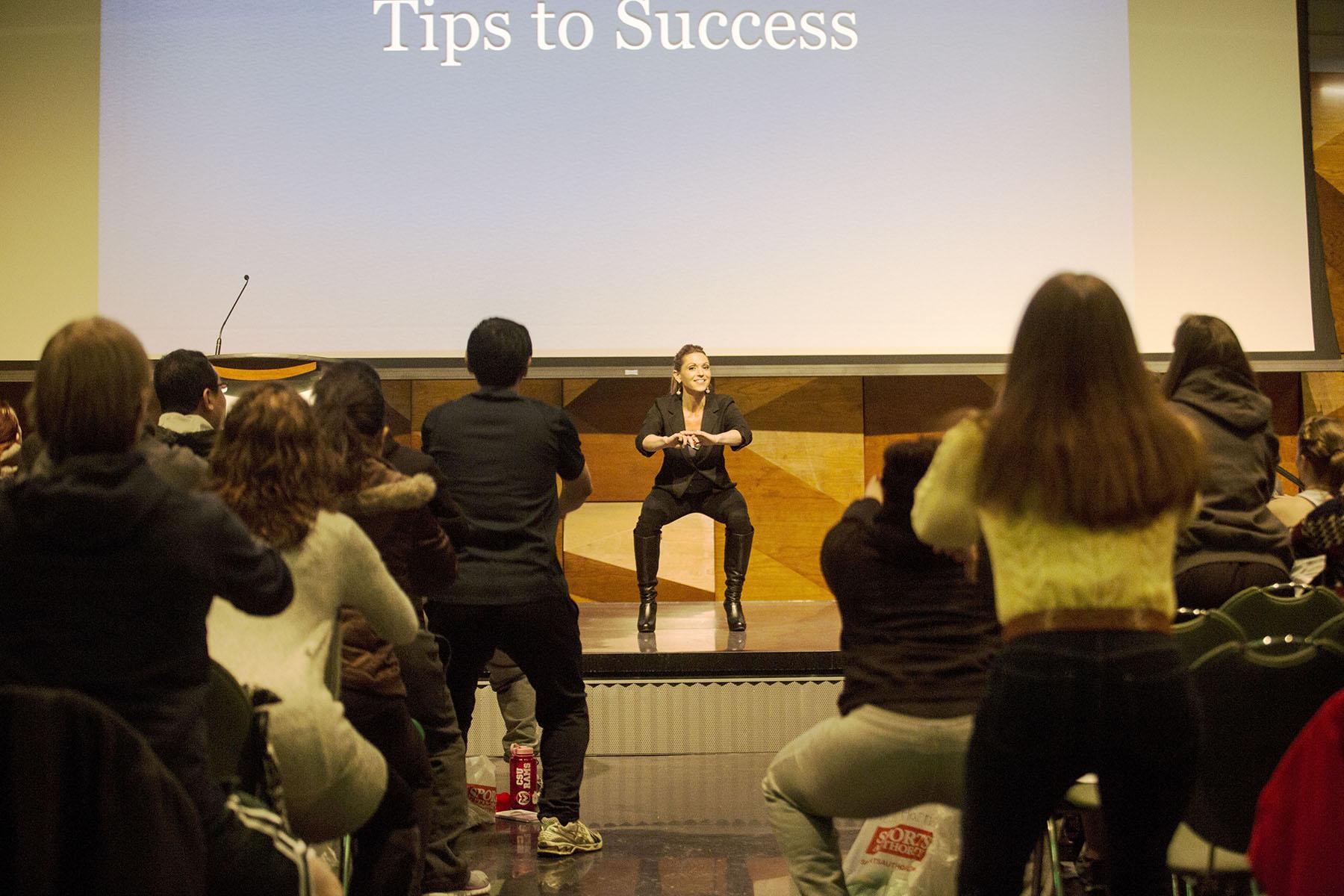 Thirty minutes into Kim Lyons' talk in the LSC theatre on Sunday, Feb. 9, she stopped talking and asked the audience of 100 students and community members to do 20 squats.
The former Biggest Loser trainer, author, nutritionist and CSU alumna said she wants students to pursue their dreams with the kind of dedication she and her clients give to fitness training. During her talk, Lyons inspired students to take care of their bodies and find passion in their lives.
Lyons said that she initially had little direction in her life. She graduated from CSU with a degree in human development and family studies with the intent to become a pilot, but with 200 experience hours to go, she decided that she lacked the passion to become a pilot.
"Life is a journey of failures that add up to successes and accomplishment," Lyons said. "When I look back on my career, I think of so many failures — I'm talking face plants, not just an oops, I'm talking massive face plants — that led me to the most amazing career that I could ever have ever dreamed or mapped out."
Maintaining a healthy lifestyle is important when trying to keep balanced throughout your life, according to Lyons.
"The bottom line is if you don't take time to take care of yourself, when people need you, you aren't going to be able to be there for them. You aren't going to be the best you," Lyons said. "Find those little things that you can say 'no' to in life, and don't feel guilty. Take time to care of yourself. Don't be afraid to be selfish."
Kim Lyons' speech was the kick-off for Ram Recharge, a 9-week fitness challenge. After Lyons spoke, the Ram Recharge participants each took a fitness assessment test in the LSC theatre.
"Right after Kim's speech tonight, all of the participants, 65 signed up, will go through different stations and do a fitness assessment test to kind of see where they're at right now as far as their workout regimes goes and nutrition and everything," said Jenna Farmer, senior communications studies major and Association for Student Activities Programming (ASAP) Lead Event Programmer. "And then at the end, there will be a final fitness test after the nine weeks of the program to just see how far along they came."
Kaity Ross, a Ram Recharge participant and CSU sophomore, said that Lyons opening the fitness challenge event was inspiring.
"It was cool that (Lyons) was on Biggest Loser, but it was also super intimidating," Ross said. "I'm kinda nervous (for Ram Recharge), but I'm super excited too."
Collegian Reporter Ellie Mulder can be reached at news@collegian.com.