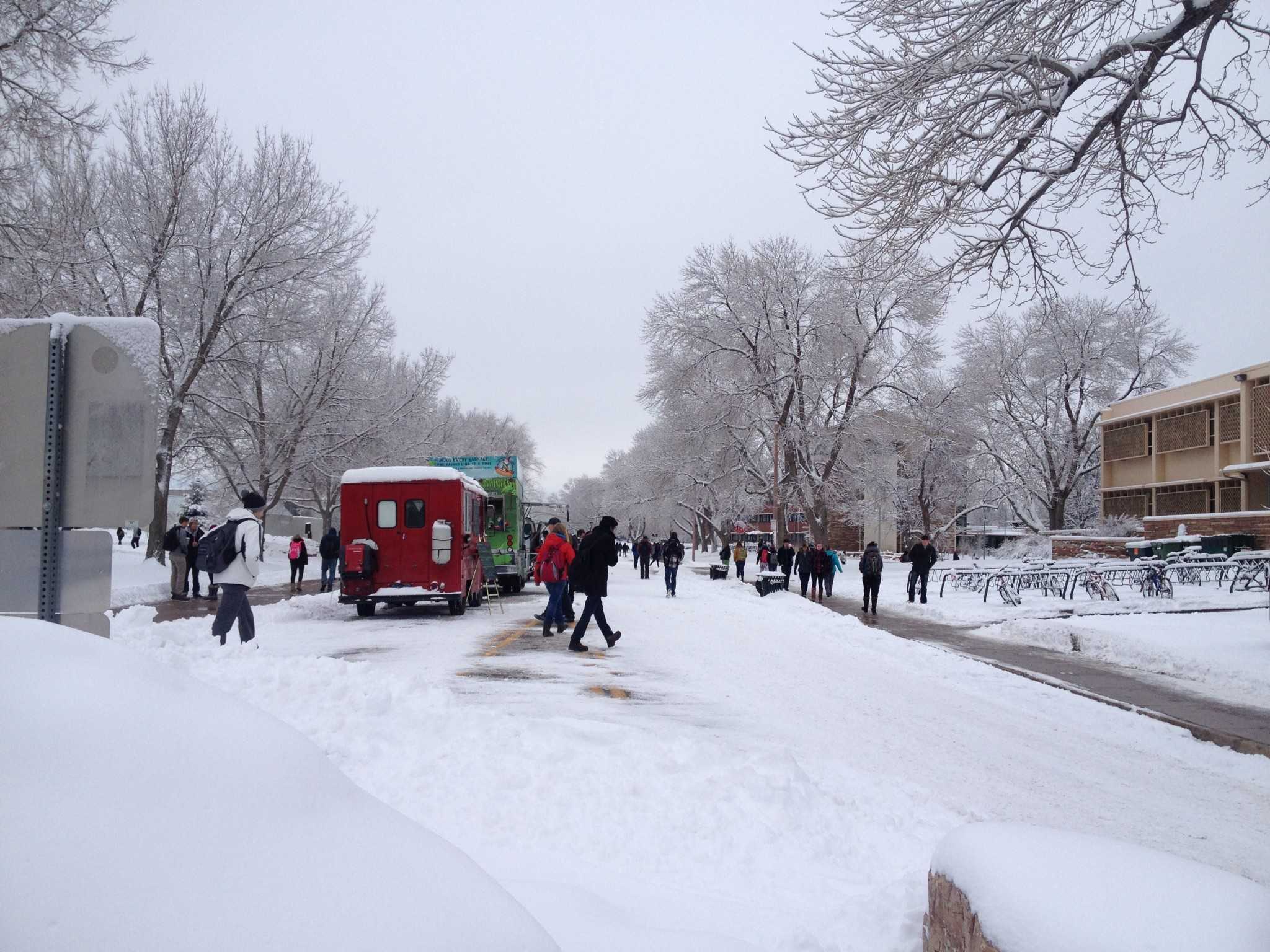 Toes, hands and core. These are the spots Brandon Mau, of B's Breakfast Cart, learned were the key to staying warm in below freezing temperatures.
Mau is among the five food carts on campus this winter, selling burritos, beverages and little pieces of wisdom to all who come his way. B's Breakfast Cart makes its home just outside of Clark and is there to stay through the snow and the sleet.
Two days prior to the freezing cold he strolled into Sports Authority in Old Town to brace himself for the winter weather. They provided him the essentials – heating pads for his steel toe boots, a toasty new hood and a pair of gloves.
Robin Waggonner, accounting junior and employee at Sports Authority who has classes in Clark, came to make sure Mau's new gear was working out.
"Right now, it's pretty good. Reality's gonna be in two hours when I stop moving," Mau said. "I've got a nice body heat worked up, when I'm just standing here – that'll be the test of time to see how well we did."
The weather did not change Mau's chipper demeanor, who still has a smile and friendly greeting for all who come by.
"At this point I should be getting some free gear from Sports Authority because I'm marketing it for these people," Mau said with a chuckle.
Waggonner empathized with those working the food trucks.
"I'm trying to just walk quickly through buildings, you know. They're stuck out here," she said.
The food truck vendors all have different ways of to cope with the cold.
"We do jumping jacks," joked Sara Ladley, owner of frozen soft-serve truck Ba-Nom-A-Nom. "No, I wear my ski clothes, snow boots and a little space heater. I'm gonna get some electric boot warmers or a mat for us to stand on. The air is not that cold actually, but our feet get so cold!"
Ryan Martin, owner of the pan-fusion-Asian eatery, Umami, ran his food truck last winter and thought that would be his last.
"It was cold. It was miserable," Martin said. "I swore I'd never do another winter here again."
Martin and his crew are sticking it out despite the freezing temperatures. When CSU is in session, they are committed to coming. Other than the rain day, Umami's eatery has remained open for students, but checks CSU updates for those weather cancellations.
"I check the Twitter account just like everybody else, you know, hoping it shuts down," Martin said. "As long as school's in session, we will be here in the midst of blizzard conditions."
Daniel Tucker, senior studying global tourism comes to the food trucks every other week and says the food will still be worth the frigid conditions.
"Waiting outside will probably be more miserable but I think the options here are better than anywhere else on campus," Tucker said.
This is also the first winter for Menyus Borocz, owner of La Piadina Italian flatbread sandwiches, and his staff. Their plan is to stick by the grill to stay warm.
"If you're still hungry, we're here. Just make sure you keep your warm jackets on," Borocz said.
La Piadina is one of the food trucks who serves warm options, and haven't noticed a dip in sales so far. Borocz is hopeful.
"Pray," he said with a laugh.
On the other hand, Ladley's frozen soft-serve truck Ba-Nom-A-Nom has made some changes to the menu due the cold.
"Honestly, I'm just trying to keep things afloat, just trying to break even," Ladley said. "I don't even run my truck in the winter normally."
Among the additions are hot sandwiches, tea and hot chocolate. She is also adding a text-your-order option where customers can text an order and come and get it when they're ready.
"I think if it's cold and sunny, people will still be out here but if it's cold and snowing, people aren't as likely to wait, which I don't blame them," Ladley said.
Just like Umami and La Piadina owners Martin and Borocz, Ladley is committed to staying open during the winter months.
"Sometimes it takes a couple cold weeks to get people to rock and roll, and get their gear back on and get used to it," Martin said.
Collegian Diversity Beat Reporter Hannah Hemperly can be reached at news@collegian.com.