Colorado State homework guidelines seen as a burden to some students
Eat, sleep, homework, repeat. From classes, to internships, to jobs, some students find there is no time to complete the recommended time spent on homework.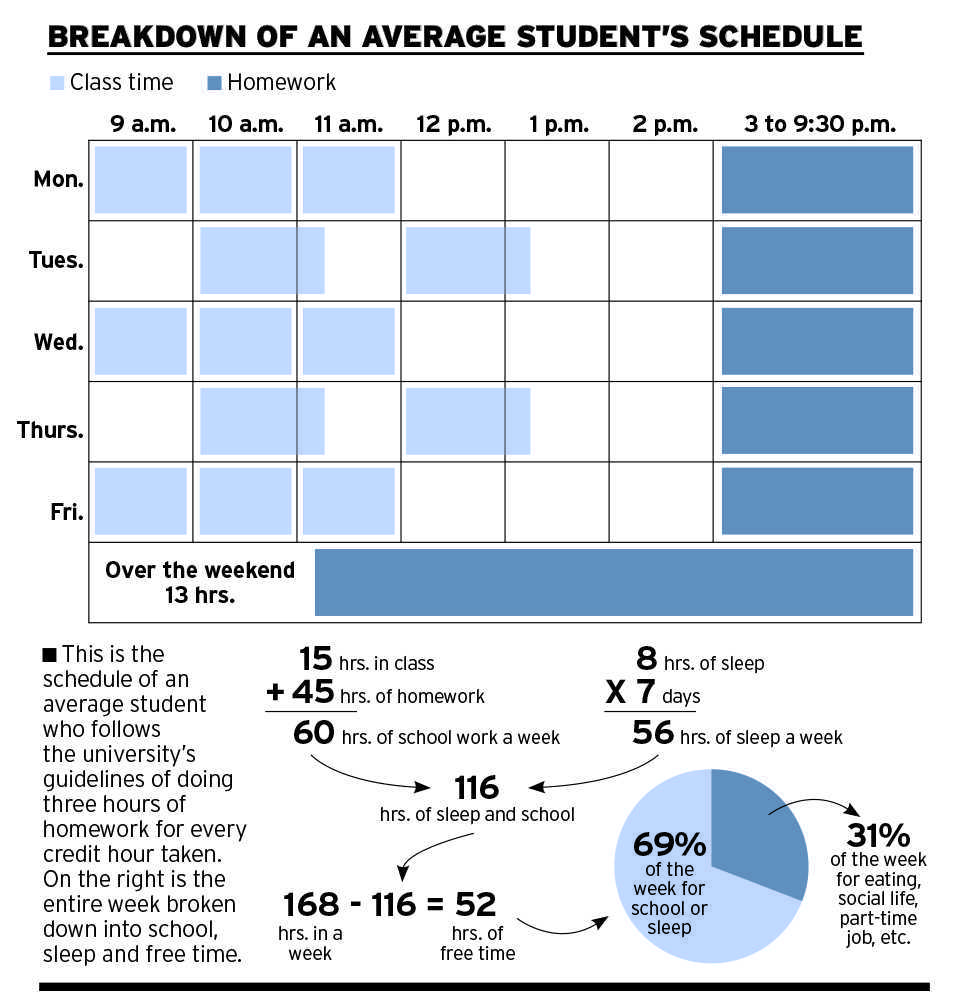 The university recommends two to three hours of homework each day per hour spent in class, according to the TILT center website. However, to some students with engagements outside of school, this can be an overbearing expectation.
"If students have other commitments, there are only so many hours in a day so it isn't realistic to actually fulfill the hours of studying that are suggested by the school," said Hannah Karn, a sophomore ecosystem science and sustainability major.
The majority of students have heard the recommendation set in place by the university regarding hours spent on homework. Though they do know the rule, many do not have time to enforce it in their schedules.
The student body is resilient when it comes to stress management, and has the resources it takes to make it to graduation day, according to Patrias.
"Whatever you have done as a student to get you this far, draw on those strengths you have and the coping skills that have lead you to be a successful student so far," said Janelle Patrias, a coordinator of mental health initiatives for CSU's counseling services .
Working with students at TILT center's academic coaching, Heather Landers, the director of learning programs at TILT, sees that students do not take the university-wide recommendation seriously.
Research has shown students put in far less than the three hours for every hour of class, according to Landers.
"I don't know how seriously students take that guideline, human nature is to just do what you need to do and manage your priorities," Landers said.
Patrias said that she sees that college can get overwhelming for students involved in multiple activities.
"We know that students are stressed out — that's something that the whole university is aware of," Patrias said.
If a student has three classes a day, the recommendation is to spend six to nine hours on school work per night. This schedule would leave barely enough time for any sort of break or free time which, according to the CSU Health Education and Prevention Services, is vital to student's mental health.
"Physical exercise is very important for stress management… even just walking around your building a couple of times or taking the stairs to just move your body and help process some of those stress hormones that are a part of the stress process," Patrias said.
With only 24 hours in a day, some are left feeling as if there physically is not enough time to accomplish everything they need to. However, prioritizing involvement in outside obligations can lessen student's stress.
According to Patrias, students taking part in extracurricular activities tend to become over involved and have to realize they might be doing one too many things. Those facing the issue can create less stress for themselves by prioritizing commitments and cutting out what is least important.
"There's no right way for any student to go about their undergraduate career, it's all just a balancing act," said Landers.
Although stress can tend to overwhelm students, there is a clear method in making it to graduation.
"Have confidence in your ability to get through hard times. We are naturally very resilient and I think we often lose sight of that when we're struggling," Patrias said.
Collegian Staff Reporter Lauren Rullman can be reached at news@collegian.com.