Benefits of fraternity and sorority housing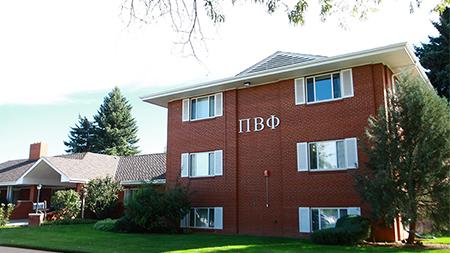 Living in a fraternity or sorority house at CSU provides students with the opportunity to live with all of their best friends under the same roof.
Seven of the nine CSU Panhellenic Council chapters have houses, as well as five of the 19 Interfraternity Council chapters. None of the Multicultural Greek Council chapters or National Pan-Hellenic Council chapters have houses.
A few differences include the fact that many organizations that have excellent grades have a facility, and some groups with facilities do not do as well academically, according to Lindsay Sell, director of Fraternity and Sorority life at CSU.
Organizations that have a facility are able to meet and gather in their house as a shared space.
"Living in the house was the best living environment so far in my college career. You learn something new about everyone who is living in the house and it really diversifies your overall experience," said Jake McPherson, senior business economics major and Pi Kappa Phi member.
The decision to have a house, or not, is made by the individual chapter. In some cases, chapters might be too small to fill a large facility. Others may decide that housing, and all the logistics and efforts that go with it are not something they are willing to take on.
"I think it's a great way to network socially and academically. There's always someone there to help you no matter what," said Ashton Crabtree, senior journalism major and Gamma Phi Beta member.
While living in a house does provide the chance for students to live together, it does not define that chapters specific culture or experience.
"Of course, chapters that have facilities enjoy the opportunity to live with brothers/sisters and meet and hold events in a common location. However, groups that do not have houses still have powerful brotherhoods and sisterhoods and provide a rewarding membership experience," Sell said.
As far as funding goes, CSU does not fund housing costs. According to Sell, a housing corporation board made up of fraternity and sorority alumni owns all current chapter facilities. These boards own and help manage the facilities. Members that live in facilities pay their room, and sometimes board, costs directly to this board.
"There is value in living and learning with one another as brothers/sisters in the same organization. Even without an official fraternity or sorority house, many members of organizations choose to live with one another in houses and apartments across town," Sell said.
Collegian Greek Life beat reporter Lexi Matula can be reached at news@collegian.com