Food trucks take a bite out of CSU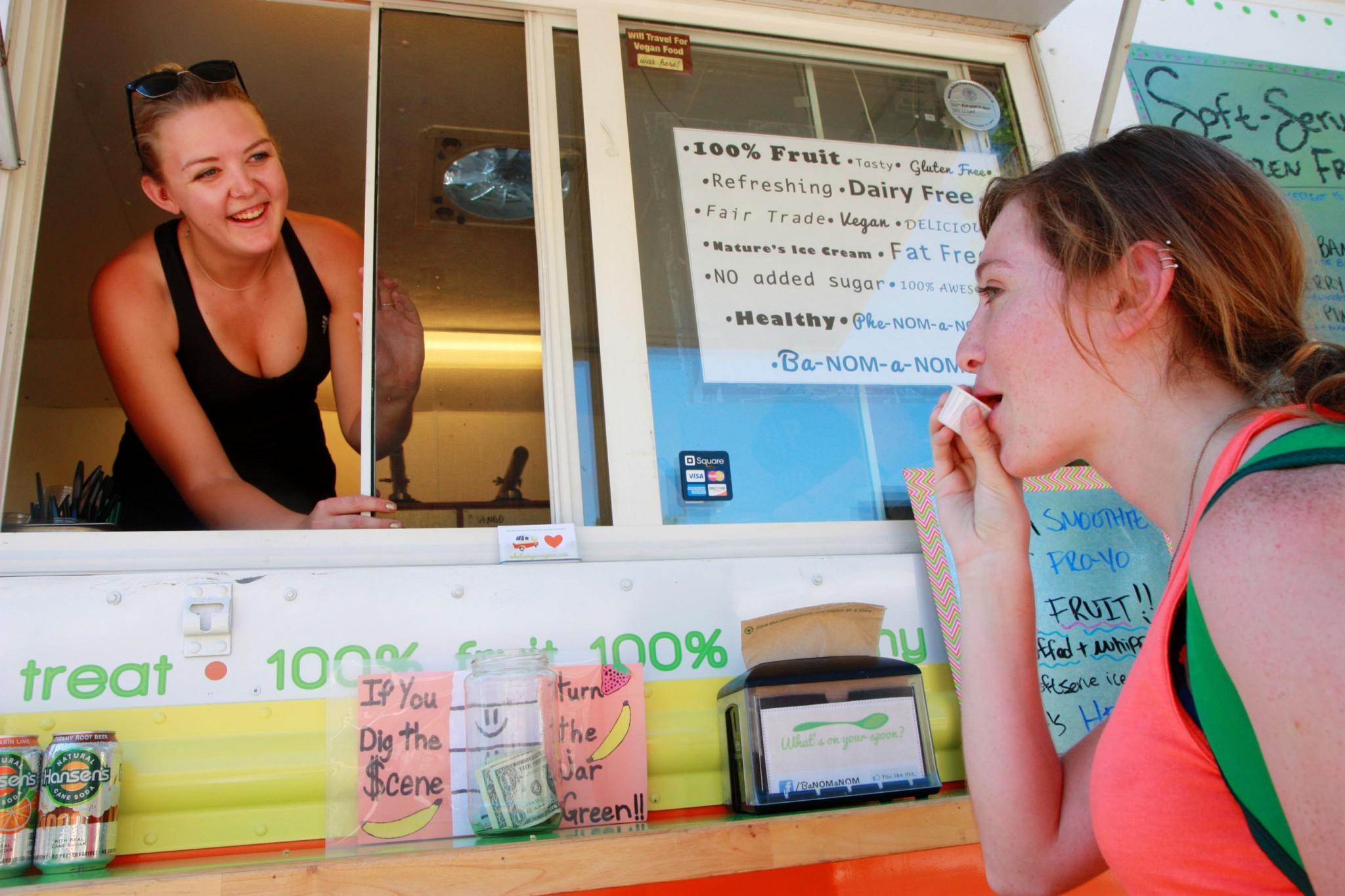 In the absence of Panda Express, Carl's Jr., and That's a Wrap, students are adjusting their taste buds to the new flavors offered by five vendors on the plaza and Pitkin street.
"The one main motivation here: provide an affordable food item that's also organic," said Brandon Mau, owner of B's Breakfast Cart.
Mau made plans to bring his food cart to CSU back in January. Along with four other food trucks, Mau's cart was a solution to the lack of food options during the LSC renovation.
"I wanted to do something different and new. I had this cart and I turned it into a breakfast cart," Mau said.
B's Breakfast Cart is the only truck making its home on the plaza is also the only shop offering breakfast from 7:30 a.m. to 12:30 p.m. daily — there isn't much competition.
While there isn't competition between the vendors on campus, Stacy Sevelin, owner of La Piadina, home Italian flatbread sandwiches, spoke of a mini food truck war that broke out among the 15 food trucks in Fort Collins to get a spot on campus.
"We were the last ones to get on board, but from what I hear, it was hard to land," Sevelin said, who found out about the opportunity through Mau.
Food truck vendors claim that their options are not only convenient, but reasonably priced.
"It's hard to get $3 organic anything these days," Mau said. So far, B's Breakfast Cart has sold out their burritos, fruit and muffins everyday.
Mau said he's struggling to stay ahead of demand without having 50 burritos wasted at the end of the day. Whatever is left, Mau donates to students or places in town to eliminate waste.
Junior human development and family studies major, Jessie Ruggiero, argued that the food truck prices are decent, but one might get more bang for their buck at the LSC.
Ruggiero had just come from Ba-NOM-a-NOM, the soft-serve frozen fruit truck promising 100 percent fruit, 100 percent healthy, 100 percent treats.
"I do like the fact that it's natural fruit, but I think I would still probably get things (at the LSC). Something a little more healthy in the LSC would be awesome!" Ruggiero said.
On the other hand, Andrew Steiner, sophomore at Front Range Community College, thought Umami Mobile Asian Eatery was worth the money and commute between classes.
"I honestly think it's very reasonable. $7 for all that?" Steiner said, pointing to his Ninja bowl loaded with sautéed veggies and curry.
All five food vendors will be open throughout the school year. Mau and Sevelin both spoke of bulking up on new equipment for the winter months.
"I put up a canopy for the rain but I'll get something more elaborate soon. That way it'll stay open for the winter for you guys," Mau said.
La Piadina is currently operated in a 1978 airport service truck from Wyoming, but each food truck has its own story. Common-Link sausage truck owners Derrick Smith and Jesse Doerffel brought their truck out from Los Angeles built and decorated, while Umami uses a trailer.
"The cheaper route is, of course, to buy cheap and used equipment, like refrigerators, grills, and then build it up from there," Sevelin said.
Home to the "what's on your spoon?" slogan, Ba-NOM-a-NOM, built their truck from scratch.
At closing hours, the four food truck vendors found on Pitkin are witnessed mingling over the common bond of bringing a different way to think about food at CSU.
"We have our own community, we feed each other, no money involved," Sevelin said.
Collegian Reporter Hannah Hemperly can be reached at news@collegian.com.