Everyone drops: When students want out of courses
Instead of attending class, some students are dropping them.
There are three options when dropping a course, according to Associate Registrar Donna Tobiassen Baitinger.
The best option, a student drop, is not visible on the student's record. As far as paperwork is concerned, it is as if the student was never enrolled in the course.
The other two options, a student withdraw or a staff withdraw, do show up on the student's record – this occurs because the student waited too long and missed the deadline to drop. With this option, students end up with a "W" on their transcript.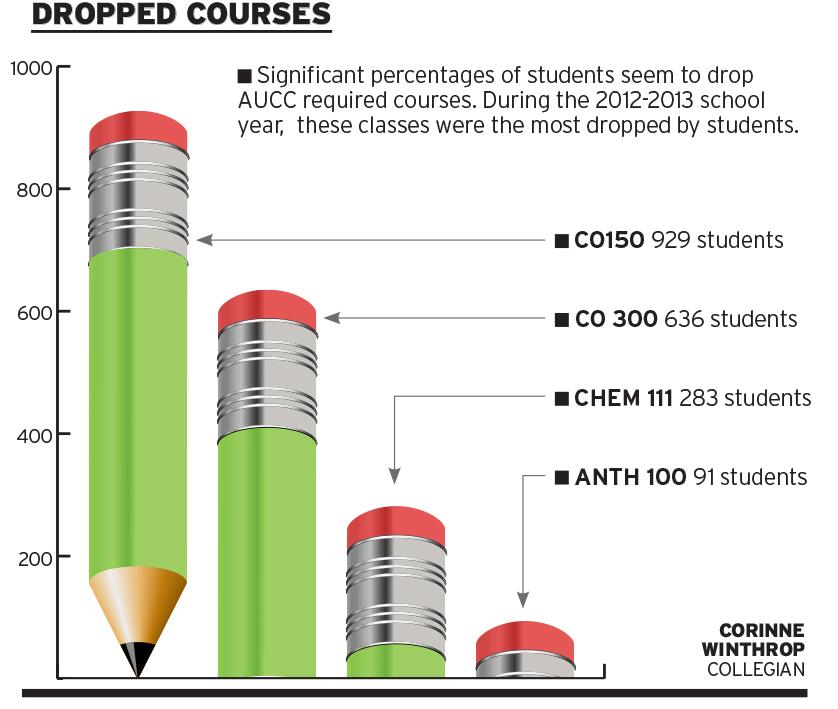 Significant percentages of students seem to drop AUCC required courses. During the 2012-2013 school year, CO150 was dropped by 929 students, CO 300 was dropped by 636 students, CHEM 111 was dropped by 283 students and ANTH 100 was dropped by 91 students.
While students may drop classes because they dislike it, English professor and academic advisor Luann Reid suggested that a student might also drop classes because of scheduling conflicts or after deciding not to take a required class until a later semester.
Reid also said that students tend to drop classes due to dissatisfaction.
"It's either that the course isn't as attractive as they thought it might be from the description, or that it isn't as attractive as the other 15 credits that they may be able to take," Reid said.
Junior political science major Kara English said students may also drop classes because they dislike or lack respect for the professor.
Seven or eight students dropped out of her U.S. Foreign Policy class — a course with a 40-person student capacity — after just one lecture.
"I have a feeling that a majority of them dropped because of how flippant (the professor) seemed throughout the whole lecture," English said. "Some of the things that he said were kind of offensive, and maybe (the students who dropped) just weren't up to handling that for the rest of the semester."
English said that although she understands why many students dropped, she stayed in the course because it is a requirement for her major.
According to Liz Hysen, a biology academic support coordinator, a common concern for students who sign up for science courses is either course difficulty or a lack of preparation — this occasionally results in dropping the class.
According to Hysen, freshmen especially do not understand how rigorous college classes can be.
"I think some students come in and they feel like they kind of cruised through high school … and some students, unfortunately, do treat college as an extension of high school, that first year, and that really gets them into trouble," Hysen said.
Collegian Reporter Ellie Mulder can be reached at news@collegian.com.