Fort Collins mayor, city council election results shock some, expected by others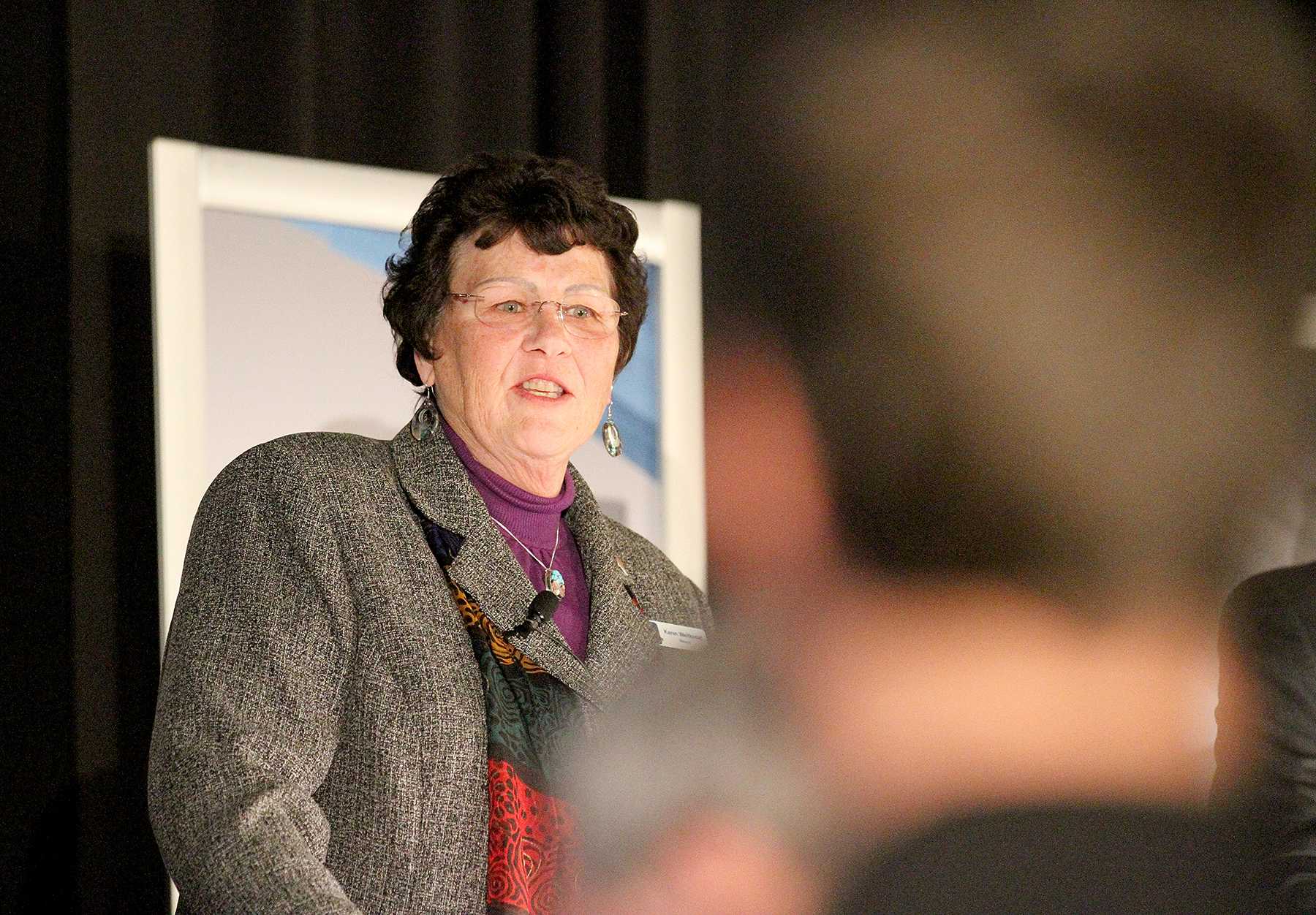 After two years on the job, Mayor Karen Weitkunat isn't going anywhere.
Mayor
Karen Weitkunat: 70.09% 17,941
Eric Sutherland: 29.91% 7,657
Councilmember District 1
Bob Overbeck: 47.71% 2,256
Butch Stockover: 27.00% 1,277
M.L. Johnson: 18.52% 876
Bryan Payne: 6.77% 320
Councilmember District 3
Gino Campana: 64.42% 3,553
Lynda Blake: 35.58% 1,962
Councilmember District 5
Ross Cunniff: 72.09% 2,103
Patrick Edwards: 27.91% 814
By collecting 70 percent of the 25,598 votes cast, Fort Collins residents overwhelmingly decided to keep her on the job.
Her only opponent, Eric Sutherland, collected the remaining 30 percent of the vote.
"I'm ecstatic, it's a wonderful margin to win by," Weitkunat said. "Seventy percent, that's a good testimony from the city."
After years spent being involved in local politics and his second attempt at winning the mayoral election, Sutherland said he will be stepping back from local government.
"I have come to the conclusion the only way to protect the public interest is by legal means," Sutherland said.
In a previous interview with the Collegian, Weitkunat said the most pressing issues facing Fort Collins are the economy, housing and transportation. With last year's drought and water sources stretched thin, she believed water usage will be another long-term concern.
"I have to put water at the top," she said. "Without water, we've got nothing."
As large numbers of people move to Fort Collins and the student population is expected to increase to 35,000 students over the next decade, land use issues will also be at the forefront of city planning.
"Student housing, neighborhoods, east side, west side,the stadium, the mall — those things are going to be defining Fort Collins for generations," Weitkunat said.
As for student housing and transportation, she said the issue is being met head on with the Mason Corridor MAX Bus Rapid Transit construction project, which will allow them to have housing away from campus but still have direct access to the university.
A Student Housing Advisory Committee has also been established to find a balance between affordable student housing while also maintaining the quality of life in single family neighborhoods.
After having already spent eight years on city council and four on the Fort Collins zoning and planning board, this will be her second term as mayor.
She'll be working with some new faces and personalities on city council.
As some members exited the position, others stepped in to take their place, including District 1 candidate Bob Overbeck who won his election as well. Weitkunat said she looks forward to working with the city council and isn't worried about the first-time members.
"It'll go smoothly just like every other time we change council. The city always goes on," Weitkunat said.
City Council District 5: Ross Cunniff
In the basement of Crown Pub, District 5 candidate Ross Cunniff and District 1 candidate Bob Overbeck awaited results of the city council race with about 40 friends and supporters.
Kelly Ohlson, Cunniff's predecessor in District 5, entered the room, fists in the air shouting, "Who wants to hear some results?"
The room erupted in a cheer and Ohlson shouted over the crowd that both Cunniff and Overbeck won.
"He brings the right attitude, right experience, good values," Ohlson said regarding Cunniff.
Cunniff won 72.09 percent, or 2,103 of votes cast. His opponent, Patrick Edwards, received 27.91 percent, or 814 of votes cast.
As a representative of the district that includes CSU's campus, one of the first initiatives Cunniff plans to tackle in city council is an issue many students face: housing.
Cunniff said he thinks the city and CSU need to work together to promote student housing. Especially since there is so little vacancy in Fort Collins, it's hard for students to find affordable housing.
"Getting appropriate housing for students will be key," Cunniff said. "Vacancy rates are really hitting the students and young adults hard."
Cunniff supports U+2 because it has improved quality of life in neighborhoods for Fort Collins residents but he also said he thinks there is more the city can do in conjunction with CSU.
"I feel humbled and excited at the same time," Cunniff said. "Very grateful for the voters' endorsement of my campaign… "
As their representative, Cunniff said he looks forward to fighting for the environment, including Poudre river, while remaining a fervent champion for continuing Fort Collins' economics.
"The big one continues to be how to we balance economic growth with the need to protect the environment and get Fort Collins to a place where we're more sustainable," Cunniff said.
Edwards said he plans to continue being involved in city politics, focusing on poverty in the city and U+2.
"It was a great race. I got to talk to a lot of young activists working on many issues on both sides of the isle," Edwards said. "Keep up the good work."
He added: "Even though I lost, hopefully more people will get involved in city elections otherwise things will never change."
Council Council District 1: Bob Overbeck
After successfully fighting off three other candidates for Fort Collins' most contested city council seat, Overbeck emerged victorious winning 47.71 percent of the vote.
"Bob won in a landslide, a landslide," Kelly Ohlson, the outgoing District 5 city council member.
Overbeck shared his enthusiasm.
"I'm excited for the community because the community has made a decision of where they want to go." Overbeck said. "This isn't a campaign about me –– it's about the community making a choice. They want to preserve their neighborhoods, preserve their hometown and they want a healthy environment."
Overbeck's win was a surprize to many who envisioned District 1 being a close race, with four people running for its seat on city council.
Ohlson said the split vote made knowing the results of the election a nail biter.
The results came as a shock to Butch Stockover, who also ran in District 1 but ended up receiving 27 percent of the vote.
"We lost, by a ton… I just don't understand that," Stockover said in his house as his friends and family learned the results of the election.
"Every campaign has some hopeful moments and some moments when you're just not sure," Overbeck said.
Overbeck started campaigning Jan. 2 and didn't stop until today — he estimates he has visited about 3,000 doors.
"He is so good with people. Knocking door to door, he always knew what to say and how to relate to people," said Linda Stanley, Overbeck's campaign manager.
Candidate Bryan Payne echoed Stanley's thinking, crediting the strategy as the reason why Overbeck won so substantially.
"They used old school campaign methods," Payne said.
Overall, Payne said he was saddened by the fact that it seems city council hasn't elected anyone different in terms of political stances.
"It is the same setup," Payne said.
For Councilmember-elect Overbeck, his first steps include going back to the people who supported him.
"First, I have a lot of people to thank. I can't make any decisions without talking to the constituents and we'll have to see what's on the city council agenda," Overbeck said.
City Council District 3: Gino Campana
Gino Campana won Fort Collins' District 3 city council election in a "landslide victory," according to Campaign Manager Ray Martinez.
According to Martinez, early indications said that the race would be neck-and-neck between Campana and his challenger, Lynda Blake. But his 64.42 percent victory reflected a strong win for Campana.
"This is not a questionable win," Martinez said. Campana's history growing up in Fort Collins and attending CSU lends to his experience with the city, along with his work on various city boards concerning planning and zoning.
"We believe everything we did on the surface that (Blake) did not helped us win," Martinez said.
Martinez helped facilitate a 21 prong approach for the campaign, involving different methods of spreading their message. At times, it even included Campana's four children helping in the race.
"I have the trust of the community and that's very valuable to me," Campana said. "I should be able to handle the city council transition pretty well."
The Campana family has been in Fort Collins for over 50 years, watching the small town grow and change during that time. His parents were born in Italy, making their son, Gino, a first-generation American.
According to sister Fran Campana, Campana has a heavy focus on new urbanism and creating a healthy environment for Fort Collins.
Campana focuses on renewal, not just development, said Lina Campana, Campana's mother.
Affordable housing and the MAX route construction will be his signature issues while in office. Campana worked on the original plan for MAX 17 years ago and plans to keep tweaking the final product.
Also known as the "rubber tired lightrail," the MAX program will provide rapid shuttling from Old Town to Harmony Rd. in approximately 10 minutes. The BRT will have priority at all traffic signals and will have service every ten minutes.
The project costs between four and five million dollars and is already paid for by state and federal grants.
Students and locals alike have noticed the massive increase in roadwork the past few months, perhaps without knowing that this project was the real reason for it.
Traffic on Prospect Rd. and the ongoing projects along the Mason corridor are the beginnings of this project, which will eventually have 14 stations.
The tracks will extend from Old Town all the way down to Harmony Rd. The largest stop will be located at the University Station, on the eastern side of campus.
With experience as a developer, Campana believes that MAX could become "a spine for the city," provided additional changes are made along the Mason Corridor, including reversing the direction of properties so that their backs don't face the new tracks.
"I will be focusing a lot of my time on the council," Campana said. "It's going to be a lot of work."
As a CSU alumus, Campana acknowledged the importance of relations with the university.
Campana previously said that U+2 was a "counterproductive" local ordinance and does not support its implementation.
"We need a better interface between CSU and the city. It is a critical thing that we get along with CSU," he said.
The first city council meeting will take place on April 9, the day of the swearing in ceremony.
"I will not be going to Disneyland," Campana said.
Opponent Lynda Blake could not be reached for comment.