One day as a 'homeless' man in Fort Collins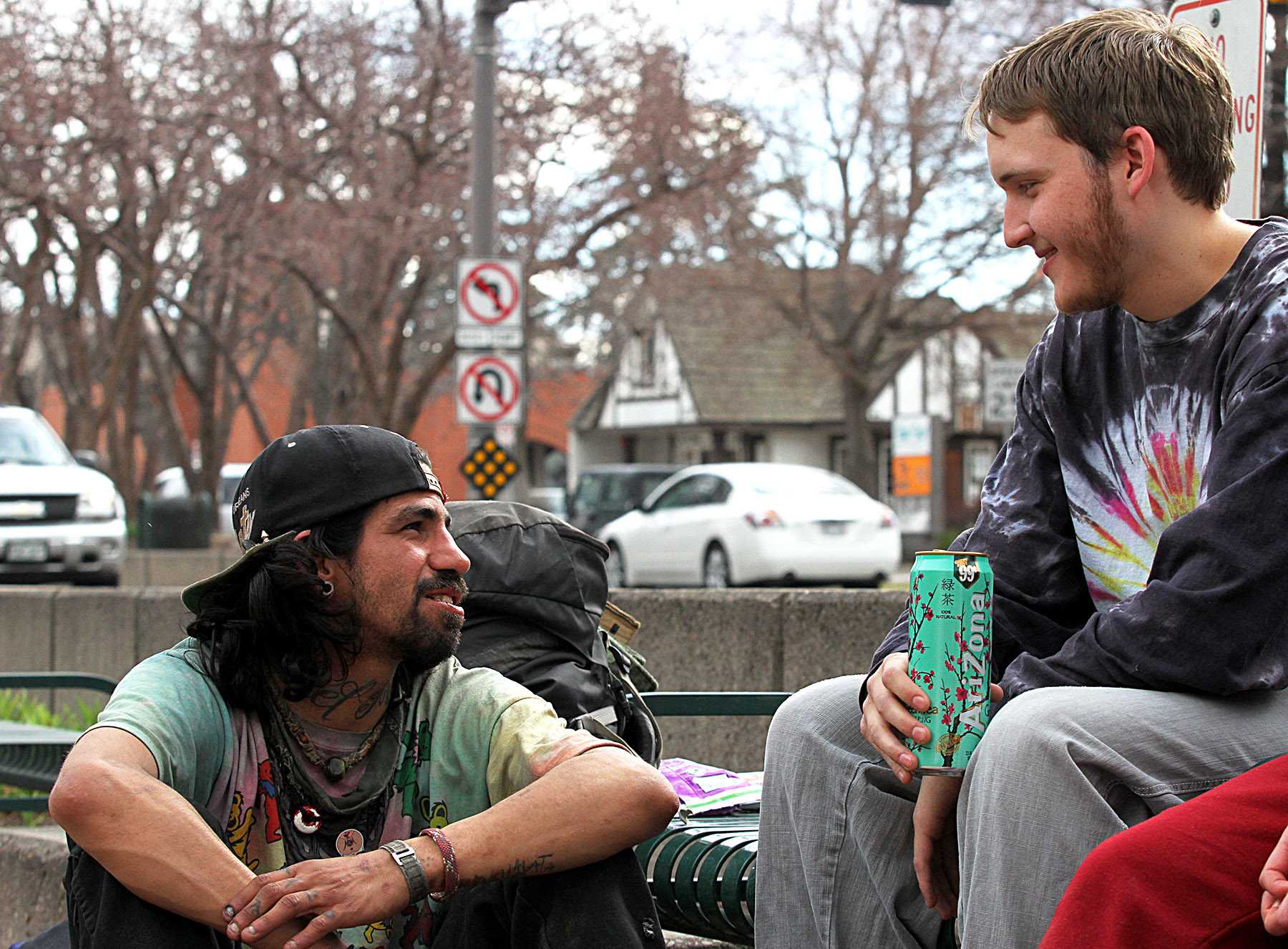 "Get a job!" is what most who graduate in a month will be trying to do. But living on the streets, those three words are something that's rudely barked in your direction at least once a day.
Another reporter and I took advantage of presumptions based on appearance and behavior in order to better understand the way people who are transient or homeless are treated by people of all kinds, including other transients.
To begin the day, we started panhandling for change in Old Town, Fort Collins, with the resolution to donate the money by the end of the day.
I failed in every attempt to ask for change.
One woman I asked for cash was out asking people for donations to an environmental charity. In fact, she originally approached us as we meandered around Old Town. She asked if I would want to donate or join and I informed her I had no money, and was in fact looking for donations.
A rude sharp glance coupled with a denial on her end was the end of our interaction.
Surprisingly, the one man who gave my fellow reporter some change upon request was the last person I would've assumed would be generous. He was an older man out with a woman; he sported a grey ponytail and a handlebar mustache, while wearing a motorcycle shirt.
He asked us what the money was really for and I said not for drugs or alcohol, to which he responded with a little less than a dollar in change and some kind words.
It finally felt good having some success — not in a greedy way, but more of a "nice to know people can surprise you with their kindness" way. Shortly afterward, I would come to see more and more that strangers can make first glance assumptions about others, but they often aren't true and individuals are much deeper than these presumptions afford them.
Down the block, Cailley and I met up with our photographer who had identified himself as a reporter on assignment to two transient men, Fish Taco and Beer. Fish Taco looked to be in his mid-20s and Beer told me he was 30. These two men were on the corner of South College Avenue and Olive Street April 5 for at least six hours holding a sign reading "Adopt Me."
Both men had former wives, each a child, and lives they led somewhere before they hit the road. Fish Taco claimed to hail from New Orleans, where he also claimed to have been shot several times in different sordid dealings. He decided to begin hopping trains and hitchhiking around the Western Hemisphere a few years ago and said he has been all around Canada, the U.S. and Mexico.
He was a self-proclaimed hippy and wore a Jerry Bear tie-dye in accordance. According to Fish, he was living the life he wanted to lead. He hadn't been forced onto the streets, but rather got sick of the typical lifestyle.
Fish Taco had no interest in work, bills, banks, big screen TV's, cars, a house or most other amenities most consider necessities. The man was looking for three things in my time with him: marijuana, cigarettes and money. As far as shelter goes, he said there are places to camp in and around every town he visits.
Beer wasn't so optimistic about the transient lifestyle. He admitted it was bad for most, but it was what he knew and he too had shunned society. Beer's hair was stringy and greying, his teeth were mostly gone or black and he had several large scars from bullets and shrapnel on his body.
He claimed to have gotten these scars in his two tours in the wars in Afghanistan and Iraq during his time in the Army. A while after he told me this, a car passed by us and yelled "Get a job!" at our little group on the corner from a car passing by, to which Beer and Fish responded with a storm of obscenities.
Beer claimed that hopping trains, living under bridges, in abandoned parking lots and wherever you had the least chance of being assaulted, arrested or molested was the life for him. He believed that being homeless could only work for people who have given up on the hassle of everyday life, and don't mind being cold, hungry and lonely all the time.
One must also be able to deal with having no family. Beer hadn't seen his wife, child or sister in years. He said he might not be able to find them if he wanted to.
Beer did claim to have made over $70,000 last year panhandling around the streets and doing odd jobs. One such job was letting people in Las Vegas kick him in the groin for $20 apiece. His biggest day he pulled in $1,200.
Beer also said he had been arrested in seven different states around the U.S. and most likely had warrants in all seven. He said he wouldn't mind a bed and food in jail, though, if he was caught.
After about two hours talking and panhandling with these men, I had learned all kinds of tips on how to live on the streets. But most of all, I learned that people aren't what you first may think of them.
Some guy who might appear to be a stereotypical vagrant has a history that might be very similar to anyone else. Beer claimed to have gone to college at one point. When my fellow reporter and I said we were going to get food, Beer and Fish Taco offered us $2 — more than anyone on the street who we asked.
Later when we parted ways with the duo, a fellow Collegian reporter  and I tried to panhandle a bit more with no success. We decided to end the day and head back to our houses. We left Fish and Beer a big bag of chips as our way of donating the money we got panhandling.
Collegian Writer Matt Gabriel can be reached at news@collegian.com.