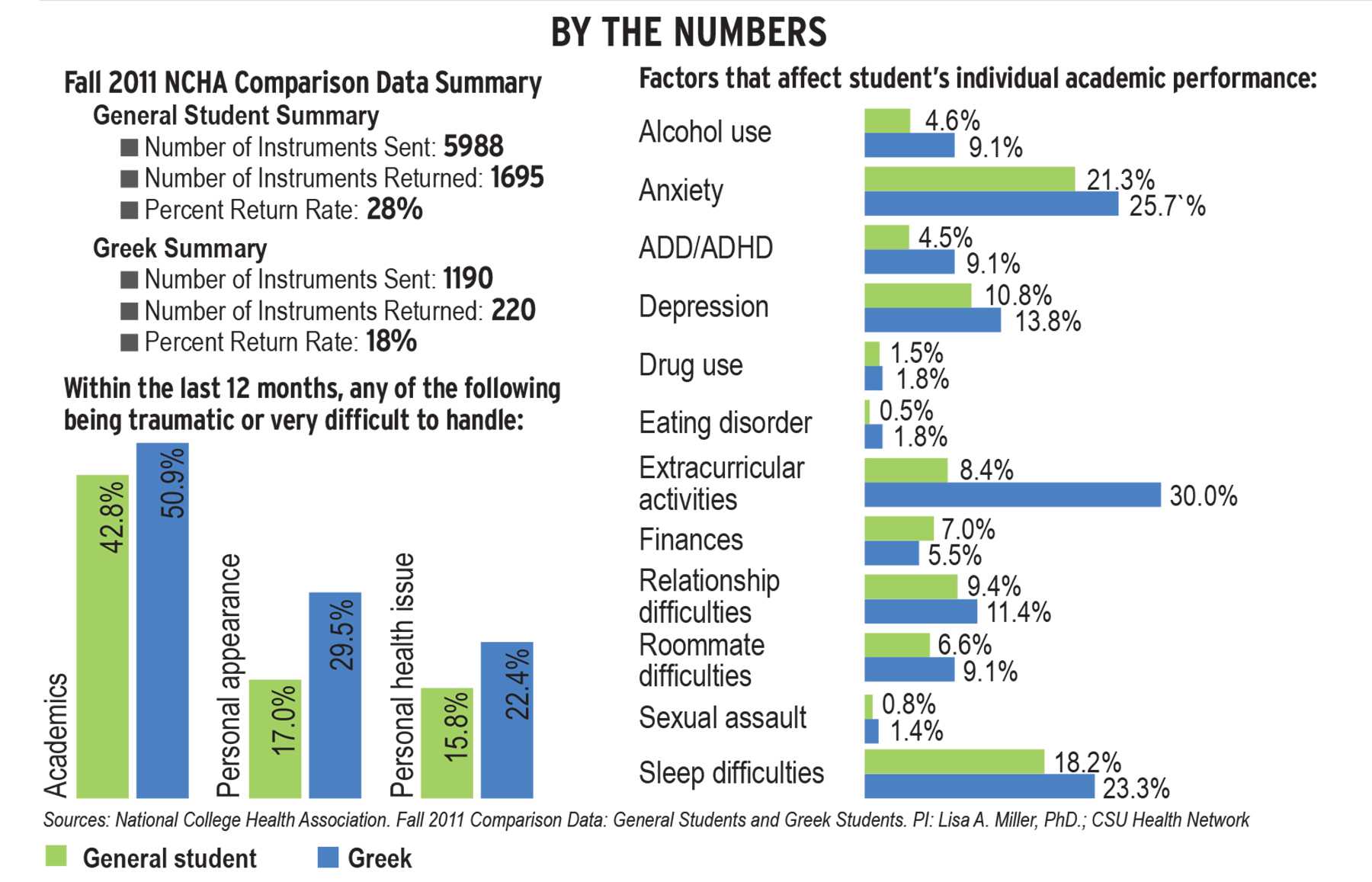 Before Zabriskie came to CSU, she assumed the Greek community was created to party and drink, but after joining a sorority, her perspective changed and she defends her membership with pride.
"I am so passionate about Greek life and the positive aspects of being in a Greek organization," Zabriskie said. "It is terribly frustrating when people shut that down and assume they understand."
Zabriskie said that when she tells other students she's a member of Greek Life, she is continually met with a negative reaction — typically of disgust.
"It is so frustrating for me because every time I discuss my chapter, I have to constantly defend it and try to explain why I am even in one," Zabriskie said.
A fall 2011 survey from the National College Health Association, CSU Health Network and Division of Student Affairs compared responses from students in Greek Life with those from non-Greek students. When asked which factors impacted individual academic performance, Greeks cited alcohol use, anxiety, ADD or ADHD, depression, drug use, eating disorder or problems, participation in extracurricular activities, relationship difficulties, roommate difficulties, sexual assault and sleep difficulties more than non-Greek students.
The only factor that was less problematic for Greeks was finances.
Greeks also cited academics, personal appearances and personal health issues as being "traumatic or very difficult to handle" more than non-Greek students. The survey reported, for example, that 9.6 percent of non-Greek men said their personal appearance was very problematic –– 21.1 percent of Greek men said it was an issue for them.
Interviews with Greek Life members reveal the statistics are not reflective of all Greek members.
A member of Phi Gamma Delta, Danielson said the reactions he has experienced vary depending on the student, but students who are anti-Greek believe the negative stereotypes.
"The misconceptions are more social than academic," Danielson said.
Zabriskie agreed but added that all the Greek houses are dry, meaning they don't allow alcohol on the premises and require members to conduct themselves in a certain manner.
"Mostly, (students) think Greek Life is created to party," Zabriskie said. "The Greeks have severe restrictions from partying … these restrictions are sacrifices for our organization and to hold ourselves to a high standard."
Indeed, some information presented in the survey painted a positive image of fraternities and sororities. Greeks, for example, reported greater use of contraceptives to prevent pregnancy than non-Greeks. 81.8 percent of Greek men said they used a condom, compared to 62.3 percent of non-Greek men. By the same token, 75.7 percent of Greek women said they used birth control pills, compared to 57.4 percent of non-Greek women.
Even still, Sara Hummel, member of Chi Omega, said she can understand the stereotypes because before joining Greek Life, she had similar presumptions — she thought Greek Life was like what she saw in movies and TV shows.
Hummel said even after getting to CSU, she remained unsure whether she wanted to join the sorority during recruitment.
"I was afraid I wouldn't be comfortable," she said. "It's nothing that I ever thought it was. You go in expecting all these stereotypes but there's so much more each house focuses on."
While Hummel debated whether or not joining a sorority would be the right fit for her, Danielson said he never questioned joining a fraternity.
"I have Greek alumni in my family and seeing what they are about throughout my life left no questions in my mind about joining," Danielson said.
Now serving as Chi Omega's Scholarship Chair, Hummel is actively involved in confronting the false assumptions people have about Greek Life members.
"A lot of people don't realize how much these organizations mean to us," Hummel said. "So, when there's negative connotations with what we invest ourselves into, that's why it's such a sensitive topic, but we are always working on bettering our image because we understand why some of these do exist."
"People assume we're all the same," Hummel said.
In her time at CSU, Hummel hopes to break down stereotypes that have festered over the years between Greek members and another prominent group on campus — the faculty.
Hummel said she could see how it's easy, especially for non-Greeks and some teachers, to see the letters on her shirt and assume they know her because they've met another one of her sorority sisters.
"(The letters) are just a name they put on us, but it's no more than that," Hummel said.
Danielson also has noticed a trend of judgment from some faculty.
"There are many teachers that do not like Greeks," Danielson said. "It could be because some choose to sit in the back of the class, or converse during lecture, or ditch — some may not be the best examples for a Greek student. But many of us sit up front, listen attentively, ask questions and make it to office hours."
Zabriskie said she has not experienced a teacher misinterpreting her based on her Greek Life membership, but employers have.
"I have had employers discriminate against me because I am part of a Greek chapter, and I have had sisters who choose not to put that on their resume because of the discrimination and lack of understanding about Greek Life," Zabriskie said. "Little do these employers know that being Greek teaches someone how to work well with groups, customer service, organization and representation."
Despite the stereotypes she's had to confront, Hummel said she has received the support she needed to become the person she wants to be.
"This organization has pushed me to be something that I could never have done without it," Hummel said. "There is no way that I would be successful the way I am now without this organization and I think that's why it's so hard to hear those stereotypes."
Senior Reporter Kate Simmons can be reached at news@collegian.com.