Cost of College Athletics: CSU sports subsidized 48 percent at $14 million per year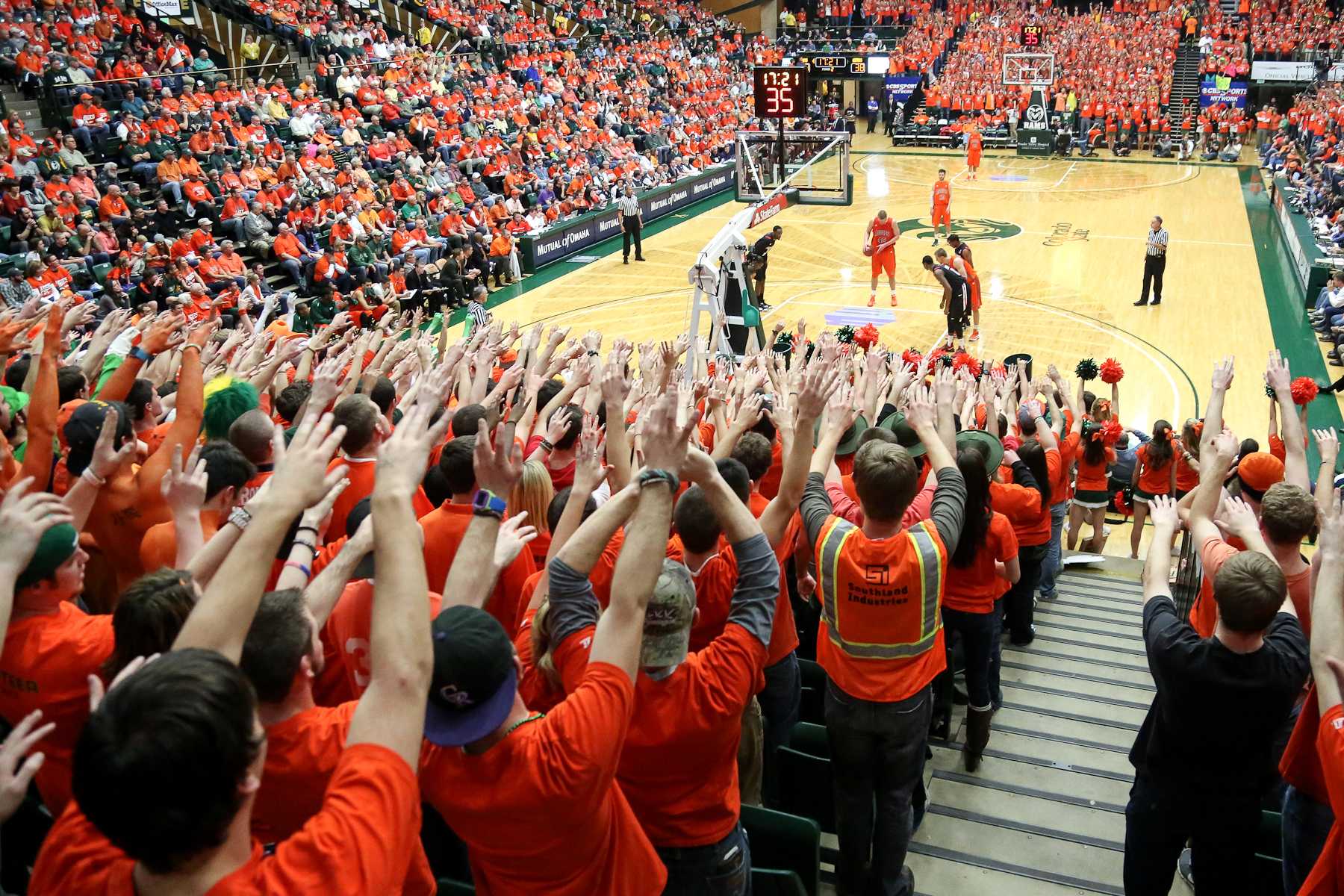 Correction: Due to an editing error, it was incorrectly stated that New Mexico State is part of the Mountain West Conference; in fact, it is not part of the MWC. The University of New Mexico is part of the MWC. 
Last week, basketball madness on the CSU campus hit a fever pitch.
Saturday morning, the lobby of the McGraw Athletic Center quickly filled with fans who had come out early to watch the Rams square off against the New Mexico Lobos in what some called the biggest game for the men's basketball team in CSU history.
Upstairs on the third floor, Steve Cottingham, senior associate athletic director for business operations at CSU, talked about how a university athletics program plays a key role in creating campus solidarity and a sense of community.
On a larger scale, successful teams have the potential to draw national exposure to the university, making it a household name.
"You've seen the last few weeks what college athletics can do for college life," Cottingham said, referring to the enthusiasm around the basketball team breaking into the top 25 in the AP and Coaches Polls. "I mean, that's just awesome earlier this week with the student pick-up, students camping out and coming together. It's part of all of that."
But these programs and possible benefits aren't free. Data compiled by USA Today shows:
Of the $29.3 million the CSU athletics program generated in 2011, $14 million came from student fees and university support.
Of the $14 million, $5 million came from student fees and $9 million came from the university.
The data mirrors a national trend where college athletics departments receive large subsidies, especially those with mid- to low-budgets.
Academic vs. athletic per-student spending
During the recent economic downturn, many universities experienced dwindling state support for higher education and responded by raising tuition and fees for students, putting pay freezes in place for faculty and increasing student-to-teacher ratios in the classroom.
Athletics programs appear to have been largely immune to these cutbacks.
Between 2005 and 2010, spending by college athletic departments per athlete rose more than twice as fast as academic spending on a per student basis, according to a report released January by the Delta Cost Project, a non-profit organization that tracks college spending.
"They (universities) were still continuing to fund athletic subsidies even though there were a bunch of budget troubles on the academic side," said its author, Donna Desrochers.
The average school in the Football Bowl Subdivision (FBS), commonly known as Division I, spent more than six times per athlete than per student on strictly education-related expenses, including student services and instruction. By comparison, at approximately 5.6 times per athlete, CSU is slightly below the national average.
FBS in 2005: $60,727 spent per athlete
FBS in 2010: $91,936 spent per athlete (51 percent increase)
CSU in 2010: $68,000 spent per athlete
FBS in 2005: $11,079 spent per student for education
FBS in 2010: $13,628 spent per student for education (23 percent increase)
CSU in 2010: $12,007 spent per student for education
Of the $68,000 CSU spent on each of the 370 athletes in 2010, approximately $38,000 came from student fee and university support.
The disparity between the amount spent on athletes and students on a per-person basis isn't the only divide that's widening every year.
Teams in the top five conferences –– SEC, ACC, Big 12, Big Ten, Pac-12 –– collectively reap more than a billion dollars per year in media contracts, creating a financial gulf between those and the other six conferences.
CSU Chancellor Mike Martin knows what it's like to be on both sides. He was once the president of New Mexico State, and later the chancellor of Louisiana State University, which belongs to the SEC.
As a result, Martin was able to "make comparisons from what it's like from one end of the spectrum to the other," he said.
Martin delivered a speech titled, "The Impacts of Financial Inequality in High Revenue Athletic Programs," at the NCAA Convention in January 2013. He addressed conference and university television deals, and the money that follows, further separating top conferences from middle and lower level conferences.
He believes that at most universities, but especially ones with wealth and prestigious athletic programs, a deeply entrenched, politically powerful set of donors, boosters and community members pushes the athletics component while the academics are secondary.
"It's sort of the dog being wagged by the tail," Martin said. "We have some of those athletics departments, including LSU, that have become so incredibly powerful that it's almost impossible to challenge them very seriously from the academic side."
Coaches' salaries
Amy Perko, the executive director for the Knight Commission on Intercollegiate Athletics and Desrochers both said this growth is, in large part, fueled by the amount of money spent on coaches' salaries, compensation and benefits for their staff.
While the source of funding varied dramatically across programs, expenses were generally even across the board.
Roughly a third of most athletic budgets are spent on athletic staff, making it by far the largest expense in college athletics. Student aid for the athletes is the second highest expense followed by money for facilities and maintenance.
In 2011, the CSU coaching staff received $8.6 million in total salary, with student athletes receiving $6.2 million in scholarship assistance.
"The only things that have been done to control spending are putting limits on the number of coaches teams can have…" Perko said. "But the trend really has been in other areas to deregulate instead of adding more regulations."
Charles Clotfelter, a Duke University professor and author of the book "Big-Time Sports in American Universities" found that between 1985 and 2010, average salaries at public universities rose 32 percent for professors, 90 percent for presidents and 650 percent for football coaches.
Media contracts and disparity between conferences
Echoing Chancellor Martin, Perko said a widening divide between the elite, high-spending conferences and everyone else, along with an aggressive emphasis on winning games and increasing television market share, is "feeding this spending escalation."
She predicted a very near future where the top five conferences will bring in a combined $1.5 billion in media revenue per year for their institutions and conferences, further separating the "haves" and the "have not's."
As schools pour more money into athletics in an attempt to be competitive and receive national exposure, the gap between educational and athletic spending on a per student basis will likely continue to increase.
"The commission does not believe that the current system and Division I as it's currently structured is sustainable without detrimental impacts to the academic budget," Perko said.
The Knight Commission has advocated for a system that would create a healthy balance between athletics and academics.
Recommendations include rewarding schools with financial incentives to keep athletic spending in check, increasing transparency to compare athletic and academic spending across universities and treating athletes as "students first and foremost."
The payoff
The hope of every university pumping money into its athletic program is to elevate their program to be competitive on a national level. With that comes household recognition, the possibility of moving to a more elite conference and increasing revenue streams through TV and conference contracts.
"It brings more attention to the school and kids can't apply to go into a school if they've never heard of the school," Steve Cottingham, senior associate athletic director for business operations at CSU, said. "To see Colorado State ticking across the bottom of the ESPN or CBS sports tickers, with all of that it gets the name out there."
Desrochers acknowledged benefits can come with winning teams, particularly men's basketball and football. A bump in student applications can be observed, name recognition increases and maybe an increase in athletic donations will follow.
The benefits, however, are short lived.
"They might persist for a year or two after a school wins a championship and then they tend to fall back to the level they were previously," Desrochers said.
Chancellor Martin characterized CSU as a mid-level athletic program "hopefully breaking through to the upper end kind of program."
With university Athletics Director Jack Graham's vision of a "Bold New Era" for CSU sports and a determined effort to fundraise for a $246 million on-campus stadium, CSU is positioning itself for that sort of move.
Martin envisions a "sound" successful athletic program as having a handful of sports besides football that are self-sufficient and competitive, and ensuring a priority for athletes is the focus on academics.
In a state with three Division I schools and an NFL team competing for the attention of a relatively small population of five million people, Martin said it's important to keep expectations reasonable as to what to expect out of the football program.
He acknowledged it's extremely difficult to compete with football powerhouses with nine figure athletic budgets that can be found in conferences like the SEC and Pac 12.
"The expectation, that even with the new playoff system, that the CSU's of the world are ever going to play in one of those games is almost zero," Martin said.
He added that he's "pretty optimistic" about the direction the athletic program at CSU is going and believes the university can have solid, multiple-sport successes that will add to the campus atmosphere.
"The investments being made I believe are prudent if we can pull them off in a financially sound way that we don't tax the academic side of the enterprise," Martin said.
Senior Reporter Austin Briggs can be reached at news@collegian.com.