CSU Apparel Design and Merchandising class hosts fashion show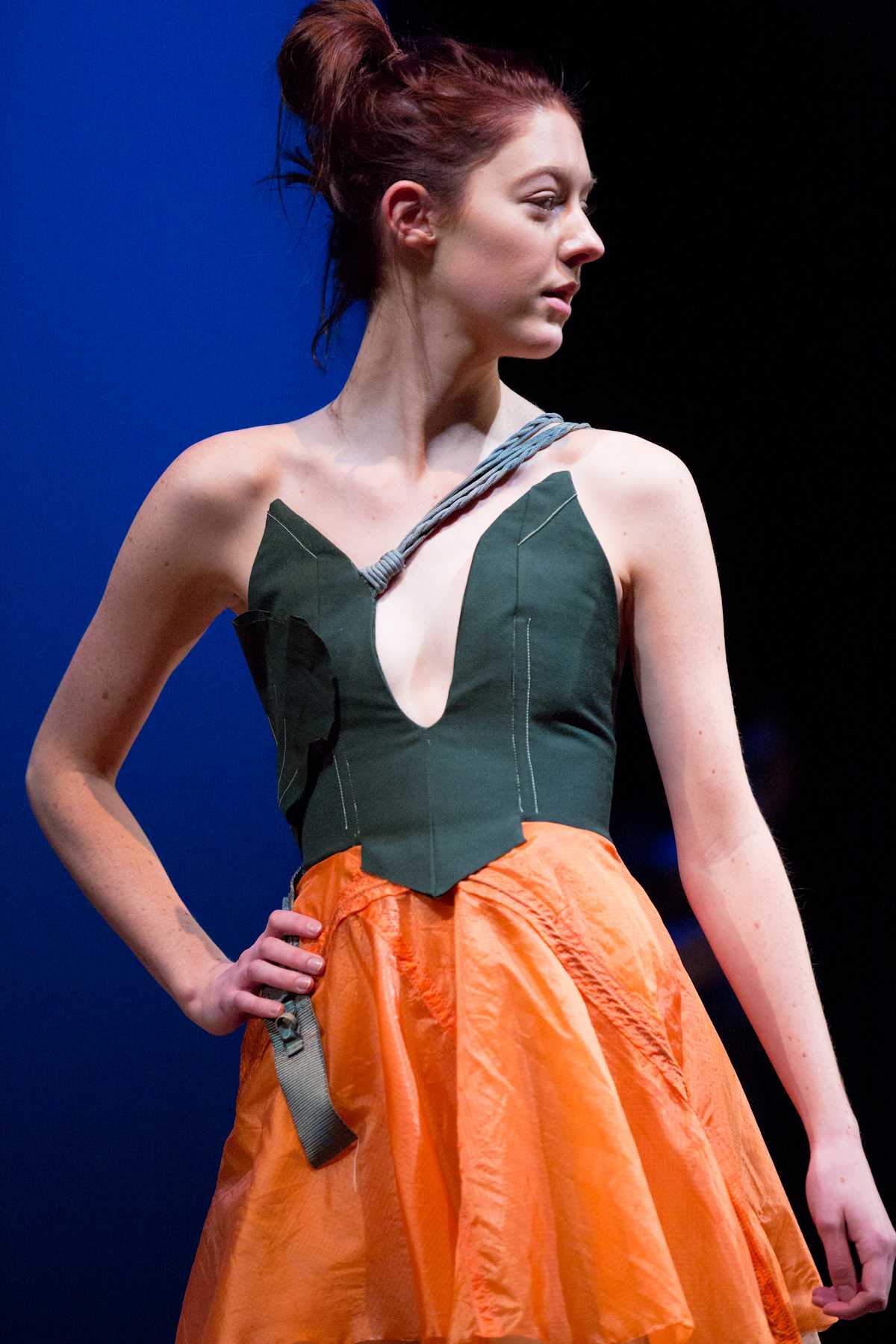 Editor's note: Megan Timlin was formerly a writer at the Collegian.
Flowing ballroom gowns, swimsuits, rugged jeans and dresses created from parachutes made their way to the Lincoln Center stage Friday night in CSU's Fashion Show, "Destinations."
Twenty-six seniors from CSU's apparel merchandising program created collections for the show as part of their capstone project. These designs were worn by models who walked on a stage-turned-runway designed by students.
"The set has been bigger and better than we've ever had it before. I have been through four of these shows, hosting two of them," said Joel Lobo, a senior apparel and merchandising major and show host. "The European windows, the projections, the video –– it was all put together very well."
Fellow apparel and merchandising major Jules Davies helped coordinate the event and worked backstage to help manage behind the scenes.
Davies said she was most impressed with the parachute collection, which students created from a donation of parachutes and wool from Aspen Point.
"I just loved what they did with those limited materials," Davies said.
Davies wasn't the only person impressed. In a 1,200-seat theatre, a sold out audience gazed in awe and cheered as the models graced the stage.
One audience member who was not only impressed but filled with immense pride was Carol Engel-Enright, internship coordinator for the CSU design and merchandising department.
"I teach the 100-level apparel design, so these are kids that didn't even know how to stitch or draw," Engel-Enright said. "You know, they start from nothing and to watch them get to that level and know that their career is ahead of them is really incredible."
While the audience watched hundreds of garments parade across the stage, event staff coordinated wardrobe changes, makeup adjustments and timing behind the scenes.
With approximately 50 models and 26 collections, the scene backstage was a little chaotic.
"We had nearly 50 models to coordinate and get through hair and makeup and tell them where to be and what dresses," Davies said. "Organizing the backstage area was a difficult task and our team did a really impressive job."
Davies said it was challenging keeping the show moving.
"It just goes and goes and you have to keep your models fed and watered and you have to keep them with lipstick on and sometimes your models kind of get sleepy toward the end of the show, so you have to keep them pumped up," Davies said.
Hannah Pannunzio, a sophomore apparel and merchandising major, worked to assist the models between their walks onstage.
"Trying to manage who was in what room with what outfit and what time they were supposed to be out and who had a quick change –– it was managing the time of all of it, trying to get everyone in the right outfit at the right time was a little overwhelming," Pannunzio said.
"It was a little chaotic at points," Pannunzio said. "We had a lot of models, we had a lot of garments and it all just came together.
Despite the stress of managing backstage, Pannunzio said teamwork paid off.
"We pulled it off," Pannunzio said. "We got a sellout crowd and everyone really enjoyed it. That's the best part."
Payton Gifford, a sophomore apparel and merchandising major who modeled for the show, said the best part is right before walking onto the stage.
"Standing with your group right before you walk out, there's this energy," Gifford said. "There's this huge energy and then you're calm when you walk out. It helps with the nerves for sure."
Lobo agreed that there's a major switch from the atmosphere backstage to being onstage.
"There's an adrenaline rush when you're offstage more than when you're on," Lobo said. "It's a lot more chaotic backstage and a lot more relaxed onstage when you're with the people.
While Lobo was onstage introducing the next collection to the audience, Davies said there was an impromptu dance party behind the scenes.
"We had our girls in swimsuits right next to girls in evening gowns on the side of the stage and the music was playing and a little dance party ensued," Davies said. "Everyone's breaking it down –– bikinis next to wedding gowns."
One of the seniors who had an outdoor-wear collection featured in the show, Tiffany Fox, won the award for creating the "Most Marketable" collection.
Fox said she worked on her collection throughout the entire fall semester.
"I'm really inspired by outdoorsy endeavors and outside environments. I wanted to design something I would wear and something I would buy," Fox said, adding that creating her collection was an evolution. "You start out with a bunch of ideas and then you have to evolve those. Essentially a lot of my decisions were based on fabrics and what trims were available."
After graduating in May 2013, she hopes to continue working with outerwear and active wear.
Event organizer Megan Timlin said the Fashion Show is a great way to showcase CSU's design program.
"We have such a strong program at CSU and the show is always worth coming too because you get to see a lot of creativity that is not always showcased around campus," Timlin said. "Seeing all our hard work come to life was amazing."
Senior Reporter Kate Simmons can be reached at news@collegian.com.