SOS Hughes still fighting against on-campus stadium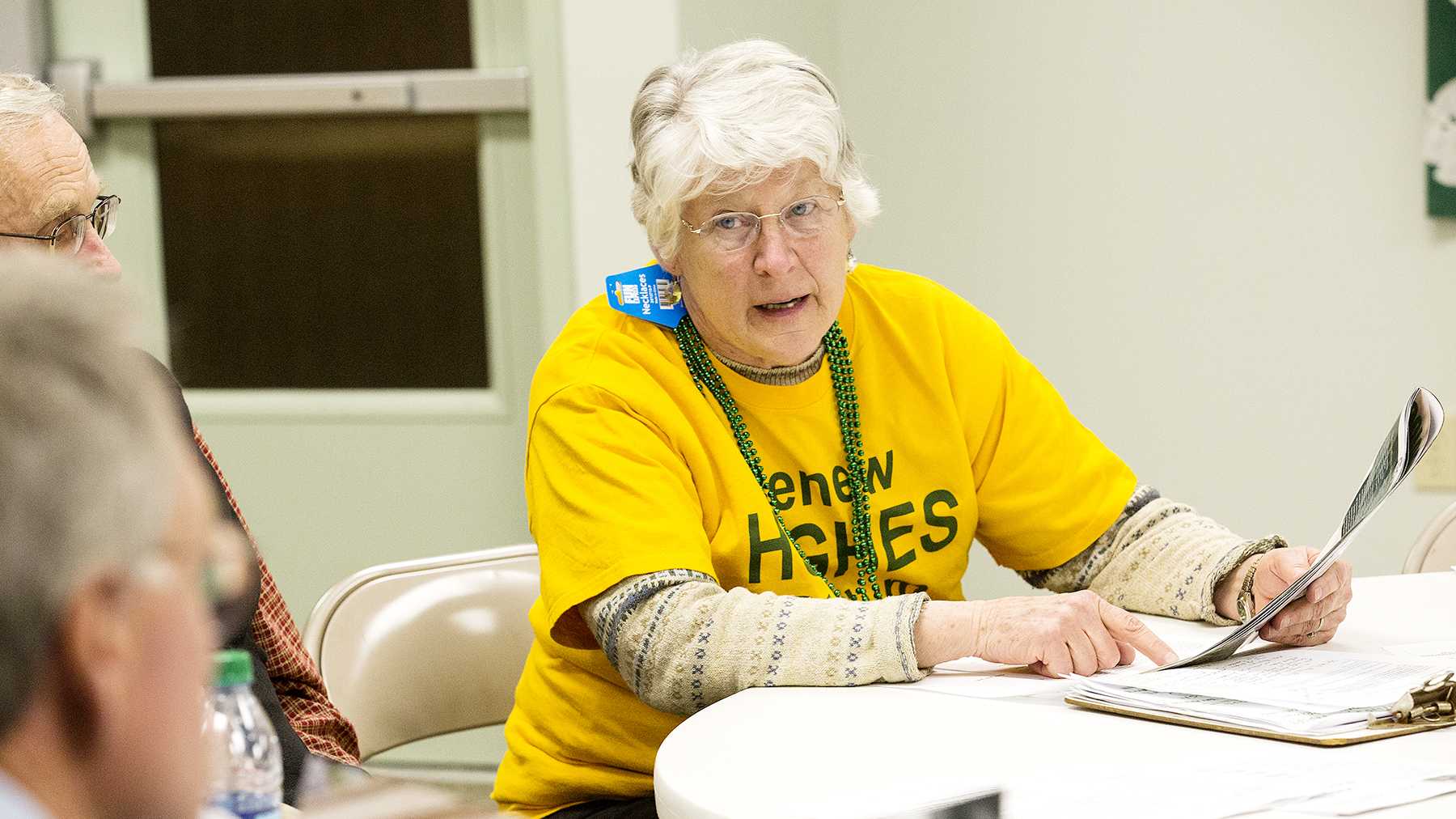 Four-and-a half months since CSU President Tony Frank announced the university would move forward with plans to build an on-campus stadium, the grassroots organization that sprung up in opposition to the move is still working to stop the $246 million project.
Save our Stadium Hughes has been meeting twice per month at Westminster Presbyterian Church at 1709 West Elizabeth since the beginning of the year.
Wednesday evening, 11 members gathered around a set of tables in a backroom of the church to formulate plans for the next three months.
Members still feel they can influence the process even though the university has already begun fundraising efforts.
"If we didn't think we could change anything, then we wouldn't be here right now," said SOSH organizer Bob Vangermeersch.
The group plans to have their voice heard by marching in the Fort Collins St. Patrick's day parade next month.
"Students are invited to join us," said Fort Collins resident Jean Yule.
Other plans include creating a flyer to hand out when the CSU Board of Governors meet the first week of May and enlisting as many people to speak out against the stadium as they are able. Vangermeersch felt the BOG didn't take a critical, analytical look at potential negative consequences of building an on-campus stadium.
"The problem with the BOG is they accepted what was put in front of them without asking a single bloody question," Vangermeersch said.
A PowerPoint presentation showing detrimental impacts they believe would result from an on campus stadium is also in the works. Group members plan on showing the presentation to civic organizations in the community.
Members said they have worked with some students at CSU who oppose the new stadium but said they would like to see more involvement from the student population.
"If this happens it's going to cost them and it's going to cost their kids," Vangermeersch said.
CSU began fundraising efforts shortly after president Frank's announcement in October and the university has been mum on the amount of money raised so far. In an interview with the Denver Post last week, Graham indicated that the university is currently talking to deep-pocketed donors.
"The first stage of that kind of project is to work with prospective large donors — seven- or eight-figure donors," Graham said. "We're doing that. We're calling on people we know have a relationship with the university and the capability to make those kinds of commitments to the project … We're in the middle of it, and I'm optimistic about the outcome."
In response to Frank's conditional go-ahead for the on-campus stadium last October, billionaire philanthropist and Bohemian Foundation founder Pat Stryker released a statement confirming that she has not committed any financial support to the project.
"Instead, I am focused on other philanthropic activities through Bohemian Foundation's programs and initiatives," Stryker said in the statement.
Stryker, 55, donated $15.2 million dollars to CSU's athletic department less than 10 years ago for renovations to Hughes Stadium, according to RamNation.com.
Even still, Graham said he was "absolutely" certain the project would be a success in the interview.
Senior Reporter Austin Briggs can be reached at news@collegian.com.