Snuggles the therapy mini-horse visits CSU vet hospital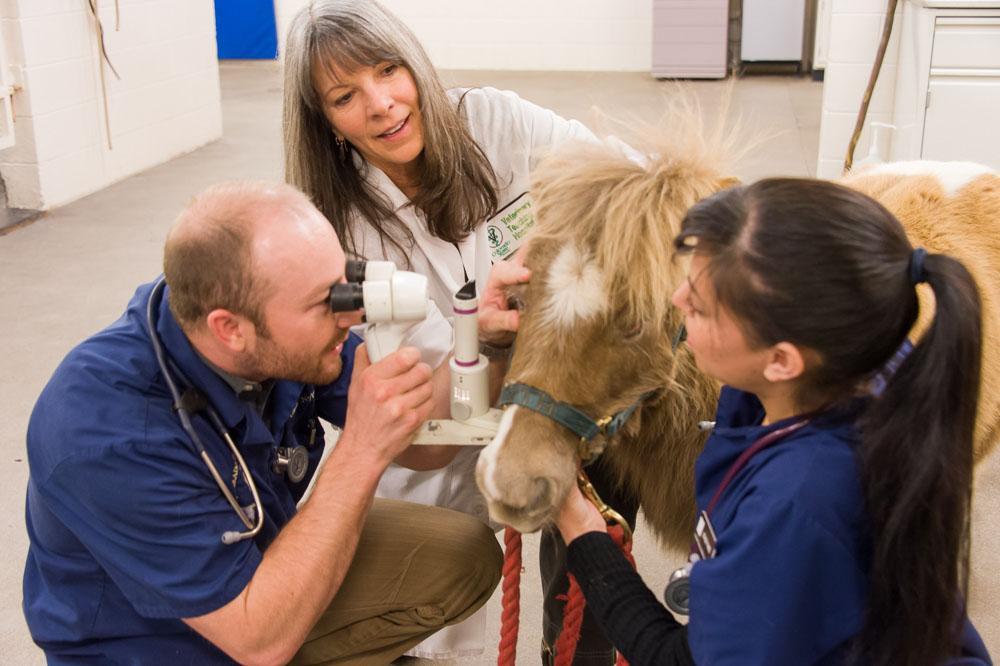 One might expect several news vans to be parked outside of CSU's Veterinary Hospital last Friday for a prize racehorse or a Budweiser Clydesdale, but Snuggles is not your everyday noble steed. She is a miniature horse whose head barely reaches a grown man's waist.
Snuggles is also a specially-trained therapy horse. She travels to nursing homes, rehab clinics, special-needs children centers and hospitals all across Texas with her fellow horses from Minis and Friends, under the slogan "Mini Hooves Touching Many Hearts."
"It's very significant to patients not looking toward a bright outcome," said Melanie Tatum, one of Snuggles' trainers.
Hugging and working with these friendly creatures can brighten a particularly dreary day in the nursing home or provide meaningful social interactions to a troubled child. Her trainers, Tatum and Ed Jones, agreed that a therapy mini-horse might seem silly. But a visit from Snuggles — with little hooves and a fluffy winter coat — can make all the difference to her patients.
Snuggles is special, because unlike most horses, she has horrible eyesight. An infection as a colt caused her to completely lose vision in her left eye, while glaucoma and cataracts limit the sight in her right eye.
According to Dr. Cynthia Powell, Snuggles' Fort Collins veterinarian, glaucoma causes a buildup of fluids, which creates excessive pressure in the eye and can lead to either gradual or sudden blindness.
Snuggles first traveled from Lubbock, Texas to the CSU Veterinary Hospital in 2008 for a surgical procedure that reduced the pressure to a safe level. Snuggles returned to Fort Collins last week for a checkup to ensure that she doesn't need further treatment.
Luckily, her sight does not stop her from doing her job.
When asked why they chose to make the 600 mile road trip — during which Snuggles is accompanied by two other miniature horses, Ringo and Buttercup, who keep her company and are collectively called "The Three Musketeers" — Tatum and Jones explained that it was initially because Fort Collins was the closest facility capable of offering the procedure.
"(We) fell in love! Fell in love with the doctors, in love with the school, in love with the town," Tatum said.
The facility provided great care and communication throughout Snuggles' treatment, according to Jones.
Friday's check-up went very well, according to Dr. Powell. Her eye pressure has remained at a safe level since her surgery, and other than receiving daily eye drops in her right eye, no further medical treatment is currently necessary.
This was great news for the energetic 8-year-old. Miniature horses typically live for 25 to 30 years, so Snuggles will be busy brightening people's day for many years to come.
Snuggles, Ringo and Buttercup also attended the 1870 dinner at CSU Saturday night to have their heartwarming story heard by hundreds of attendees.
Collegian Writer Isabella Heepke can be reached at news@collegian.com.