Nap time paid off for Sue James.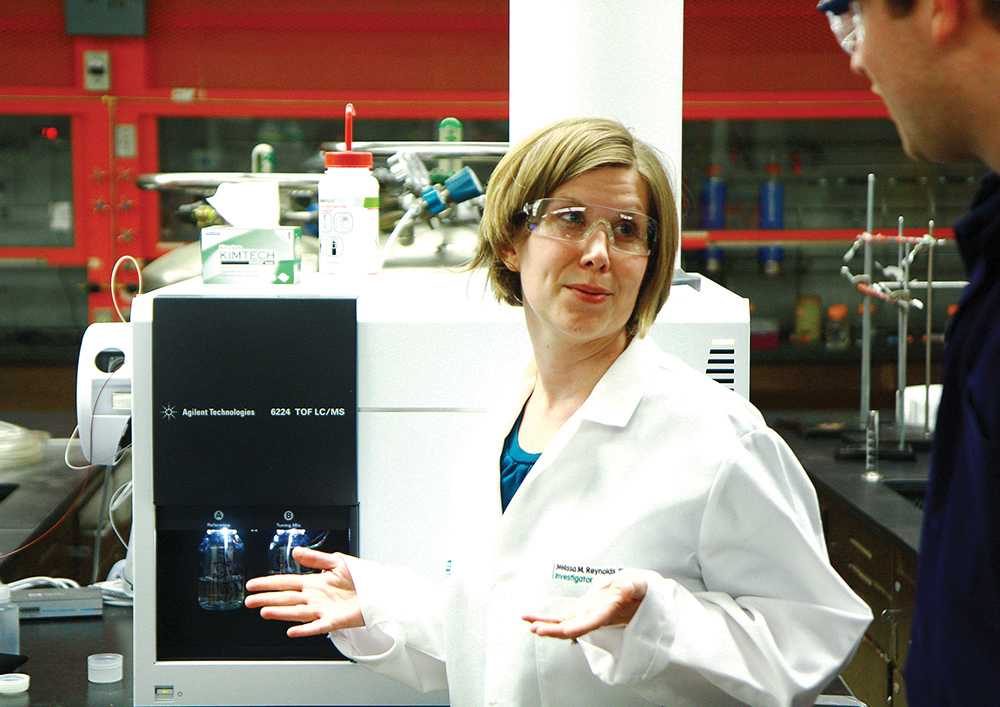 Inspiration struck 20 years ago after the engineer had a dream that led to the idea of developing a hybrid of a natural material and synthetic polymer that would look like cartilage to the body and not be rejected like other artificial materials.
"I literally woke up in the middle of the night and thought, 'yeah, we should try that,'" James said.
James, now the department head of Mechanical Engineering at CSU and a professor in the school of biomedical engineering, began a line of research that led to the creation of a biologically enhanced, long-lasting knee implant.
"The 'aha' idea was really just a precursor to what was developed," James said.
Infused with a biological molecule and natural lubricant (hyaluronic acid) the material, BioPoly, has been licensed to a private company for use as a less invasive alternative to knee replacement.
After eight years from the initial filing, the invention received its patent license in 2010.
BioPoly was one of 56 inventions originating at the university that were patented with the help of CSU Ventures from 2006 to 2011.
CSU Ventures –– the university organization charged with promoting, patenting, licensing and protecting inventions created at CSU –– has seen across the board, record high numbers for technology transfer during that same time period.
A rundown of 2007 to 2011:
-515 inventions — up 132 percent from the 222 inventions during the previous five-year period
-627 patent applications — a 170 percent increase from the 232 applications during the previous five-year period
-165 license agreements — a 184 percent increase from 58 agreements during the previous five-year period
-$8.22 million in licensing income — an 86 percent increase from $4.42 million during the previous five-year period
Todd Headley, president of CSU Ventures, said the mission of the private, non-profit organization is to make sure that research and innovation done at the university makes it to companies who can commercialize the technology.
He attributed the success to campus officials investing in the infrastructure needed to get inventions into the marketplace, an increase of  "boots on the ground" at the university and word of mouth — both in the marketplace and among researchers and faculty at CSU.
An influx of money for research at CSU didn't hurt, either. The campus has seen an increase in research funding per year over the last five years, culminating with a record $340 million in 2012.
"There's definitely a correlation," Headley said.
BioPoly is one of nine inventions James has patented during her 19 years as a faculty member. She said technology transfer at the university has come a long way since the late 1990s.
"They've added a lot of staff and gotten a lot smarter about how it all works," James said. "In the early days I certainly didn't feel like they were really on top of their game."
Headley said he's optimistic the next five years will see continued, if slightly slower, growth.
"It's probably not going to be as dramatic because we really did come a long way in the last five years," he said.
Melissa Reynolds, a professor in Chemistry and the School of Biomedical Engineering, has two inventions making their way through the patent process and a startup company, Diazamed, that's licensed to use the technology.
CSU Ventures helped with getting her company up and running and guiding the inventions through the complicated patent process.
Reynolds said she worked in private industry before coming to CSU in 2009 and one of the major reasons she decided to come to CSU was the "user friendly" nature of technology transfer at the university.
"The notion of being able to go in and talk to someone here and figure out the best way to get technology patented is very exciting," Reynolds said.
Both her inventions involve making molecular coating for medical devices. One, designed to degrade in the body over time, leaves no leftover polymers or plastics in the body. The other is meant to last in the body forever.
Reynolds has received multiple grants and awards to continue research in this area, including a $1.3 million grant from the U.S. Department of Defense.
Cardiovascular devices like stent coatings, artificial blood vessels and wound-healing devices that could be used by injured soldiers in combat are a few applications her inventions can be used for.
Both James and Reynolds said the most rewarding part of the research process is working with students in cutting edge research and creating products that can improve people's lives.
"I don't think there can be anything more rewarding," Reynolds said. "Graduate and undergraduate students, they're the ones that actually make the discoveries and create the innovation that we can then convert into products so they're part of that process."
Senior Reporter Austin Briggs can be reached at news@collegian.com.