CSU academic vs. athletic scholarships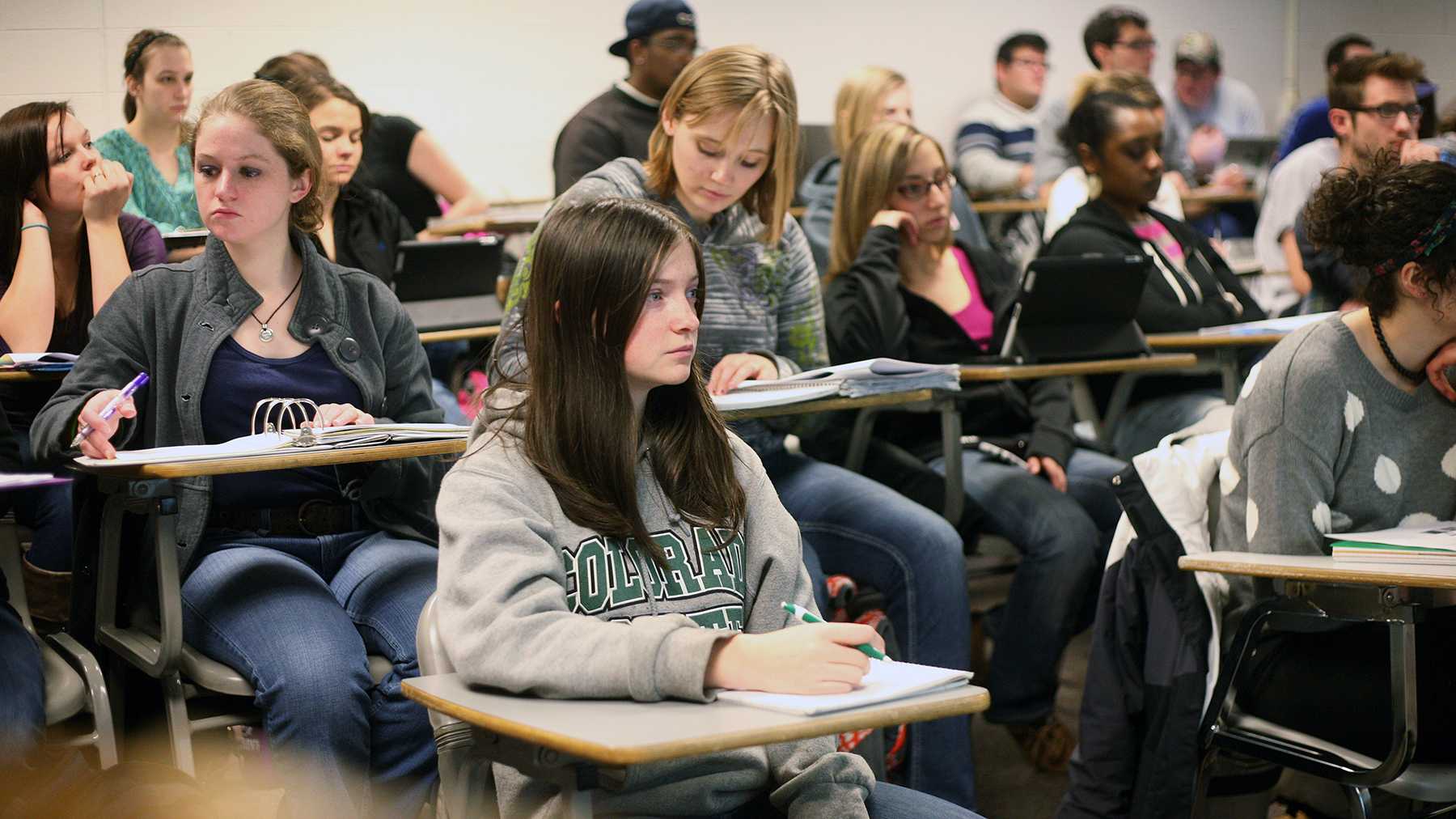 Hunkered down in departments around campus, a small team of statisticians stays busy compiling application and enrollment data at CSU.
The information is looked at every week, and short- and long-term strategies related to student financial aid, access and enrollment are analyzed regularly by the Student Financial Services department, said Student Financial Services director Tom Biedscheid.
"We might ask them how many students do we have in this area, what's the yield rate,"  Biedscheid said. "There's a core crew that drives it all within the division."
With student loan debt and the defaults that come with it hitting an all time high, potential students are being extra vigilant about every dollar they can save when deciding which college to enroll in.
Academic Scholarships
This year, students at CSU will receive approximately $26.2 million in academic scholarships.
A priority for any university is attracting a diverse student body which includes high ability, academically successful students, Biedscheid said. Competition is tight to get the 4.0 GPA students with high test scores and sparkling resumes to enroll at any university.
The largest award CSU offers non-residents is the Triple Crown –– a total of 244 scholarships ranging from $20,000 to $36,000 spread out over four years.
One of the more coveted scholarships for in-state students is the Green and Gold Scholarship, which is $2,000 per year over four years.
"It's competitive in a lot of ways," Biedscheid said. "It's the kind of student that's going to get an offer like this from essentially any university."
As a sign of this competition, CU–Boulder recently created the Esteemed Scholars Scholarship that goes into effect this fall.
Depending upon GPA and test scores, approximately 20 percent of incoming resident freshmen are expected to receive one of the three scholarships ranging from $10,000 to $20,000 over four years.
"It's obviously the highly sought-after student not only from other state institutions but from outside of Colorado and we just wanted to be able to offer them an opportunity to encourage them to attend CU," said Susan Yountz, associate director of the office of financial aid at CU.
Biedscheid acknowledged that competition like this is a good thing, both for students and institutions.
"Now that they have that in place we need to respond with a scholarship that's higher."
As students become more savvy about finances and, in many cases, receive admission offers from multiple schools, enrolling students across a range of demographics can be a complicated process that involves heavy number crunching as much as it does sending out glossy brochures.
The scholarship disbursement system is part of this equation, Biedscheid said.
Besides providing financial assistance for both merit- and need-based students, scholarships also draw in certain student populations if applications or enrollment are down within those populations, which naturally changes from year to year.
If the university wants to attract more transfer students, for example, a scholarship may be offered that caters to those students.
Figuring out enrollment, predicting future finances, offering financial aid packets, tracking retention rates and student demographics, and figuring out which scholarships to offer is a year-round, never-ending process, Biedscheid said.
"Fall hasn't even started yet and we're already talking about fall 2014," Biedscheid said.
Lauren Hartsough, a sophomore psychology and criminal justice major, decided to stay close to home when she chose to enroll at CSU.
The Poudre High School graduate participated in an International Baccalaureate program and graduated with honors. She fielded offers from a number of schools, including CU–Boulder, but decided on CSU largely because the admissions process was easier.
Twelve thousand dollars in scholarship money over four years didn't hurt either.
Hartsough, who's also the treasurer of the University Honors Student Association, was offered the Green and Gold Scholarship and the Honors Scholarship by CSU.
"I haven't had to take out any loans. It's been a huge help," Hartsough said. "It means I can take more credit hours per semester without it being such a financial burden."
Hartsough plans on pursuing a doctorate degree in forensic neuroscience to study brain physiology on a molecular level in the criminal population to see if their brains are different than the rest of the population.
Even with complex algorithms tracking thousands of applications and enrollment trends, and the university strategizing accordingly on a regular basis, at the end of the day nothing can truly predict human behavior.
"The dynamic at the heart of it is it's an 18-year-old and who knows what they're going to do," Biedscheid said. "Even with all the research that's been done on it it's still an interesting challenge."
Athletic Scholarships
While academic scholarships are handled by the Student Financial Services office, athletic scholarships are distributed in-house by the athletic department.
The money for athletic scholarships at CSU comes from a combination of private support, revenue generating and university support, such as the $208 athletics fee every full time student pays each year.
A complex mathematical formula the NCAA uses determines how many full ride scholarships a university may distribute each year. At CSU, that number is 208 full ride scholarships totalling $7.3 million.
Regulations stipulate how many athletic scholarships can be awarded per team, with some sports allowing the scholarships to be divided into smaller awards. Others, like football, have to offer the full scholarship to each athlete, said Christine Susemihl, senior associate athletic director for internal operations.
Susemihl estimated 65 percent of athletic scholarships go to out of state students, with coaches having the discretion to award their allotted scholarships as they see fit.
"The coaches decide the scholarships, they find the recipients, make the offers — it's their decision," Susemihl said. "We still give the final approval."
Most are awarded year to year, although the NCAA recently changed its rules to allow scholarships to be offered for multiple years.
With a constant rotation of players graduating, new ones coming in as freshmen, the NCAA tweaking rules and new teams being created as others disband, the athletic scholarships are in a constant state of fluctuation.
"Every coach wants to award all the scholarships. It's a competitive disadvantage if they don't," Susemihl said. "It's a moving target and takes a lot of attention and management."
Senior Reporter Austin Briggs can be reached at news@collegian.com.