Community Cakes goes to the dogs
A community cake might sound slightly unpleasant, but there's nothing more joyful than the bakers of Community Cakes, a baking club at CSU.
Emma Martens, a senior liberal arts major and president of Community Cakes, was baking a key lime pie one day for a friend's birthday and thought to herself, "Why am I not more involved in campus?
"My passions are community involvement and baking. I thought, how could I combine those together?" Martens said.
The club was kneaded and baked into existence last semester.
"Community Cakes is a student organization that is founded on the belief that any skill or hobby or talent can be transformed into giving means to giving back," Martens said.
Once a month, the club does a baking project for a non-profit organization at the Whole Food's test kitchen and then gives the baked goods to these groups.
On Saturday from 10 a.m. until 2 p.m., the club will be baking homemade dog treats that are going to be sold in vet clinics around town. All of the proceeds will be donated to Larimer County Humane Society.
"We have quite a few vet pre-vet students. We thought community is more than just people, it's animals too so this is our little animal project for the year," Martens said.
Past projects include baking cookies and decorating them for a daycare center for disabled children, pumpkin pie for Thanksgiving at the Elder House (an adult daycare program) and baking Christmas cookies for a local homeless shelter.
"We make hundreds of baked goods –– upward of 500 for the homeless shelter," Martens said.
It may seem like a daunting task to make hundreds of cookies, but the group has 40 members and is growing.
Morgan Peterson, the vice president of Community Cakes, has watched the club grow from just friends to more than expected.
"We are surprised at how big the club has gotten. When we were planning it we had a lot of marketing ideas and we expected it to be just our roommates and two or three friends. And we would just make them do it," Peterson said. "But it's been crazy how many people are signing up just from Ram Link. We have not done any marketing."
Peterson expressed Martens' passion for baking, while hers was mostly for eating.
"I just love to eat the things, but obviously you have to make them as well. But, I said, I  can deal with that," Peterson said.
Another member, Naz Kalani, a senior biology major, never necessarily considered baking as a pastime but has learned skills that she will use outside of the club.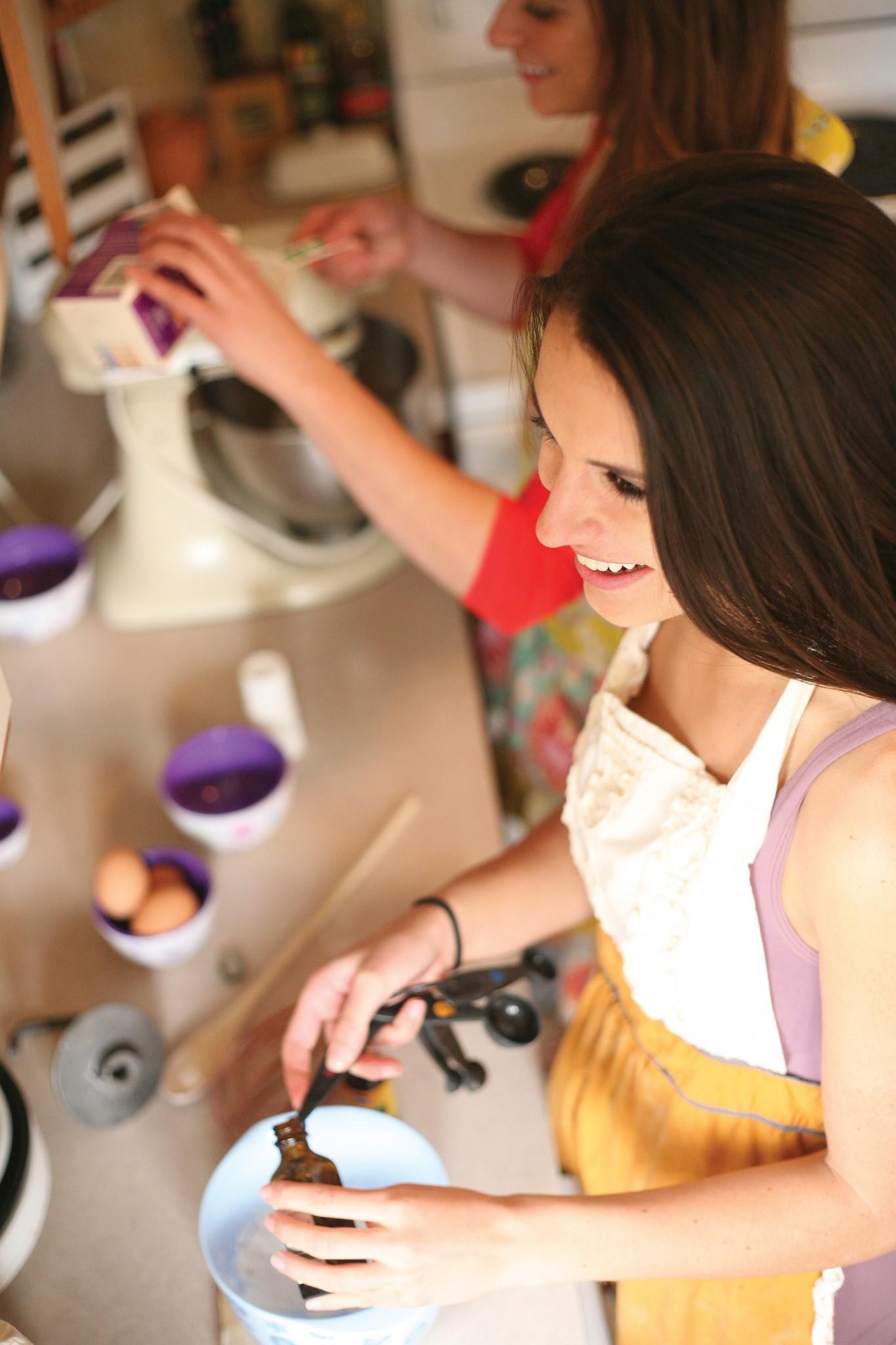 "I don't bake at all, my motive besides volunteering is that I could get a few lessons. And I have –– I know how to measure out stuff now and blend things nicely," Kalani said.
One of Kalani's favorite things about the club is the interaction that she gets to have with underclassmen and giving back to the community.
"I talk to them about their majors and be a guide to them," Kalani said. "You can find ways that pertain to your interests and still help the community it doesn't have to be hard labor. You can still find a way to give back."
Kalani hopes to help deliver the dog treats, but only if they're small dogs.
"Usually I'm really excited about preparing it … and sometimes you can take a cookie, but since it's dog treats this time I can't do that," Kalani said. "But I'm excited for the delivery. But if they're big dogs I'll probably let Emma do it."
The group began baking in Martens' townhome but moved to the test kitchen at Whole Foods when they realized they needed a larger space. The group cooks with organic and clean materials as part of the requirements to use the test kitchen.
"It's really rewarding for me to show that they can do anything and give back even if it's baking cookies," Martens said.
Peterson said she hopes to pass on the tradition of the club to a younger member when she and Martens graduate in the spring.
"We value making people's day. We make peoples days by baking them something that tastes delicious," Peterson said.
"Sometimes it seems small because you're just baking for a few hours on a Saturday but every bit counts," Peterson said. "If everyone did something like that, it would be a really great world."
Student Life Beat and Entertainment Reporter Bailey Constas (@BaileyLiza) can be reached at news@collegian.com.