Only half of law school graduates find full time legal work within nine months of graduation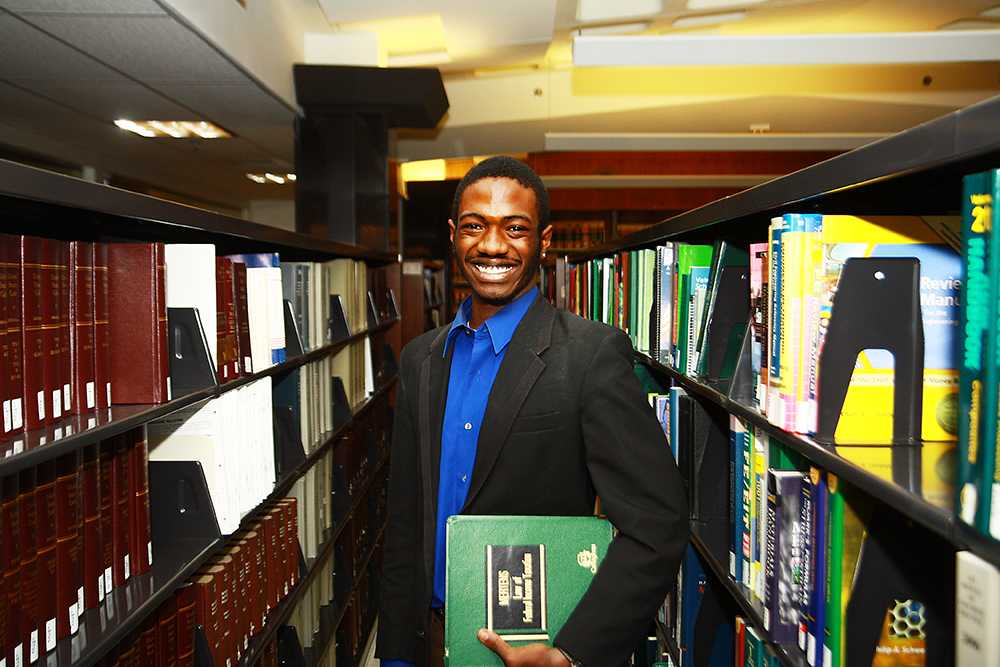 Nigel Daniels caught the inspiration to be a lawyer at a young age.
Daniels, the Pre-Law Club President at CSU and a political science major, spent hours in courtrooms as a 13 year-old kid as his family sought state funding to assist his brother who had mental health issues.
After months, his mom finally found a lawyer who specialized in representing people with disabilities.
Daniels remembered the first time he saw her, as she rolled off a bus in an electric wheelchair.
"Obviously you have all these stereotypes and assumptions," Nigel said. "Man, I tell you, she did better than any other attorney my mom had. Day in and day out she fought so hard for his rights."
The experience was a defining moment in his life.
When enrolling at CSU, he had his eyes set on law school after graduation. Daniels plans on taking the LSAT in June and applying to top tier law schools next fall.
He hopes to buck national trends of difficult times for recent law school graduates.
Newly-released data from the Bureau of Labor Statistics states that approximately 22,000 new job openings for lawyers and judicial clerks will open up each year through 2020. The downside: 45,000 students are expected to graduate per year during the same time period.
In spite of the disparity, law schools are still heavily recruiting students with the pitch that the financial downturn is a good reason to get a law degree and conditions in the field will improve over time.
This is what law schools have been saying for years and, if anything, the market has gotten worse, with the current system being unsustainable, said Brian Tamanaha, a law professor at Washington University in St. Louis and author of Failing Law Schools.
"One of the biggest flaws students are making today is they let their dream of becoming a lawyer kind of overwhelm their rational calculations of the consequences of going down this path," Tamanaha said.
It is one of a litany of complaints lodged against law schools by industry observers, former students and law professors.
Critics also point out that the rising costs of already high tuition, a high percentage of students graduating with six figure loan debts and roughly half of graduates unable to find full time jobs that require a law degree –– along with decreasing pay for those that do –– call into question the value of a law degree as a solid financial investment .
"The basic problem is that the cost of obtaining a law degree is out of proportion to the economic return a majority of students will get …" Tamanaha said.  "There's a fundamental mismatch between what students pay and as a result, what they owe in debt and the money that they earn in return."
He pointed out that the average debt level of a graduate from a private law school is $125,000, while the median salary of the same graduate is $60,000 the first year out of school –– down from $72,000 two years ago.
According to the financial aid website Finaid.com, a graduate would have to earn approximately $115,657 annually to be able to afford to repay the loan in 20 years.
Daniels said the current climate hasn't dampened his enthusiasm for attending law school.
"People in the pre-law club, we're aware of what's going on," Daniels said. "Everyone's hoping for a change when the economy turns around. And the thing is to just stay positive and hopeful."
Courtenay Daum, a CSU political science professor and pre-law advisor, advises hundreds of students per semester who have their sights set on attending law school.
Years ago, students never asked about job prospects after graduating from law school, Daum said. Now it's usually the first thing that comes up.
"My sense is CSU students are acutely aware of the challenges they may face, given the constraints with the practice of law, the field and the current market," Daum said.
"By the time I meet the students, they're pretty much set on going to law school. So even though they're asking questions about it, I don't think they're on the fence about being in law school."
Any student interested in law shouldn't enter into it strictly for financial reasons, Daniels said.
He added that passion for law and wanting to make a difference in a specialized field like public service, business or the environment should be a larger factor in wanting to pursue a career in law, instead of the amount of money a graduate would make.
A motivated, passionate law student who invests time, money, makes it through a grueling three years of studying, and passes the bar exam has so much invested that they're going to keep that drive when looking for a job after graduation and will eventually find work in the legal field, Daniels said.
"At that point, you've embedded so much into that degree and so much into your passion and career, it just becomes competitive and you have to make a case for being more competitive," Daniels said.
CSU alumna Jennifer Berg agrees.
After graduating from University of Denver law school last year, she started working at the public defender's office in Golden this June. Berg attributed her success in landing a job in part to having internships the entire time she was in law school.
"I feel like if you're motivated and take the time in law school to network or really get a good internship, I think –– no, I know –– it can happen for people to get jobs," Berg said. "But it's not the instantaneous, 'I graduate from law school I'm going to make a hundred thousand a year.'"
According to the state of Colorado public defender's website, an entry level public defender earns approximately $50,000 per year. Berg said the cost to to attend DU was approximately $150,000. It's worth it, she said, because she's able to do something she's dreamed about and planned for since she started her undergraduate program at CSU in 2002.
"I think law school is a good investment if you really want to be a lawyer, it's not a good investment if you graduate from college and you don't know what you want to do." Berg said. "I have the world's greatest job and I couldn't be happier. I'd do this work for free."
Navigating statistics that law schools put out every can be tricky, Tamanaha said.
The schools have been criticized for artificially boosting postgraduation employment numbers, sometimes by hiring back its own graduates in low paying jobs or counting part time, menial work as being fully employed.
He recommends using websites Finaid.com and LawSchoolTransparency.com to help in establishing a true cost–benefit analysis of attending law school.
In spite of the current trends, Tamanaha strongly believes that quality law schools and students to fill their hallways will always be needed.
"I'm not against people going to law school. That's great. We need lawyers. We need people," Tamanaha said. "What I am for is they do so with their eyes open understanding the risks, and not falling subject to pitches law schools are making."