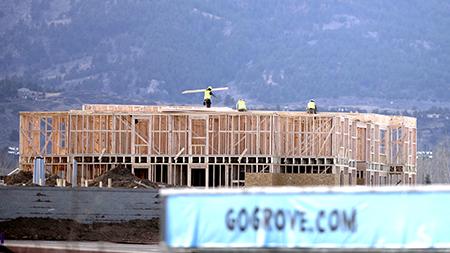 After Campus Crest Communities approached ASCSU about donating $5,000 to the student Senate's sustainability division, Andrew Oringer, the director of the division, was hesitant.
"I really wanted to know that there was no strings attached in exactly what Campus Crest was looking for in the donation," Oringer said.
Campus Crest is currently building an apartment complex in Fort Collins designed for students living off campus. Nationwide, the company is known for providing off-campus living to students of various universities, but has come under fire for constructing properties off schedule to the frustration of prospective tenants who have had to temporarily adjust their living arrangement as a result.
In 2011, former ASCSU Director of Government Affairs Chase Eckerdt brought up these concerns at city council meetings where community members discussed whether Campus Crest should be allowed to build properties in city zones.
Eckerdt ultimately supported their proposed project, called The Grove, citing the increasing need for student housing in Fort Collins.
But accepting the donation has brought up questions regarding whether it violated the organization's code of ethics.
The ASCSU Senate Code of Ethics states, "student government requires that officials and employees be independent, impartial and responsible only to the students of the university."
Lindon Belshe, the current Director of Government Affairs at ASCSU, found the relationship with the company to be necessary.
"Ultimately, ASCSU has always been supportive of the Grove, as it would address the growing need for affordable student housing in a close proximity to campus," wrote Belshe in an email to the Collegian.
Ensuring that Campus Crest Communities didn't want anything in return for the donation was a huge factor for Oringer in deciding whether to accept the donation.
"We wanted to make sure Campus Crest wasn't looking for anything specific after the donation. I really thought hard about that," Oringer said.
To ensure there wasn't any problem in accepting the donation, Oringer said he contacted a university that previously received a donation from Campus Crest.  After finding no problems, and being assured the donation was genuine, Oringer agreed to take the money.
The $5,000 contributed a significant amount of money to the Sustainability Division whose previous budget was $500.
Oringer is still deciding on how to best spend this money at time of print.
"Right now, I'm still deliberating over whether to use it to secure the division's place at ASCSU, or to doing a big project next semester," Oringer said.
The ASCSU Sustainability Division has been doing multiple things this semester to help move toward a greener campus and community.
Initially the company had no intentions of donating to ASCSU. They were looking for any organization on campus dedicated to sustainability. But the emphasis Oringer put on community work is one of the reasons why Campus Crest Communities took interest in student government.
In a news release sent out last week, Campus Crest co-founder Mike Hartnett praised Oringer's work off campus.
"He is targeting off campus students… he is going to use these dollars to energize his team and make initiatives and a message to the off campus students. I think that's great," Hartnett said.