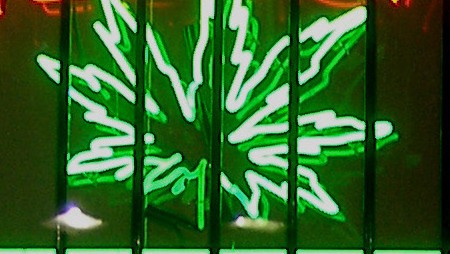 This election year, Team Fort Collins has worked to educate the community about their opposition to Amendment 64, which would legalize and regulate marijuana similarly to alcohol for individuals 21 years old or older.
Team Fort Collins has provided drug and alcohol prevention services in the Fort Collins community since 1989.
The amendment would modify Colorado's constitution to allow these individuals to possess, use, grow and transfer up to one ounce of marijuana or up to six marijuana plants, with some restrictions.
"We are opposed because we expect that the legalization of marijuana will increase its availability in our community and communities across Colorado," said Dawn Nannini, evaluation specialist for Team Fort Collins.
"The reason we're concerned about availability is because we know that use of any substance increases as it becomes more available," Nannini said.
According to Nannini, Team Fort Collins currently has no concerted effort to stop Amendment 64 from passing. As a non-profit organization they play the role of educators in the community and respond to questions regarding whether or not they think it is a good idea.
"Our approach to the issue is that marijuana use, like any other substance with a potential for abuse and dependency, harms young people who are still actively developing," Nannini said.
Nannini said that increasing the availability of pot for adults would inadvertently increase availability for use by young people.
Team Fort Collins is funded by two grants disbursed through the Colorado Division of Behavioral Health.
The first grant, which comes from federal funding, focuses on reducing underage drinking, according to Nannini. The second grant, which utilizes state funding, is designed to reduce drinking and driving incidents, injuries and fatalities.
Team Fort Collins also solicits funding from community foundations, personal donors and fundraisers.
As a 501(c)(3) non-profit organization, Team Fort Collins cannot lobby or support candidates, but can provide education and raise awareness of their perspective.
Mason Tvert, co-director of the Campaign to Regulate Marijuana Like Alcohol, is familiar with Team Fort Collins.
"Given their mission and the work they do, it is odd that they are opposed to Amendment 64," Tvert said in an email to the Collegian.
"The organization fully supports the concept of a regulated alcohol market, so I do not see why such a concept could not apply to marijuana which is objectively less harmful than alcohol," Tvert said.
Tvert said it is becoming increasingly obvious that regulation works and prohibition does not, in regards to marijuana, as marijuana use nationwide has been growing and is now more widely used than tobacco among teens.
"If Team Fort Collins truly wants to keep marijuana away from young people, why would they not want the people selling it to ask for ID?" Tvert said.
"Why wouldn't they want law enforcement officials to know exactly who is selling it, when, where and to whom?" Tvert asked. "And why would they want hundreds of thousands of Coloradans purchasing marijuana in an underground market where they are likely to be exposed to other more dangerous drugs?"
Former Fort Collins medical marijuana dispensary owner Steve Ackerman had his first interaction with Team Fort Collins about a year and half ago.
"We went to Team Fort Collins and said 'we're gonna be here, you're gonna be here, let's work together to discourage teenagers from using marijuana, let's work on a program together,'" Ackerman said.
Ackerman said the director of Team Fort Collins told him they could not work together because marijuana is federally illegal and Team Fort Collins receives federal funding.
"Next thing we knew they started a petition drive to put it on the ballot," Ackerman said. "37,000 people voted and dispensaries were banned by a difference of about 1,400 votes."
Ackerman and other dispensary owners began a petition campaign to get the dispensary question back on the ballot for this election. They garnered nearly 10,000 signatures in Fort Collins and Initiative Question 301, in addition to Amendment 64, is on the ballot.
"A 'yes' vote on 301 is a vote to overturn the ban on dispensaries," Ackerman said.
Both Initiative Question 301 and Amendment 64 are currently being voted on in Larimer County.