Update: Larimer County voters at Colorado State polling center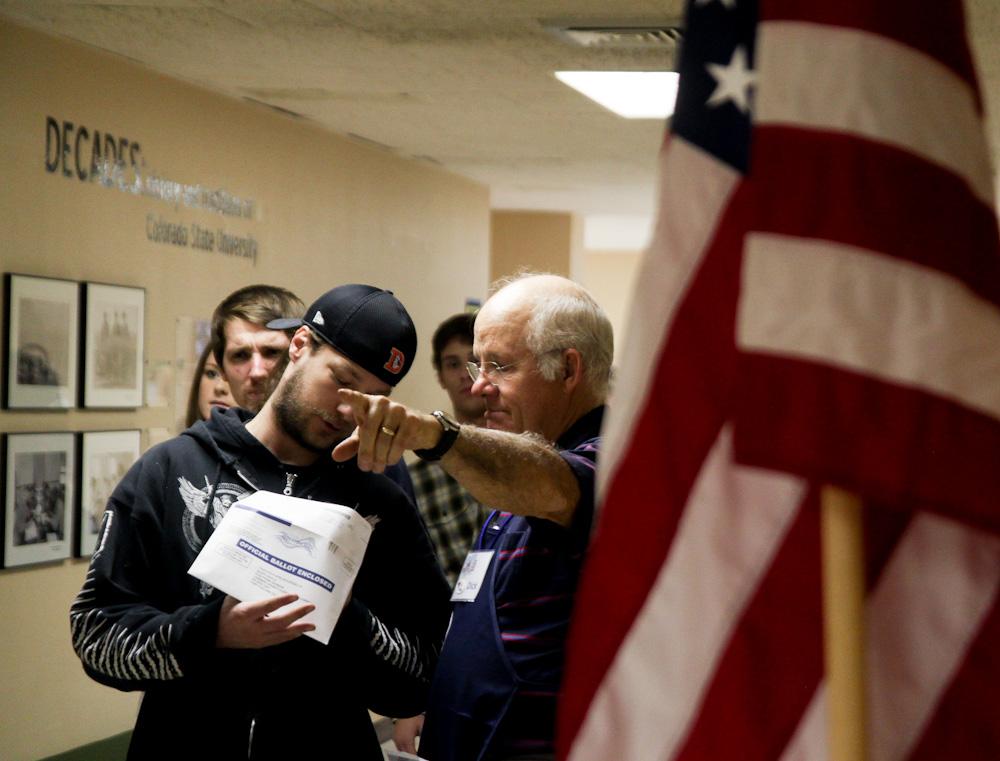 Outside of the North Ballroom in the Lory Student Center, lines of waiting voters stretch around the corners on both ends of the hall. Volunteers direct the traffic of students and community members to either the signature I.D. station or to the line to stand with the other waiting voters.
Larimer County hopes to release a majority of election results by 7:45 p.m., according to the Coloradoan.
Despite reports of faulty voting booths in other states, there were no problems with machines in the LSC Tuesday, according to volunteers.
"The turn out is great this year," said State Rep. John Kefalas, who watched students and Fort Collins residents vote at the student center. "I'm glad to see students are more engaged and that they understand the importance of voting."
For senior Danny Ater, this was his first time voting at a polling booth.
"I've always done the absentee ballot, but I'm glad to get this kind of voting experience," he said.
As a veteran voter, Ater talked about the "coin toss" that he felt with this year's election.
"It's a choice between the lesser of two evils," he said. "But from a college student perspective, I felt that Obama had a better education piece in his agenda."
Hannah Lewis, who also voted for President Obama, made her decision based on the president's stance on gay rights.
"I have a friend who is gay and I want him to have the same opportunities that I do," she said.
Even though the primary focus was on the presidential ballot, the controversial Amendment 64 brought up mixed feelings for voters. Ater, who voted yes on the amendment, thought that the government would have trouble finding a system that works.
"The government hasn't had a good way to regulate and tax marijuana," he said. "But Colorado is a good state to try it in."
Lewis, who also voted yes on 64, said that she thought the tax money would be used well. However, she voted against Amendment 301, which would bring medical marijuana dispensaries back to Fort Collins.
"I'd rather not have it near where I live," she said.
Kefalas stressed an important fact for voters to remember when casting their vote for Amendment 64.
"Whatever happens here in the state, it's still illegal federally," he said.