CSU hosts AIDS Memorial Quilt for World AIDS Day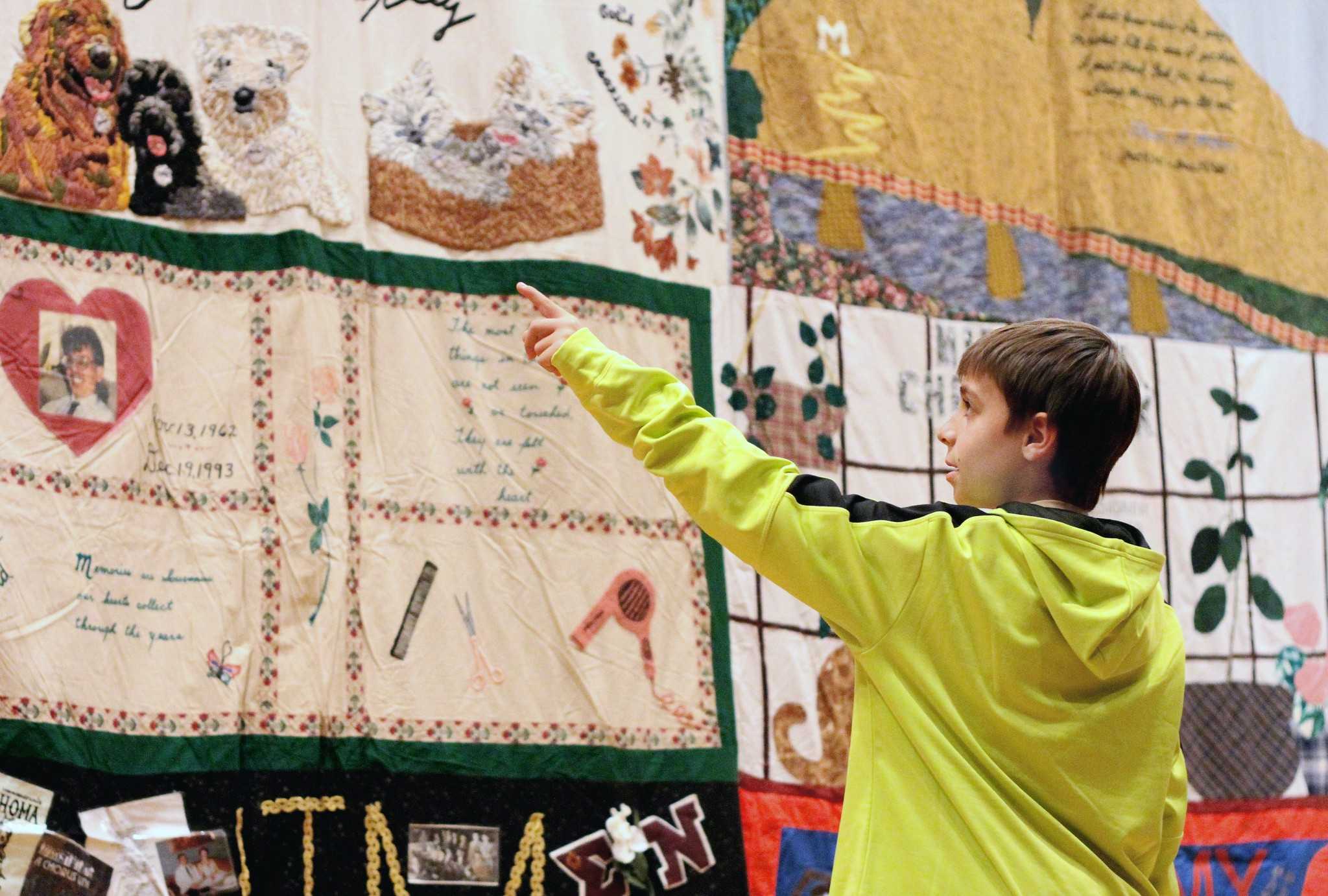 For the first time in a decade, CSU will host sections from the largest community art project in the world: the AIDS Memorial Quilt.
Twenty 12-foot square panels will be on display in the East Ballroom of the Lory Student Center through Friday. Each panel has six to eight sections with a name and visual mementos from the life of a person who has died from AIDS.
"Each of these individual panels represents an individual person and puts a face on and humanizes AIDS," said Shauna DeLuca, assistant director of international initiatives for CSU's office of International Programs. "It's more than a statistic. There's a person who's lost and that's what we're still fighting for and it's a great opportunity for us to educate the CSU community."
CSU's office of International Programs brought the quilt to campus to commemorate World AIDS Day on Dec. 1.
Seeing the quilt is a reminder that people are still profoundly affected by the disease and the fight continues to raise public awareness and pay tribute to those who have lost their lives, DeLuca said.
Started in 1987 by the Names Project Foundation five years after the beginning of the AIDS pandemic, the quilt is a powerful visual reminder of the lives lost to the disease and is also used to promote AIDS awareness and HIV prevention education efforts.
The quilt includes over 48,000 panels stitched together by the families, friends and partners of people who have  died from AIDS. Over 98,000 individuals have their names and stories memorialized on the quilt.
Sections of the quilt travel across the country and are displayed in schools, churches and businesses. When pieced together, the quilt weighs 54 tons, spreads out over 1.3 million square feet and has covered much of the National Mall in Washington, D.C.
Jeff Ogan, a junior zoology major, has volunteered to help with the AIDS quilt while it's at CSU. He said it's a good opportunity to meet people who have been involved with the quilt and to use it as a platform to talk about HIV and AIDS.
He added that many people in our community may be HIV positive and still not show symptoms and be healthy looking, so CSU students and community members can come into contact with someone with HIV or AIDS and not know it.
"It can be a sensitive issue and difficult to talk about," Ogan said. "There are people out there who might need your support."
Lauren Shulman, prevention director at the Northern Colorado AIDS Project, agreed with Ogan, saying that many people with AIDS and HIV in the United States can now lead healthy, normal lives and are integral members of the community.
"I think that people forget that in small communities, we probably run into folks every day that are living with HIV and we just don't ever think about it," Shulman said.
NCAP provides counseling and social services to 230 clients living with HIV in an eight county region in Northern Colorado, Shulman said. That's about half of the total reported HIV cases in the region.
In spite of the advances in medicine allowing people with HIV and AIDS to live long, healthy lives and the increase in public awareness of the disease, there is still a "stigma and discrimination" piece that makes the subject taboo for many people to talk about, Shulman said.
"I think that's one of the biggest barriers to getting tested, to talking about HIV," Shulman said. "Forever and always that's one of the biggest issues with HIV so I think it's important we highlight it."