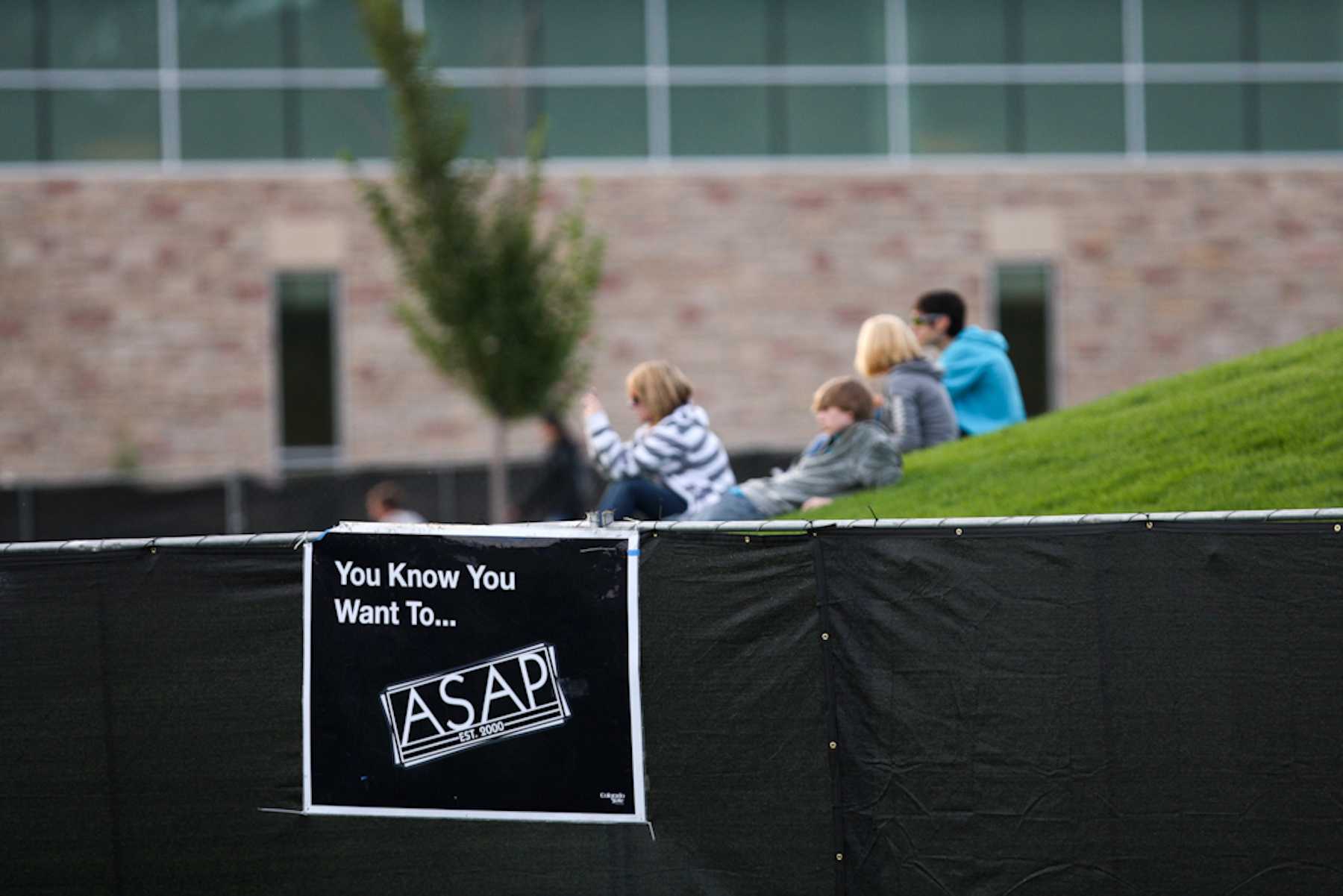 According to documents obtained by the Collegian and interviews with current and former ASAP staffers, low sales figures for the 2012 Cobra Starship RamJam concert are likely to exacerbate a four-year downward trend in self-generated revenue for the organization. This may create a situation in which it does not meet its mandated $50,000 in self generated revenue as set by the Student Fee Review Board.
Self-generated revenue for the 2009 fiscal year was $113,536, but has fallen every year since and may amount to less than $50,000 for the 2012 fiscal year. The RamJam event serves as ASAP's largest source of self-generated revenue for the fiscal year, and this year's ticket sales earned ASAP $17,000 in revenue from the $160,000 budget show.
The 2012 concert's $160,000 price tag accounts for 33 percent of ASAP's approved budget for the school year, which totals $489,554 — $436,554 of which comes from student fees.
Other self-generated revenue sources for ASAP include community partnerships, grants from the city of Fort Collins and a reserve of funds left over from a 2010 partnership with the U.S. Air Force, but revenue from the Cobra Starship concert will account for the lion's share; the B.o.B. show was responsible for 78 percent of ASAP's $69,341 of self-generated revenue in 2011.
Lance Wright, director of campus activities, stresses that ASAP's mission is not to make money, but admits that low revenue from this year's concert has put the organization in a situation where it may not meet its mandate of $50,000 in annual self-generated revenue as set by the SFRB.
"I do think there's a chance, it's possible we don't make the $50,000 in revenue this year," Wright said. "The reality is if we get to a point where it's like, 'gosh, we're not going to make the income,' [ASAP's] going to have to cut expenses. It's a very simple formula. They can't go into the red."
The SFRB declined to comment on what failing to meet the $50,000 mandate would mean for ASAP, citing a conflict of interest.
Bethel Nathan, assistant director for campus activities at CSU, believes that two factors, more so than others, contributed to 2012's RamJam concert's low turnout and sales.
"In hindsight, we had it on the wrong date. There were so many things going on on Saturday, Sept. 15 in the community and on campus, and it's really hard to compete against that," Nathan said.
Second, according to Nathan, is that Starship simply wasn't "the very best band."
Lindsay Brown, concert co-coordinator for ASAP, agreed, saying, "I think Cobra Starship was an incredible band and I think they were right for the show, but I do think that they don't have name recognition, they have song recognition. I think that that makes things hard as well."
The selection of Cobra Starship was, according to ASAP emails and interviews with the Collegian, the result of ASAP staffers' decision to bring an artist whose genre was not rap or hip hop — genres that have a history of wide appeal to the CSU student body with successes such as 2008's Lupe Fiasco/Three 6 Mafia concert ($36,138 in revenue and an attendance of 7,469) and 2010's Ludacris concert (8,264 students attended at no cost).
As Brown explained, seeking an artist in a genre other than hip hop or rap was in an effort to reach students who may not have benefitted from previous RamJam concerts.
"If we bring a rap or hip hop group four years in a row, and there's a student who's not going to go to a hip hop show, that's their entire college career where they don't go to this large event because they don't want to listen to the music," Brown said.
This year's concert and the 2010 Pepper show, the only RamJam concerts to feature genres other than hip hop or rap, have seen the lowest attendance, and the 2012 Starship concert generated the lowest revenue of any large concert at CSU since 2008.
Brown, though, believes the show was still a success despite the low turnout and less-than-expected revenue.
"Honestly I think it was a really great show. Our staff had an amazing time. The artists were incredible to work with and from what we heard they had a really great time at CSU and getting to know the population on campus and in the town," Brown said. "There was an energy, if you looked out at the crowd, during the performance. Their energy was just through the roof."
But Nathan and Wright agree that other factors contributed to the low 2012 RamJam turnout.
According to Nathan and emails obtained by the Collegian, booking for this year's concert took longer than ASAP would have liked.
In an in-house ASAP email sent April 12, 2012, Avery Kahn, the 2011-2012 concert coordinator, wrote that, "At this point, we need to move on and start getting offer letters out or else our fall concert is going to be ASAP staff singing on stage in front of 8,000 people. I'm not saying we wouldn't rock it, but that's probably not a responsible use of student fees."
Cobra Starship was not confirmed as the 2012 RamJam headliner until June 6, 54 days after Kahn's email.
For comparison, the 2011 offer for B.o.B. was sent May 3, 2011, and the show was confirmed no later than May 20, 2011, according to ASAP emails.
In another ASAP email dated Aug. 16, 2012 — just 30 days before the concert — ASAP staffers discussed possible marketing opportunities and noted that the show was not listed on the Cobra Starship and Breathe Carolina websites or Facebook pages.
Cole Soli, marketing assistant for the Denver branch of AEG Live, the largest producer of music festivals in North America, explained that performers earn the same agreed-upon paycheck when they play specialty shows such as those on college campuses, regardless of how large an audience they bring.
As a result, Soli said, there's often little incentive for performers to promote their own events.
"They're coming in to play; they've given that guarantee," Soli said. "When it's a touring instance, there's more incentive on the management and publicity side for bands to put out more information, whether it be social media or their own websites to kind of drive ticket sales … There's no incentive there when they're playing a festival or college situation."
Moving forward with the large fall shows, Nathan says that every year is different in terms of band selection and execution, but that there are changes being made.
"One of the things we've talked about moving forward with this large show is to start the process earlier in the semester so that we hopefully have an act confirmed by the end of the school year," Nathan said.
Mary Branton-Housley, a former ASAP adviser who worked at CSU from 2003 until December of 2011, doubts that the selection process is broken; sometimes certain bands just aren't good fits.
"I would hope they're still getting student input. There's a multitude of ways to get students in on the selection process," Branton-Housley said. "In that regard, if they were doing those things, I would assume that the process is still good, it's just maybe [Cobra Starship] was the wrong choice."
Brown explained that student trend polling on the Lory Student Center Plaza is ongoing, and that efforts are being made to better incorporate student opinion in the performer selection for next year's large event.
"There are lots of factors that go into it that make it hard, but I do think that we have significant intentions to try and incorporate a student body opinion in this event next year, regardless of whether it's a concert or not," Brown said.