Colorado State students tell story of the Aurora "Batman" theater shooting
Upon meeting 17-year-old Zack Golditch, a 6-foot-5 and 260-pound Colorado State University football recruit, you could guess his favorite superhero.
"I'm more of a Hulk kind of guy," he explains at his backyard picnic table, looking less intimidating than usual with white gauze taped to his neck.
Inside, family and friends huddle around the television waiting for his interview with 9News to air. The room goes quiet after demands for silence, and Golditch's face and bandaged neck appear on the screen.
As the interview aired, Golditch stayed upstairs in his room.
Twenty-four hours before the flood of reporters and loved ones knocked on Golditch's door, he was at a friend's house watching the first installment of Christopher Nolan's Batman trilogy, catching up on the storyline in preparation for the midnight premiere of "The Dark Knight Rises."
"We were having a good time. Things were going good, but you can never really," Golditch pauses. "No one knew what was coming."
What was coming would cause the nation to mourn 12 murders, along with the fading sense of personal safety in public places.
Friend and CSU freshman Martin Varela, a Business Management major, drove Golditch and three others to the Aurora Century 16 Theater. The group left around 10 p.m. to make sure they got good seats, and after waiting the two hours until midnight, they were handed their tickets to Theater 8 and claimed their seats in the first row of the stadium section.
'Next thing I know I hear a BANG!'
The group munched on their popcorn loudly, purposely annoying one of their friends as the movie started.
Twenty-five minutes in, Gary Oldman's character Commissioner Gordon is knocked out and dragged down to Bane's bad-guy sewer-lair, where Gordon is searched by the kidnappers. While the men are distracted, Gordon rolls into a waterway to escape. He is swept away by the fast flowing current and the men open fire on him.
Golditch didn't realize it then, but that's when ammunition from a semiautomatic rifle, a 12-gauge shotgun and one .40 semiautomatic pistol started punching through the wall from Theater 9.
"It sounded like some guy took Black Cats or little dynamite sticks and was tossing them up, and I think there was three pops," says Golditch. "Everyone looked up and was like 'What are you doing, lighting fireworks in the theater? I get you're trying to get into it but don't do that, you know?'"
But Golditch would eventually realize what Americans woke to learn last Friday morning: The sound was actually shots fired from alleged gunman James Holmes in the theater next door. The shot and bullets fatally struck 12 and hit 70 people in total, including the Gateway High School senior who committed to play offensive line for CSU in 2013.
"Next thing I know I hear a BANG! right beside my ear," Golditch says. "My ears are ringing, I just kind of like fall into my friend's lap and let out like a yell or something cause it was hurting a lot."
His friend Varela also thought fireworks were the cause of the ruckus, until he saw movie attendees screaming in pain and Golditch jumping over rows of people to flee the theater. Varela followed.
Heavy blood dripped down Golditch's neck into his hands as he looked for help, searching outside the building and in the parking lot of the mall. There he found two men working construction, and one of them had been an Army doctor for more than 10 years.
'I can't believe I got shot'
"He got a towel and put it on my cut and kept me until the police officer came and took me over to the police car, and we got there and it was just crazy, people with just blood all over just yelling and screaming," Golditch says.
Varela witnessed the aftermath of the shooting while waiting for his friends to come out of the theater.
"I see everybody coming out with the blood and yelling 'Help me!' and I was like, 'I can't take this,' so I ran over to my car and I was calling my friends, calling and calling and I couldn't get through because they were calling Zack to see where he went," Varela said. "Finally I see them come out and actually they were fine."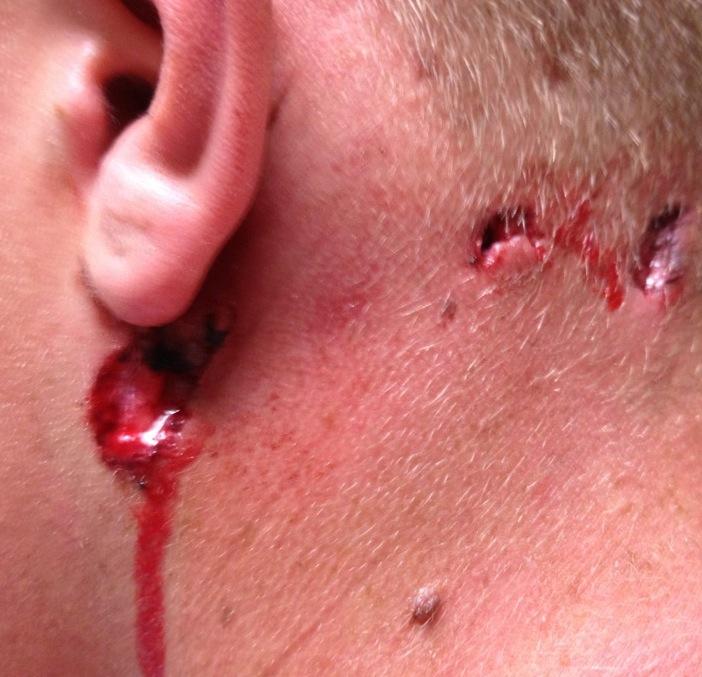 The group found Golditch with the police officer, who asked for one of them to ride along to the hospital. Varela and the rest got in his car and followed the ambulance to Aurora South were Golditch was taken, and where the reality of being struck with a bullet set in.
"I can't believe I got shot, because after they put me through the CAT scan or whatever they were like, 'Hey man, you got shot with a bullet,' and I was like 'What? I heard firecrackers! I thought my ear was blown off!'" Golditch says.
The bullet entered the left-front side of his neck and exited in pieces out the back. Nothing critical was hit and Golditch's wound is expected to heal in the next three to four weeks.
'Did this really happen?'
When Golditch's football coach Justin Hoffman got the flood of texts from his 10 to 15 players who were at the same premiere, his mind started running.
"It first starts off as, 'Did this really happen?' because it's so early in the morning, and then 'How did this happen?' and 'Thank God everyone is OK that I know of,'" Hoffman said.
Hoffman mentioned that CSU football coaches Jim McElwain and Marty English called Golditch early Friday morning to make sure he was doing alright.
"Coach McElwain said it was good to see me get out because it's sucks to see good people, I don't know about the people that were killed or anything, but it's just sad to see really good people to get killed like that," Golditch says.
'They had to see the scene'
Richard Muller, senior theater and graphic design major at CSU, woke up to a text from his mom at 7 a.m., telling him that his older sister Netika (who works at the Century 16) was in Theater 9 that morning.
"[The text said] 'Hey, Netika was at that movie showing, she was actually in Theater 9 where it happened but she's safe, but she had to leave her phone and her shoes and her purse and everything," Muller said.
As Muller gave tours of campus Friday as an Admissions Ambassador, he continued to get calls and texts from friends asking what happened and if everything was OK.
He didn't get to see his sister until Sunday night, when he and his three roommates (all from Aurora) drove down to the vigil held by the community near the theater.
"That's when the situation just reached another scale for me, because [Netika] was talking about what the different employees saw," Muller said, "like the managers watching everything happen from the booth and the different gunshots going through, and they had to see the scene afterwards and while it was happening."
Muller also once worked at the Century 16, and his familiarity with where the shooting occurred made the event much more surreal for him.
'I try not to think about it'
On Friday afternoon, Christine Golditch, Zack's mother, is wearing a dark-green CSU t-shirt and sitting in her entry room. She's surrounded by family, talking with them how the shooting was a very rude and very real awakening for her son.
She explains that her ability to protect Zack, like she did with the Columbine shootings by simply "turning off the TV," is no longer realistic.
Zack would rather talk about leaving high school and playing for his future college team.
"[I want] to see if I can play at the next level and be successful," he says. "I came into high school with the mentality of like, 'OK I'm big, maybe I can play varsity as an underclassman,' and I was able to, and I'm just trying to see if I can take that to the next level."
Starting both classes and football at CSU in 2013, he is looking forward to his coaches, the campus, the food, and he wants to live in the dorm with the "Mongolian grill."
With all that ahead, Zack's ready for this one long day to end.
"I try not to think about it really, that much, because it's a lot to deal with, you know, so I just try not to think about it and just appreciate it right now," Golditch says.


Related articles