UPDATE: Colorado Highway 14 re-opened after mudslide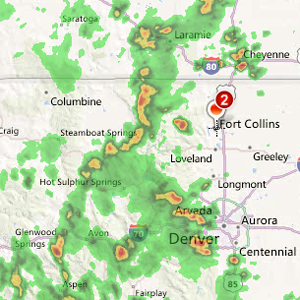 Update: Highway 14 has been re-opened and the mudslide has been cleared. For more information, see this article in the Coloradoan.
According to COtrip Colorado Highway 14 is closed due to a landslide and multiple mudslides. The road closure began at 2:46 p.m. The National  Weather Service issued a flash flood warning for the area that remains in effect until 4:45 p.m.
Doppler radar indicated very heavy rain from a thunderstorm about 19 miles west of Fort Collins at 3:41 p.m. and indicated that one to two and a half inches of rain had fallen over the western half of the High Park Fire burn area since 1 p.m. The storm appears to be moving north at 15 miles per hour.
Heavy rains such as these have a tendency to cause flash flooding and mudslides, especially after a forest fire has decimated the soils ability to absorb water. Watch out for flooded waterways and mudslides.
To report a mudslide or other emergency call Colorado State Patrol at (303) 239-4501 or the Larimer County Sheriff at (970) 416-1985. For emergencies get to a safe location and dial 911.
The Rocky Mountain Collegian will continue to follow this story as it develops.