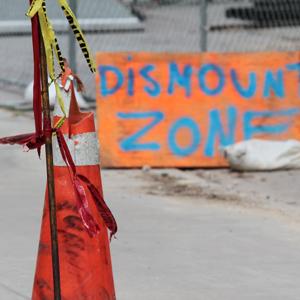 While it may seem as though security enforcement relaxes during the summer, campus law enforcement continues in the same manner as during the academic school year, according to Corporal Ramsey Crochet of CSUPD.
"I assumed all of those rules were out the window during summer," said CSU junior graphic design and marketing major Jessica Lederhos.
Bike cops still patrol campus during the summer months. But If you do get pulled over, you'll most
likely be facing a CSUPD officer instead of a student.
Many of the student bicycle officers take a break from their duties in the summertime, so these roles are assumed by professional officers, according to Crochet.
It is important to remember CSUPD officers continue to enforce bicycle laws regarding stop signs, dismount zones and other riding regulations.
"While it's tempting to ride through the plaza when no one is around," Crochet said, "it's
still against the rules."
CSU junior anthropology and philosophy major Abran Poot disagrees.
"They could be relaxed for the summertime," he said. "There are not as many people at one time to the point where not using the dismount zone would be dangerous."
When riding a bicycle on campus, it's also critical to pay attention to construction sites since
at times these areas will have specific designated dismount zones.
Rules surrounding construction zones can change on a weekly or even daily basis, so it is important to remain aware of these sites when riding, according to Crochet.
"I feel like I pay more attention to dismount signs in construction zones," said Lederhos.
Safewalk is also available during the summer. However, similar to bicycle enforcement, summer Safewalk
officers will most likely be CSUPD officers, according to Crochet.
Building hours may vary in the summer. The best way to find out if a building is open is to check online or
call the main office.
The Study Cube remains open 24 hours during the summer, but once the library
closes all patrons inside the Cube must have CSU identification.
It's important to be aware of tailgating, or people following you into a building, according to Crochet. If you suspect suspicious behavior, contact CSUPD immediately.
"We are as proactive as we can be," said Crochet, " [but] safety is everybody's job."