LSU Professor: Chancellor Martin comes to Colorado State after 'pushing' La. Governor Jindal for higher education reform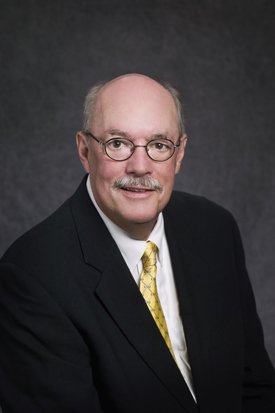 According to observers at LSU, CSU's new Chancellor Michael Martin isn't afraid to fight for higher education, even when his opponent is the state's governor.
Robert Mann, a mass communications professor at LSU, believes that Martin and those around him did their best to hold the university together despite flat faculty salaries for the past three years, a 10 percent loss in staff, $102 million in budget cuts and pressure from the Louisiana governor's office.
Mann noted that throughout the budget cuts at LSU— which, after Martin's resignation, is now without a Provost or Chancellor— Martin was a vocal opponent of Gov. Jindal's position on higher education.
"They clearly were annoyed by the audacity to defend your own university against budget cuts, but [Martin] did," Mann said. "He did, at least until the President of the system issued basically a gag order telling everybody to shut up and pretend to be grateful for the crumbs the Governor was willing to give us."
That audacity, according to Mann, gained Martin negative attention from the Louisiana governor's office.
"I don't know that [Martin] would acknowledge that— but, I don't have any evidence of this, but it was well known around town— the governor's office wanted him gone because they saw him as someone who was not a team player and not willing to hue the line that everything was fine and that the cuts really weren't all that bad, that we could do more with less and all this BS that they put out about how the budget cuts weren't hurting LSU," Mann said. "Martin and others around him were pushing back aggressively, and I think he definitely made some enemies down there."
The Louisiana Governor's Office did not return requests for comment.
Martin didn't want to comment on the tensions at LSU, but is more interested in looking toward his new position with the CSU System.
"I guess if I have a strength, and some people may think it's a weakness, it's that I like to get out and mix it up on the ground level, and I intend to do some of that," Martin said.
Martin, whose duties will include oversight of CSU, CSU-Pueblo and the CSU-Global Campus, joins the CSU System after four years as Chancellor of LSU.
The CSU Board and Martin have agreed to a contract, which has yet to be finalized, that includes a $375,000 base salary as well as an option for up to $50,000 in incentive payments and deferred compensation of $75,000. The contract is comparable to Martin's current contract with LSU.
Though Martin still resides in Louisiana, he plans to move to Colorado no later than August 15. Upon his arrival, he will begin a four-step process to acquaint himself with the state, CSU and the stakeholders that it serves.
While Colorado's higher education budget has also been bleak throughout the recession (there have been a total of $39 million in budget cuts to the CSU main campus since 2008) Martin arrives at a time when financial aid funding is increasing by 11 percent and faculty are seeing their first salary raise in three years.
Martin's job, though, might not be any easier than his time at LSU.
According to John Straayer, a political science professor at CSU, Colorado State's budgetary future may be more precarious than LSU's. That's because, due to the Colorado Constitution, neither Hickenlooper nor Martin have the authority to fix the state's higher education budget woes.
"You can bring somebody new in as Chancellor, and they may be Superman, but there's a limit to what they can do just as there's a limit to what the Governor can do," Straayer said. "The solution, if there's ever going to be one in Colorado, is that there's going to have to be some complete collapse of the State's programs to the point that the public wakes up, or there's going to have to be some extraordinary central leadership resting on a broad base of support from the education, business and professional communities to make some significant modifications to our Constitution."
Martin acknowledges these and other stresses that come with his job, but during his 40 year career in higher education he's had to learn how to cope with them.
"I try to live by simple rules, and I have a rule about the jobs I've taken and the occupations I've pursued. It's this; it needs to be interesting, rewarding and fun. It doesn't need to be that every day, but over time it needs to meet those three criteria," Martin said. "I believe that's what it will be in Colorado."
Related articles