Between construction and fee increases this summer, don't be surprised if parking seems to be getting more difficult.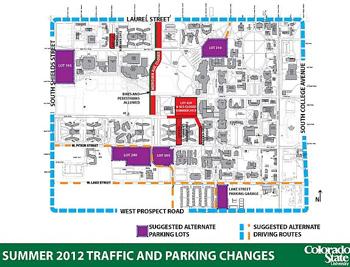 Parking fees will increase July 1st. Student commuter passes will cost $234, CSU employee passes will cost $261 and student residence hall passes will cost $303, according to a CSU press release.
In order to ease the pain of fee increases, Q, W, X and Z lots do not require a permit during the summer months, according to Amanda Wambolt, the University Parking Services Assistant Director.
The fees fund parking lot maintenance, and improvements will close parking lots this summer.
Over the course of the next twelve months, CSU will see a loss of 657 parking spaces and an addition of 150, making the total loss of parking spots 1,393 since 2007, with 1,020 parking spaces added during the same period of time.
CSU has lost 373 parking spots since 2006 despite an enrollment increase of nearly 4,000 students.
There are four major closures expected during the summer, according to the press release:
East Hartshorn and Library lots will close to be reconfigured into one lot, adding 150 parking spaces for the fall semester
Aylesworth/Braiden Hall lot will close until August to aid construction.
One-half of the Corbett lot will close in August, and the remainder of the lot will close permanently in December.
University Apartments lot will also close permanently this summer.
With closures and construction everywhere, students like junior business major Madison Puhl, who works at Sweet Sinsations, are finding parking on campus confusing.
"I don't even know where I can park, it's not made very clear to students," Puhl said, "and even when I find a good spot it seems like I get ticketed for parking in that same spot the next day."
Students are not the only group inconvenienced by the parking construction. With orientation bringing in approximately 4,000 future students registered to attend orientation over the course of the summer, the orientation team has their work cut out for them when it comes to ensuring those new students can find parking.
Incoming students and their families are currently asked to park in the Moby Arena lot, according to Amber Bedee, the Student Orientation Assistant Director.
"So far things have gone smoothly," Bedee said, "The biggest challenges for us are making sure that families can navigate their way from the Moby parking lot to campus and making sure they don't park in the A spots that require permits over the summer."
Contributor Kristin Hall can be reached at new@collegian.com