Food Feuds: FoCo DoCo vs. The Doughnut Club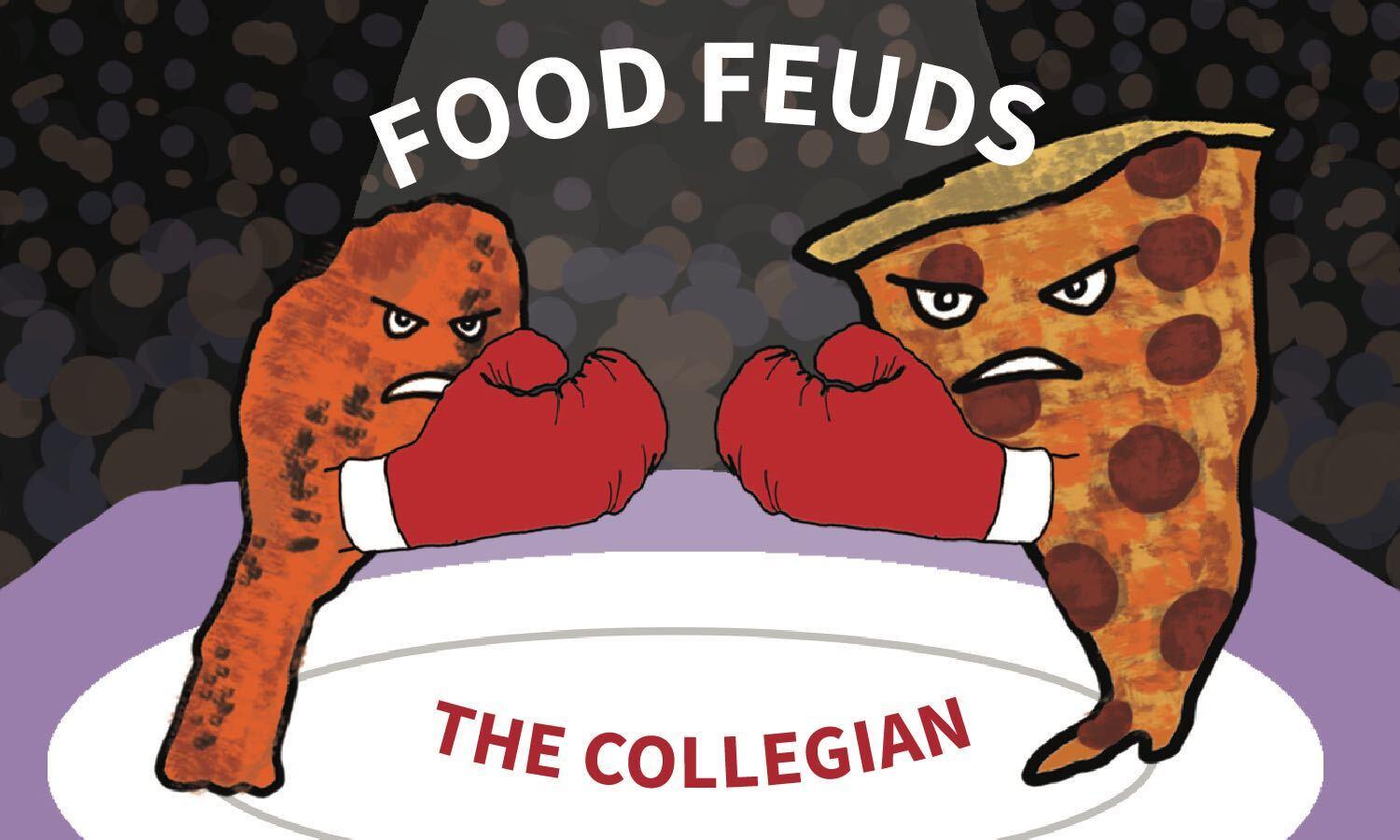 Society's love for donuts is indisputable. In fact, the United States loves donuts so much that we, as a society, decided this sweet treat is acceptable to eat as a breakfast food — and hey, I'm not complaining.
In addition, local favorite Peace, Love and Little Donuts won the munchie matchup of this series, so I naturally had to see if other Fort Collins donut joints stood up to the test. Here, the Fort Collins Donut Company goes against The Doughnut Club.
So put your feet up, and be sure not to glaze over the details.
The Fort Collins Donut Company, more lovingly dubbed FoCo DoCo by the company and locals, is an adorable joint located at Downtown Fort Collins' own The Exchange and is characterized by a robot on its logo.
Claiming "Colorado Style" donuts with ingredients from in state and treats made from scratch, FoCo DoCo delivers small donuts made hot and fresh in front of you, provided it's a small enough order. I got classic glazed, salted honey, FoCo cream and the seasonal Pride donut.
These donuts were good. They weren't fantastic. It may have been the hot weather, but for starters, the dough ended up a little mushy.
The classic donut is described as bearing a vanilla bean glaze on their website. The donuts I received had very little glaze at all, so the vanilla flavor didn't come through and ended up being a sticky hint of topping on a slightly bland donut. And when it comes to baked goods, you have to master the basics before branching out.
The salted honey seemed simple enough to master as well, but the balance between sweet and salty was not there. Some bites made me think I'd ordered a salted donut. Just like with caramel, a popular sweet partner to salt, you quite literally need only a pinch. 
Interestingly enough, the more adventurous flavors I bought saved their review. As someone who usually doesn't like cream in donuts, I enjoyed the FoCo cream — FoCo DoCo's personal take on a classic Boston cream, with the cream dolloped on the middle with a drizzle of chocolate. The downside is that cream in a donut with a hole can get messy.
The Pride donut is a treat with blackberry glaze and "unicorn jerky" on top, which is just an Airheads Xtreme belt, and adds a great balance of sweet and sour without being too overwhelming.
I want to love this place since I love finding and supporting local gems, and I may just give it a second chance in the future, but this donut battle is off to a rough start.
The Doughnut Club was a very different experience than its competitor. While certainly a bigger establishment, with its Fort Collins flagship location extending to Denver and Lakewood as well as nationwide shipping, it still counts as a local love.
The Doughnut Club also offers more variety and some exciting flavors reminiscent of Voodoo Donuts. I got one each of "Yo Dad's Root Beer," Twix, orange cream and key lime pie, the latter two being new and cake donuts.
Starting with the cake donuts, I definitely understood why fruit and dough don't always mix. They weren't bad, but there was something about the thick flavored dough that was sickeningly sweet. The orange cream donut, even with its frosting, was missing the glorious, airy flavor characteristic of orange cream itself and would likely benefit from moving this flavor away from the cake style. The key lime pie donut was saved only by the coconut topping and was overpowering otherwise.
However, the root beer and Twix donuts were two of the best donuts I've had in a while. With the root beer one, I understood I was playing a dangerous game. A soda flavored donut? That's crazy, right? However, the glaze on top tasted exactly like root beer rather than a terrible sugary knockoff, and the sugar almost resembled the carbonation of soda in your mouth.
Sure, it's a little weird, but the muted flavor of this classic pop is why it works with a plain, fluffy dough. They also provide a dollop of buttercream and a root beer barrel candy, which I haven't seen since I was a kid, so there was a certain layer of nostalgia that came with it.
The Twix donut is a less rich version of a traditional chocolate frosted donut. Some places have overwhelming frosting, so I was happy to receive what was essentially a plain donut (done masterfully) with shaved chocolate and caramel drizzle. It's also served with a mini Twix candy bar. It's simple, but for my chocolate lovers out there, it's the perfect way to get your fix while also being served a soft, fresh glazed donut.
One major downside is that they only have two vegan flavors — key lime pie and blueberry — indicating to me they may not know their audience or be inclusive regarding dietary restrictions. Given how great these donuts are, it's a shame a large number of people are missing out on the favorites.
So who wins this donut dispute? Given how far and experimental donut flavors and toppings have gotten in the last decade or so, it's hard to compare any two donut places, but the overall quality of donut was clearly put in The Doughnut Club's steady hands.
With as small a donut as FoCo DoCo offers, in addition to a far smaller selection, they don't have room to deliver subpar flavor. On the other hand, The Doughnut Club masters the basics and then goes on to master some of the quirkiest donut flavors I've seen yet, which is no easy feat in any food realm.
The only thing left for you to do is to channel your inner Homer Simpson and get yourself a box of donuts.
Renee Ziel can be reached at entertainment@collegian.com or on Twitter @reneeziel.