Best movies for a night in with your Valentine
Claire Oliver
February 13, 2018
<div style="position:relative; padding-bottom:56.25%; overflow:hidden;"><iframe src="https://content.jwplatform.com/players/Pd9uRabb-fhNC7bFQ.html" width="100%" height="100%" frameborder="0″ scrolling="auto" allowfullscreen style="position:absolute;"></iframe></div>
<p>Video by Erica Giesenhagen</p>
This year staying in and watching moives on Valentines Day is a cheap way to spend time with those people who are important in life.  Finding a good movie to watch though can be a ridiculous feat, and hours can be spent surfing through possible options. Here are ten classic romance movies to consider before sitting down with the gal pals or that special someone: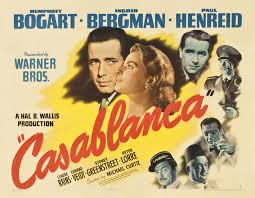 "Casablanca" (1942)
This movie stands as one of the most popular romance movies ever.  With an amazing score and heart wrenching story, it is easy to see why this movie is so highly rated among critics and audiences.  The story focuses on Rick Blaine who owns a bar in Casablanca, Morrocco, during World War II.  His troubled past is what brought him there but he must face the music when his former lover, Ilsa Lund, walks into his bar one night igniting a desire between the both of them. The movie is a great testament to a period of cinema that has been all but forgotten. 
Rated: 97% (Rotten Tomatoes)
"Roman Holiday" (1953)
"Roman Holiday" earned Audrey Hepburn her first Oscar and cemented her as one of the great Hollywood actresses. Hepburn will pop up a again on this list, but "Roman Holiday" stands out because her charm and wit as Princess Ann who leaves her confines and spends a night in Rome with a dashing reporter, played by the great Gregory Peck. The pair work well together on screen and you can't help but root for them as they dance the night away in Rome. 
Rated: 98% (Rotten Tomatoes)
"Here's to looking at you kid" and "Louie, I think this is a beginning of a beautiful friendship" are both famous quotes that came from "Casablanca" which celebrated its 75th anniversary last year.  
"Gentlemen Prefer Blondes" (1953)
Perfect for Galentine's Day, "Gentlemen Prefer Blondes" stars Marilyn Monroe and Jane Russell as best friends who are on a trip to Paris. The two are recruited by a private investigator and Marilyn's character is charged with being a gold digger.  The case can be easily solved considering on of Marilyn's numbers is called "Diamonds are a Girls Best Friend".  It is a great movie to watch with a group of girlfriends. 
Rating: 98% (Rotten Tomatoes)
"West Side Story" (1961)
A musical version of Shakespeare's play "Romeo and Juliet", Steven Sondheim's "West Side Story" takes place on the west side of Manhattan.  Maria and Tony are members of rival gangs and against all odds fall in love.  The music is wonderful the dance numbers are fluid and fun to watch and the chemistry between the two star-crossed lovers is really heart warming. Not to mention it doesn't end the way the classic play does so don't write this off as just a recreation of the traditional story. Sondheim keeps it interesting and represents minority groups living in Hell's Kitchen. 
Rated: 94% (Rotten Tomatoes)
"The Graduate" (1967)
For those who like to go against the grain and want to watch a nontraditional love story "The Graduate" is an option. Dustin Hoffman plays Ben a recent college grad who is seduced by his neighbor, Mrs. Robinson.  The two become lovers and Ben comes to find out that Mrs. Robinson's daughter Elaine, portrayed by Katharine Ross, is the perfect girl for him.  The movie is almost like a Wes Anderson film with long moments of silence and a strange and very memorable ending.  Plus the film score was written by Simon and Garfunkel so the entire show has a very zany feel to it. 
Rated: 91% (Rotten Tomatoes)
"Breakfast at Tiffany's" (1961)
Another Hepburn classic, "Breakfast at Tiffany's" takes place in Manhattan. Holly Golightly is a broken young woman with a troubled past who meets Paul Varjak a new tenant in her building.  The pair begin a budding romance and the audience gets to watch the twists and turns as Holly deals with her inner demons that prevent her from falling in love. 
Rated: 88% (Rotten Tomatoes)  
But wait….. 
Movies of old Hollywood are a little more traditional when it comes to relationships. Girl meets boy, they fall in love and the rest is history, but in today's society, love and the many forms it takes are starting to get more attention. Recently Hollywood has produced a wide range of movies that cater to the LGBTQ community.  Here are movies that represent the LGBTQ community can be possible options to watch this Valentines Day. 
Love is love after all. 
"Carol" (2015)
This movie takes place in the 1950s where an older woman, Carol portrayed by Cate Blanchet, catches the eye of a young store employee Therese.  Therese, portrayed by Rooney Mara, and Carol begin a friendship which blossoms into something more as the two take a road trip together.  Against all odds and Carol's ever present ex-husband the two remain in love. 
Rated: 95% (Rotten Tomatoes)
"Call Me by Your Name" (2018)
To shake things up this movie is actually still in theatres.  Set in Northern Italy a young 17-year-old boy names Elio, portrayed by Timothee Chalamet, works with his father who is a professor of archeology.  Elio's father hires an American graduate student Oliver, portrayed by Armie Hammer, to help with his research and an immediate connection is formed between Elio and Oliver. 
Rated: 96% (Rotten Tomatoes)  
"The Danish Girl" (2015)
Einar, portrayed by, Eddie Redmayne, and his wife Gerda, portrayed by Alicia Vikander, are a married couple.  Both are painters with Gerda preferring portraits and Einar landscapes.  When Einar sits for a portrait in a dress their world is flipped on it's head as Einar realizes that she is a woman.  Einar changes her name to Lili and will eventually undergo the first sex change operation.  The movie didn't receive rave reviews but it does showcase one of the first ever documented cases of a sex change operation that will pave the way for the transgender community. 
Rated: 68% (Rotten Tomatoes)
Collegian reporter Claire Oliver can be reached at entertainment@collegian.com or on Twitter @claire_oliver21.