New Saigon Grill location provides a spicy, sumptuous trip
Nick Botkin
August 23, 2017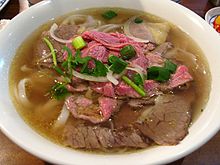 Restaurant: Saigon Grill
Location: 1120 S. College Ave.
Hours of operation: 11 a.m. – 9 p.m. daily
A variety of food, swift service and a comfortable environment. This seems like a pipe dream, but it isn't. These terms could aptly describe Saigon Grill's newly opened location at 1120 S. College Ave. The name may conjure images of Vietnamese cuisine, but the restaurant serves a wide array of Asian cuisine, including Thai and Cambodian, in addition to traditional Vietnamese fare.
According to The Coloradoan, the new location was opened because the Grill's 755 S. Lemay location became crowded, and the space in the new location offered significant opportunities, including an expanded menu.
The restaurant is located conveniently across the street from CSU in the old McAlister's deli. From the exterior, it is rather nondescript. Appearances can be fooling, as I learned quickly. I went in for a late lunch and found a bustling establishment in which servers moved about with an almost Herculean pace. I was both seated and served with quick speed, which genuinely stunned me. In addition, the waitress kept checking in consistently, ensuring that my experience was truly satisfactory.
The menu is comprised of a wide array of dishes, ranging from the famed Vietnamese pho (a Vietnamese noodle soup paired with a choice of meat) to seafood-related assortments, and I had a difficult time trying to make up my mind. On average, the prices were in the $10-13 range, so a bit on the expensive side for college students. But, the experience was worth every penny.
I ordered the kung pao beef in a thick peanut sauce with rice, along with a cup of egg drop soup, and I did not regret the decision. The peanut sauce gave the meal the right amount of spice and zest without being overwhelming, and the array of onions, carrots and other assorted vegetables complimented the meal. The food was well prepared, warm and a good-sized portion overall. Confession: I enjoyed it so much, I ordered a second dish (also the kung pao beef), and went home stuffed and pleased.
The ambience overall was clean and organized, and the owners clearly placed a premium on the value aesthetics. The restaurant was comprised of a neat array of maroon-colored booths and small tables, giving the place a certain sense of decorum and aesthetic pleasantness. The assortment of flowers at the tables also complimented the ensemble.
Should you eat here? Immediately. Stop reading this, and go eat there.
Saigon Girll is swift and efficient. It is a true tour-de-force in a world where cheapness and convenience trump all. If you had to pick a Vietnamese restaurant, you couldn't go wrong here. The location is convenient, so if you're a hungry and weary student, drop into the Saigon Grill and enter a whole other world.
Collegian reporter Mir-Yashar Seyedbagheri can be reached at entertainment@collegian.com. His Twitter handle is @dudesosad.