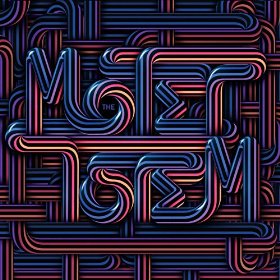 For the better part of two decades, one local band has been combining the best parts of jazz and funk and making it work. That band is Colorado's own The Motet, and their latest album "Totem" is all about getting you up and moving.
The Motet formed back in 1998 and is made up of seven members with a wide range of instruments, which is something that brings most of their music variety and a little more substance than other bands. In addition to your usual drums, guitar and bass, you will find keys, sax and a trumpet. They have everything needed to make great funk music, and their latest endeavor "Totem" is all about the energy.
"Totem" is a 12 track record that clocks out at around 54 minutes long. Structurally, it is pretty sound from front to back. There is a pacing and a flow at play, which allows you to not get too over powered by some of the high energy tracks. The chilled out instrumental tracks are placed in just the right places and make you lose yourself to the music for a bit. That is not to say that you have to listen to the whole album from beginning to end. You can pick any track at random and still have a great time listening to it. That's how to tell that The Motet is made up of some experienced musicians. Each track has the ability to stand out on its own and still work well enough in sync with the rest of the record.
Musically, there is a lot to take in with this record. There seems to be a huge focus on the drums in general. It's the driving factor for everything else in play and sets the tempo and the mood. Each track's rhythm seems to be based off of the drums, and everything else just seems to compliment it. It's not too overpowering, but more noticeable in some of the instrumental tracks like "Rippin Herb." Then you get hit with the polar opposite in songs like "Polar Nexus" where every instrument really has its own moment to shine.
While the instrumental tracks are by their own rights really strong, that's not to say that the tracks with the vocals aren't. There are moments like in "So High" where the vocals are as smooth as they can be, which makes the song more enjoyable. There is a wide range to the vocals too. This is noticeable in tracks like "Know It Well" and "Danger" where you get some of those higher notes that really go well with the rest of the music. While a lot of the vocals might not be the most memorable or at times really easy to sing along to, they aren't overpowering, and that's a huge key factor to what makes this record work so well.
Final Score: 4/5
While The Motet's have made a really fun and energetic album with "Totem," there are moments where it starts to blend together and feel repetitive. This isn't something that takes away a lot from the whole experience of the album, but there were points that you find yourself asking how long you've been listening to a song. That's something more common when you listen to the album as a whole as opposed to listening to each track individually. Overall, it is still an album designed to have you up and moving with some catchy beats.
If you were hoping to catch The Motets live, then you are in luck. Coming up in August, the band will be performing on two consecutive nights at the Mishawaka Amphitheatre. On Friday, August 26, and Saturday, August 27, the band will take the stage with different local DJ opening. On the first night, the band will be playing with Mikey Thunder, and the following night the band will play with Vibe Street. This guarantees that each night will have its own distinct fun. Go to themishawaka.com to purchase tickets. You can buy them individually for each night, or as a bundle if you want to double up on the fun.
Collegian Music Critic Alec Erickson can be reached at entertainment@collegian.com or on Twitter @CTV_ACE.