Alec Reviews Music: Relient K switches to the pop genre with new album "Air for Free"
Alec Erickson
July 23, 2016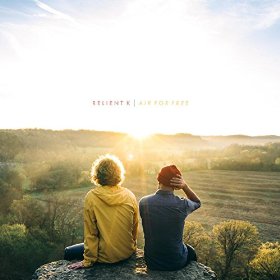 Forget the pop-punk band that you grew up with. Relient K is back with a new album and sound that is almost entirely pop.
The Ohio-based band has been around for the better part of two decades, releasing their first self-titled album in 2000. With tracks like "The Best Thing," "Forget and Not Slow Down" and even "Be My Escape," it is clear to see why they have experienced so much success, especially among the Christian music scene.
Relient K has flown under the radar since their last album was released in 2013, but now they are back with their eighth studio album "Air for Free," and they're doing few things differently.
"Air for Free" is a 16 track record that clocks out at around an hour long. The main thing to take away almost instantly is that this is not the same band most people remember. This record ditches most of the rock elements that have been so closely associated with the band for years. Now picking up a more acoustic vibe, there is a huge focus on having a grander and more vibrant sound. With big and loud choruses and catchy beats, it does have its moments. Beginning to end, however, the record seems to be lacking any coherent structure. You can easily get lost when listening through the entire album, and a few tracks can throw you off the experience.
Musically, the name of the game with "Air for Free" is the catchy tap your feet along tempo. There is nothing too fancy or too fast with this record, and it almost seems like that was done on purpose. The piano is the main instrument used throughout almost the entire record to the point that it overshadows the guitar and drums. It's not a bad thing entirely, but when listening through the whole album, it does get to the point where it is extremely noticeable. Relient K is going for a sound that is much more memorable and more ambitious than previous works. With the music leaving room for not only for the vocals, but huge choruses found on almost every track.
Lyrically, this is the one area of the record that is on par with what Relient K has done in the past. The themes at play are what fans would expect them to be. There are songs about girls and romance, and there are tracks about religion and getting better. When you listen to what is being said, you really begin to see the classic Relient K. The band has proved that they are some strong song writers, and as they get older, they are only getting better. "Empty House" and "Local Construction" stand out as the strongest tracks on the entire record. The biggest track that audiences might fall in love with is "Marigold." This is the closest sounding to the old Relient K, and it hits all the right notes to make it a hit track. It has a perfect buildup, catchy beats and memorable lyrics. Of course, there are the more religious tracks. "God" is the most notable, which isn't the least bit subtle with the undertones as some other tracks are. 
Final Score: 3.5/5
While "Air for Free" maybe isn't the record that fans wanted, it doesn't change the fact that it is a pretty strong album. There are moments where it does begin to feel really repetitive in nature, but there are tracks hiding throughout the entire album that almost everyone can relate to in some way. While it isn't for everyone, Relient K aimed high with this record, and that ambition is what seems to hold this record back.
If you were looking to catch Relient K live, then you're in luck. The band is set to tour with the band Switchfoot. That tour will kick off in Denver at the Paramount Theatre on September 19. You can get your tickets at paramountdenver.com.
Collegian Music Critic Alec Erickson can be reached at entertainment@collegian.com or on Twitter @CTV_ACE.