Alec Reviews Music: Good Charlotte releases first album in six years, brings listeners a mature sound
Alec Erickson
July 16, 2016
It has been six years since Good Charlotte, a power house bands of the 2000's, has put out any new music. But finally, the band has released their sixth studio album "Youth Authority," which is much more mature than most fans were expecting.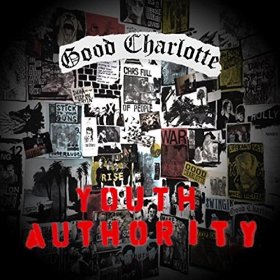 The California-based band Good Charlotte first jumped onto the scene back in 2000 with the release of their first self-titled studio album. In the span of just ten years, they recorded five more albums, dominating most of the airwaves with hits like "The Anthem" and "Girls & Boys." The band clearly played a huge part in paving the way for punk rock bands today. And with their latest release, they are changing the genre of pop-punk, arguably for the better.
"Youth Authority" is a 12 track record that clocks out at around at 44 minutes long. From front to back it is a strong record, but there isn't any real structure. One admirable thing about this record is that it doesn't play to your nostalgia. At no point throughout the whole record is there anything to make you think this is the same band you grew up with, Just like you did, the band grew up and is moving on too new things, and for the most part it works well for them.
"Youth Authority" is a record made by adults for adults using what is traditionally thought of as a teenager focused genre. You won't find the Madden brothers writing about the same heart break or teenage angst songs that brought them their mainstream popularity in this album. Instead, you will find songs about the fear of aging, dealing with the idea of being sellouts and trying to make the best of marriage. The best songs from this record are the faster paced rock tubes that you would expect Good Charlotte to record. The album lacks with the slower ballads, which is something that the band has never been particularly good at.
Musically, the elements of classic Good Charlotte are all present in "Youth Authority" with a few little twist in an attempt to keep things fresh. There is a huge focus on the guitar elements and catchy hooks. This focus is what makes a good rock song, and it really works on some tracks. In tracks like "Life Changes" and "Keep Swinging," all the elements of a hit rock song are there. Catchy beats, fast rhythms and even memorable lyrics. These are the kinds of tracks that make this a strong album. Then there are tracks like "War," which is a lot heavier and isn't exactly something you would expect from Good Charlotte. It's a one of kind track on this record, which makes it stand out all the more.
Lyrically, there is a lot to talk about here. Mostly, the fact that Good Charlotte is very self-aware given their situation. Throughout the whole record there are songs that are written about the band itself, acknowledging that they are all these aging rockers and struggling with being called sellouts and not being the same band that they once were. These elements are present in tracks like "40 0z. Dream" and "Life Can't Get Much Better." Another key thing about this record is the collaborations.  "Keep Swingin'" features Sleeping With Sirens heartthrob Kellin Quinn, and "Reason to Stay" features Simon Neil from Biffy Clyro. Both of these tracks deal with the same subject matter of bands growing up and trying to be relevant again, but the strong one of the two has to be "Reason to Stay." This is mainly because it isn't a slow ballad and sounds more like a Biffy Clyro song.
Good Charlotte doesn't want to call "Youth Authority" a comeback album, but rather a continuation of their work. Whatever you want to call this record, the fact of the matter is that this a very different band from the one most people remember. While it's not a perfect record by any means, they did bring something fresh and new to the table. Pop-punk is often times a genre that doesn't have much room for growth, and Good Charlotte proved that's not always the case. 
Final Score: 3.5/5
For long time fans, this might not be the record you were expecting from Good Charlotte. For new listeners, not every track on this record will be for you. While there are some really strong tracks, there are some pretty weak ones as well. Either way, if you're a fan of the classic 2000 era rock or pop-punk in general, this record is still worth a listen. 
If you want to catch the band live, you won't have any luck in Colorado in the near future. They are playing a few select shows on this year's Warped Tour before going on a UK tour.
Collegian Music Critic Alec Erickson can be reached at entertainment@collegian.com or on Twitter @CTV_ACE.