"What will it be like when I get old?" That was the question posed by a punk band 20 years ago in a song titled "When I Get Old." A legitimate question to think about when you're a band and especially when you're a band that released an entire album called "I Don't Want to Grow Up." That's exactly what the Descendents are facing with the release of their seventh-studio album "Hypercaffium Spazzinate."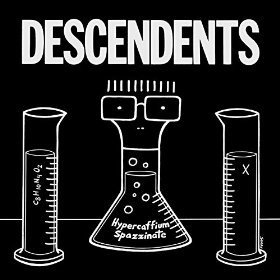 The Descedents have one of the most impressive careers, even more so considering they are a punk band. Not just any punk band mind you, the Descendents formed back in the late 70's and paved the way for the genre and the scene. While the four decades have been filled with on again off again relationships between band members, it's been 12 years since the band has put out their last record "Cool to Be You" and most of the members are now in their 50's. Now with their either fourth or fifth comeback, how do they even take on the same punk rock music that they helped shape over the years?
"Hypercaffium Spazzinate" is a 16 track record that clocks out at just over 31 minutes long. Structurally speaking, this record is airtight. From front to back, nothing is out of place and takes you on a rollercoaster ride of emotions. Part of this record was recorded right here in Fort Collins' own The Blasting Room studio. The studio is owned by the Descendents' drummer Bill Stevenson and was used to record the entire "Everything Sucks" album. The main thing to take away with this record is that this is your classic Descendents album, but with a new focus, and that focus is on old age. It is a record by old guys for old guys. Although, it doesn't mean young fans can't listen to it and appreciate what it's about.
Musically, nothing is new here. It's much of the same fast paced rock music that has been so closely associated with the band for years now. In fact, the music is made to make the listener feel something and symphonize with the band. This is all apparent from the get go with the opening track "Feel This." The track pays homage to the same old songs that many of their fans have grown up with. While the band may have grown old, you can't hear it in the music. In fact, this record takes the two things that the band has always struggled with and manages to make it work. That's the combination of pop melodies and throwbacks to their angry adolescent days.
Lyrically, instead of complaining about young people problems, the band is now complaining about old people problems. This serves as a cautionary tale for younger fans, but it is definitely something older punk fans will find all the more enjoyable about this record. There is a happy mix of serious and goofy tracks throughout the entire album. When you have something like "No Fat Burger," which is about no longer being able to eat greasy or fatty foods, you can't help but chuckle a little bit. Then you get hit with tracks like "Limiter," which touches on the very serious subject of medicating the youth to get them to pay attention. Plus, plenty more songs about getting older, marriage and not selling out. The Descendents knew what they wanted to say with this album, and they said it. Despite their old age, they know how to rock. The closing track "Beyond the Music" serves as the bands autobiograpghy, which documents the band's journey up to this record and makes it an essential track for anyone listening to this record.
Final Score: 4.5/5
"Hypercaffium Spazzinate" could easily be a record that goes under appreciated by the more casual listeners. For long time fans of the Descendents and punk music in general, this is a must have record. And for a few extra dollars, you can have the deluxe version, which has five additional songs. It's the one record that most bands don't even want to think about making. While we all know eventually we all have to grow up, the Descendents did their hardest not to for the longest time. Now they are not only embracing old age, but using it to make their music all the more memorable. This is why the band has stood the test of time for the better part of four decades.
If you want to catch the Descendents live, they will be part of Riot Fest and Rodeo in Denver. They will be playing on the festival's first night, Friday, September 2. This is a band that if you can catch them live, you better take advantage of the opportunity. Go to riotfest.org for tickets. 
Collegian Music Critic Alec Erickson can be reached at entertainment@collegian.com or on Twitter @CTV_ACE.