Blink-182 are coming back with new album, tour and singer
Fans of rock band Blink-182 rejoiced last week when a massive amount of news came out on Wednesday. A new album, a new tour and all with a new singer. But why should you care? It's simple. Blink are back to change the game again.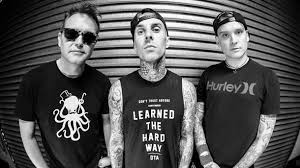 To understand the importance of all of this, you have to understand the drama surrounding the band.
In early February of 2005, a statement from the band was released, stating that members Travis Barker and Mark Hoppus parted ways with guitarist/vocalist Tom DeLonge. Delonge was quick to denounce this and claimed that he was as much a part of Blink-182 as anyone.
This was just the start of all the more recent drama — the band began working on other projects like +44, Box Car Racer and Angels & Airwaves. They were also on a brief hiatus from the band in 2005 to 2008.
The band has managed to work somewhat together since their reunion, releasing their sixth studio album "Neighborhoods" in 2011 and an E.P., "Dogs Eating Dogs," in 2012. It has been four years since any new music has come out, and the band played a few festivals scattered about throughout recent years. All of this changed on Wednesday.
Hoppus and Barker both agreed to move on with Blink without DeLonge, who has spent much of the last year working on his other project, Angels & Airwaves, as well as some multi-media works and releasing a new book.
It was announced over the summer of 2015 that Hoppus and Barker had picked up Matt Skiba, guitarist and vocalist of Alkaline Trio, to record the upcoming seventh studio album "California."
The new single, "Bored To Death," which was released along with all the news, is a completely new sound for the now 24-year-old band. It was not as awkward and clunky as anything off of "Neighborhood," mostly due to the fact that the whole band was actually in the same recording booth at the same time. It has a whole new energy for a band that wants to make sure that their legacy lives on. With all-new styles of progression, in thanks to Skiba joining the band, it sounds almost completely different than anything else the band has produced. Hoppus, who has the majority of the vocals in the track, sounds the same here as ever, and there is, of course, a focus on the drums. Skiba's vocals are a lot more gritty and rough, which is something that is very much needed.
The full track list was released with the single, and "California" will have a total of 16 tracks on the whole album. The album will be released July 1, 2016. Don't be surprised if a deluxe version of the album is announced closer to the release date. According to multiple interviews with Travis Barker, the band has actually recorded a total of 26 new tracks. 
The tour — which will, of course, have Blink-182 as the headliner — will feature other acts such as All Time Low, All American Rejects and A Day To Remember. With heavy hitters like these supporting the tour, this is one of the few must-see shows for any punk rock fans this year. The tour starts July 22 in California (of course) and goes all the way to Oct. 1 in Los Angeles. The Denver stop will be on Tuesday, Sept. 13 at the Pepsi Center. If you haven't seen Blink perform before, now is your chance. Careful that you don't sleep on a ticket, because many, if not most, of the tour dates are expected to sell out fast.
Collegian Music Critic Alec Erickson can be reached at entertainment@collegian.com or on Twitter @CTV_ACE.