Punk rock is alive and well. That is the message that Tiny Moving Parts' latest album "Celebrate" couldn't have made any clearer. By discussing what seems like every struggle someone in their 20s could face, the album provides listeners with self-reflective moments in every song. "Celebrate" is a must have album. 
Tiny Moving Parts is a self-described family band based in Minnesota. "Celebrate" is their third-studio album, and it is an emotional rollercoaster. The album provides listeners with energetic punk music to jam out to, while also giving some clarity to the more emotional aspect of life. This is a huge step for the band, which consists of William and Matthew Chevalier and Dylan Mattheisen. In "Celebrate," the trio focuses on the technicality of the music and puts a huge emphasis on the instruments as well as the lyrics to create some of the most compelling music in their discography.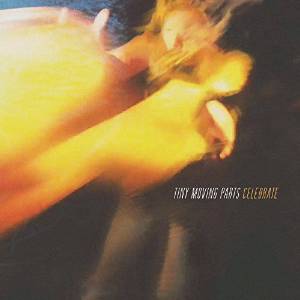 "Celebrate" is a ten track record and clocks out at about 35 minutes in length. As opposed to listening to any random song off the record, "Celebrate" is more fun to listen to from start to finish. There is an effortless flow from song to song. Although each track has the ability to stand alone, they lead into each other perfectly. This is mainly due to the album's change of pace. Multiple tracks either speed up or slow down, and it doesn't seem out of place or unwanted.
Musically, "Celebrate" displays sweeping guitar riffs, strong bass work as support and very memorable drum rhythms. The band's use of guitar in every single track is out of this world. For example, the first track titled "Good Enough" uses flawless transitions and pacing to represent the highs and lows in both life and music. This song sets the bar and mood for the rest of the record.
Tiny Moving Parts seems more comfortable with their sound in "Celebrate" than they did in their previous albums "This Couch is Long & Full of Friendship" and "Pleasant Living." This is especially evident in songs like "Headache" and "Breathe Deep," which both use the music to paint a picture to accompany the lyrics.
Lyrically, there are several themes at play in "Celebrate," including remaining optimistic and overcoming adversity. The best way to describe the lyricism of the album is poetic. Each line packs a punch full of imagery. 
The most prominent theme that Mattheisen sings about is the fear of failure, which is something that most people share and relate to. This theme really hits home in "Happy Birthday" and "Birdhouse." Although these songs have simple lyrics, they are beautiful in the whole aspect of the song.
Another theme in "Celebrate" is self-reflection and what each individual can do for themselves to make life better. Many lyrics throughout the record take on the issue of what one can do to be a better person. There is a repeating idea of, in their words, "nothing's ever good enough." This record is more than good enough. 
Every aspect of life from the bottom to the top is put on show in "Celebrate," which makes it all the more fitting that the last track "Minnow" ends on a more somber and melancholy note. One of the last lines of the song is "maybe everything is meant to be."
Final Score: 5/5
"Celebrate" is a record that honestly, for the lack of a better term, is something to be celebrated. It is unbelievably fun to listen to and is incredibly deep and meaningful in every aspect.
Tiny Moving Parts is one band that you don't want to let fly under your radar. They performed in Fort Collins back in March and put on one of the most entertaining sets I've ever seen. If you want to check them out live, you're in luck because they are currently on a headlining tour that stops in Denver on June 23 at High Dive. You can purchase tickets at high-dive.com. 
All around, "Celebrate" contains the strongest music that Tiny Moving Parts has put out in their career. This is a record you need to pick up as soon as possible.
Collegian Music Critic Alec Erickson can be reached at entertainment@collegian.com or on Twitter @CTV_ACE.