Alec Reviews Music: Modern Baseball grows up and digs deep in 'Holy Ghost'
Alec Erickson
May 13, 2016
Pop-punk is a genre that for the most part has stayed the same for the better part of a decade. That was until the songs stopped being about heart break and girls and started being about depression and suicide. That's what some would call a game changer, and that's the best way to describe the Philadelphia-based band Modern Baseball and their new record "Holy Ghost." 
"Holy Ghost" is Modern Baseball's third studio album and a huge step for the band and the pop-punk scene. The album received a lot of hype from fans when the band dropped a mini documentary "Tripping in the Dark" on YouTube. The 17 minute long mini-doc focused on how the band formed, began touring and when they started taking off. It also showed a more personal side of the group. One example of this being front man Brendan Lukens and his struggle with being bi-polar and his attempt at suicide. For young guys in a band that is starting to make it big, this changed the direction and sound of the band.
This is where "Holy Ghost" comes in. It's the band's tribute to everything that can go wrong, while being a ballad for everything getting better. The record is spilt into two parts, and Lukens and Jake Ewald each wrote half the songs. You can hear that they are not angry with the world like in their first E.P. or as sarcastic and witty in "You're Gonna Miss It All." This record is a collection of the members delving deep into their own personal lives and touching subjects that you normally wouldn't expect them to. Things get really personal in this record.
"Holy Ghost" accomplishes covering a vast amount of topics, while only being 11 tracks long, which is saying a lot for the fact that this record clocks in at just shy of 25 minutes long. This means that nothing drags on. Every single track says what it needs to and leaves you wanting more. This brings listeners back again and again.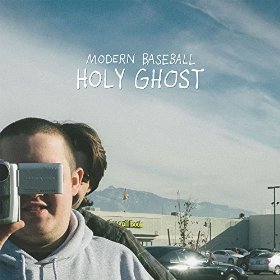 The key word for this record is progression. It's a gradual process and doesn't happen all at once. With the record being split in half by the band, you find that half the songs are fast paced and full of energy, while the other half are slow paced ballads. Pacing plays a huge part in the appeal of the album. There is a solid mix of song structure, with some classic punk songs being separated by the emotional power trip of the more acoustic songs. Every time you listen to the album, there is something to either get you pumped up or slow you down and allow you to take it all in. "Holy Ghost" shows off how much the band has grown as musicians since they were young boys putting all their effort in guitar and drums to show off their anger. They now use their instruments in a more constructive fashion to convey more emotion.
Lyrically, this is a huge step for the band. There is less of a focus on writing broad subjects to appeal to fans and more of a focus on getting really specific. I mean really specific. They mention names, tell full stories and just delve more into their personal lives. There is a lot of heavy stuff, which is expected for anyone who watched the mini-doc. And there is a lot of dark subject matter that even though it wasn't dumbed down to appeal to the fans can still be very relatable for people who go through much of the same issues, whether that be depression, alcoholism, loss or anything else. There is a lot to process here.
"Holy Ghost" is a must have record for fans of pop-punk or anyone going through any sort of issues in their life. It is a solid record all around and surprisingly different than what is expected of the genre. It is worth at least checking out. The band put the whole album on Bandcamp for anyone to listen to for free. If you really want to support the band, they will be rolling through Denver on June 11 with Joyce Manor and Thin Lips. "Holy Ghost" stands a chance to be one of the best records of the year and it stands with good reason.
Final Score: 5/5
Collegian Music Critic Alec Erickson can be reached at entertainment@collegian.com or on Twitter @CTV_ACE.