Alec Reviews Music: 'Cleopatra' breathes new life into The Lumineers
Alec Erickson
April 8, 2016
The magic of Woodstock is alive and well. "Cleopatra" has managed to revitalize a band that captured the hearts of millions. The Lumineers have come out swinging with a story-driven album, and it almost sounds too good to be true.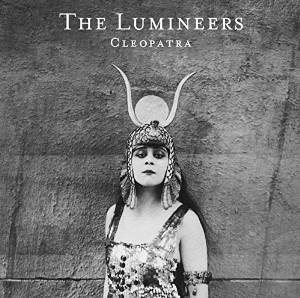 Four years ago, the airwaves were taken over by Denver-based band The Lumineers. For almost a whole year crowded bars, venues and drunken evenings were all singing along to "Ho, Hey." Their first self-titled studio album quickly climbed charts, not only in the States but worldwide as well.
The five piece band we have all come to know and love quickly climbed mainstream popularity — they even grabbed a few Grammy nominations back in 2013. Ever since then, they have toured almost nonstop, though they hit the recording studio in the last year to produce their second studio album "Cleopatra." 
The Lumineers are often described as somewhere between folk rock and Americana, and their sound remains consistent in "Cleopatra." This second album is the result of a band that found its maturity and decided it was best to retire some songs off the set list.
The focus of this album is stories. Whether that be from the bands personal perspective or from someone else. For example, the song "Cleopatra" is based off a taxi driver's tale of tragedy. Every track works well together, making the album one that tells a complete story about a band that discovered who they were. 
The base album you can buy is 11 tracks and clocks in at around 35 minutes. But, if you want more bang for your buck, the deluxe version offers four extra tracks. Most of the tracks on the album are under four minutes long — quick enough to be straight to the point, and no song ever seems like it is dragging.
Progression is key with this album, mostly because percussion elements make up the main key focus for most the tracks. If you were expecting some songs to stomp your feet and clap your hands along to, then you will not be disappointed. There is plenty of that to go around here.
Musically, not a whole lot is fundamentally different with "Cleopatra." This album was recorded by Woodstock and much of the era of music is alive and influencing the creation of this record, which explains the progression to some electric guitar elements. The Lumineers come off as a band that are trying not to repeat themselves, which they necessarily don't. They are not playing it too safe either. They took a lot of risk in creating a more refined sound that isn't something people have come to know in the last four years.
Lyrically, this is some of their best work. The songwriters Wesley Schultz and Jeremiah Fraites are not out to create that blatant radio hit. They are not sellouts, but actual artist when it comes to writing stories in a way that captures both emotion and narrative in a musical piece. The sophomore slump seems like a distant afterthought when listening to this album —it sounds like the band has been creating music for years. Tracks such as "Patience" and "Long Way from Home" demonstrate that the band is dedicated to its craft. 
Intimate contemplation is what this album is all about. When listening to the album all the way through, self-reflective moments make you think and then make you re-listen again and again. It is an album that grows on you the more that you listen to it. If you really, and I mean really, just don't want to listen to the whole album, then at least try listening to "Ophelia" and "Gun Song." Both are tracks that stick with you long after you listen to them. 
The Lumineers have created a real piece of art, and I cannot recommend this album enough.
Final Score: 5/5
Collegian Music Critic Alec Erickson can be reached at entertainment@collegian.com or on Twitter @CTV_ACE.