Alec Reviews Music: Macklemore's 'This Unruly Mess I've Made' is a forgettable album
Alec Erickson
March 1, 2016
Old school mixed with some jazz thrown in with Macklemore & Ryan Lewis sounds a little crazy. Trust me, it doesn't work well. Macklemore is aiming with "This Unruly Mess I've Made" to be more of an old school album and is really trying to create a hit song.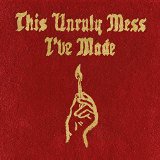 Ben "Macklemore" Haggerty and Ryan Lewis took the music industry with the tale of the classic underdog. The duo released their first album "The Heist" in 2012, which quickly gained popularity. The album was self-produced without the aid from a label, and they took jabs at record companies with track "Jimmy Iovine" named after the co-founder of Interscope records. More importantly, they produced"Same Love," which was at the forefront of LGBT movement; "Thrift Shop, which dominated radios for months; and party anthem "Can't Hold Us." All of this accumulated in multiple Grammy nominations and wins for the hip-hop duo. None of that is here with "This Unruly Mess I've Made"
The second studio album tries too hard to follow in the footsteps of the success of the above mentioned songs. The whole album is made in the themes of either sparking a conversation, i.e. "White Privilege II" or either being the soundtrack to the party like "Buckshot." There are some fun tracks like "Light Tunnels" and "Dance Off." However,  "Growing Up" and "The Train" are the only two songs that stand out, because Macklemore relies heavily on features with this album. In "Growing Up" Ed Sheeran steals the show, and the song seems to be more of his than Mackelmore's.  Carla Morrison's fantastic voices shines in a few verses in "The Train." She dominates the track while singing in Spanish.
All but one of the 13 tracks has a guest spot. With all his fame, Macklemore was able to persuade big names – including Chance the Rapper, Idris Elba, Grandmaster Caz and Leon Bridges – to come and assist him. It's easy to see how Macklemore quickly gets overshadowed on his own album. That may be the point.
Macklemore rose to fame as a hip-hop feature of social justice. In this album, he tries far too hard to repeat that. The ablum becomes more about the message than the music.  Macklemore took on a teaching role, stepped back and became a producer. It's the Mackelmore equivalent of selling out. 
All in all "This Unruly Mess I've Made" is a pretty forgettable album. It doesn't have the initial impact that "The Heist" had. Though it isn't a complete failure and it won't fall into the sophomore slump, don't expect it to be up for all the Grammy's again. You won't miss much if you sleep on this album.
Collegian Music Critic Alec Erickson can be reached at entertainment@collegian.com or on Twitter @CTV_ACE.